Rick And Morty Star Kari Wahlgren's Recording Session Warm-Up Involves An Abundance Of Caffeine
David Livingston/Getty Images
Voicing a cartoon character may sound fun, but it can be serious business. An actor's voice is their tool, and they must take care of it in order to deliver a one-of-a-kind performance in the animated medium. In fact, Samuel L. Jackson shared some tips for aspiring voice actors through MasterClass, stressing the importance of warm-up exercises as well as finding vocal tics within a character so that they stand out from others. 
Kari Wahlgren was also more than happy to share what she's learned over the years as a voice actor. She's been in the industry a long time and has voiced iconic characters from children's cartoons to adult animation. Some of her most noteworthy credits include Starfire in "Teen Titans: The Judas Contract," Tigress in "Kung Fu Panda: Legends of Awesomeness," and Jessica in "Rick and Morty."
Her resume goes on and on, and it's clear she's a consummate professional at this point. She knows the ins and outs of the voice acting industry, and she's even been willing to share some tips of the trade. 
Singing and coffee are the keys to success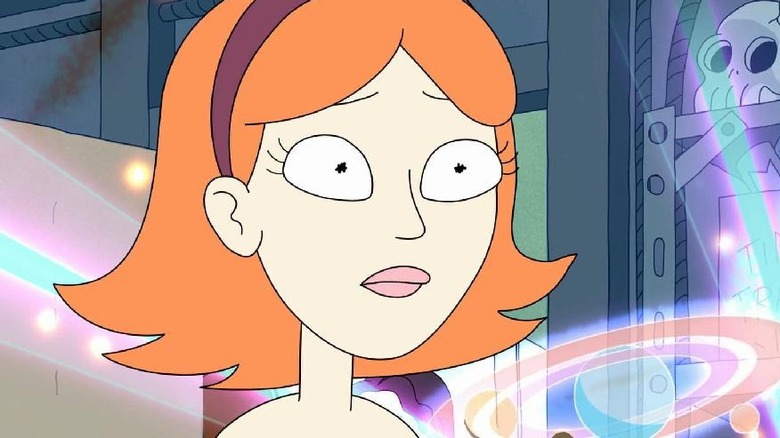 Adult Swim
From breathing exercises to humming, everyone has their own thing that helps them get in the right mindset before a voiceover recording session. But Kari Wahlgren revealed to Pop City Life what she likes to do, and it involves singing in the car. As she put it, "I sing in the car! A LOT. There are YouTube videos out there to prove it... haha!" Wahlgren actually has a great singing voice, and occasionally, she gets a chance to show it off in her work, like in "OK K.O.! Let's Be Heroes."
However, that's not the only thing the actress does to get her vocal cords in shape. She went on to say, "And I drink way too much coffee. I perform better if I'm overly caffeinated!" Coffee is generally seen as a no-no in the voiceover world, with many people seeming to prefer tea to coffee. But Wahlgren has been in this business a long time and clearly knows what she's doing. 
But getting into character consists of more than what you do in the car ride over to the booth. Wahlgren went on to share what else she does to prepare, "I draw from descriptions, artwork, the script... anything I'm given in advance," she said. "And if the project is based on source material like a comic book, I'll read that before I record." Even her clothing picks for the day help influence her mood, as she mentions how she'll wear black for tougher characters. It's all in service of getting the voice exactly right, and Wahlgren has it down to a science at this point.