Why Jessica From Rick And Morty Sounds So Familiar
"Rick and Morty," created by Dan Harmon and Justin Roiland, has become one of the most popular shows ever created by Adult Swim, Cartoon Network's animated programming block for a more mature audience. Since the show began in 2013, awkward teenager Morty Smith, voiced by Roiland, has had one constant crush on his classmate, the seemingly unattainable Jessica. While hopping through different dimensions, Morty is able to take her to a dance and even on a first date. Rick even gives Morty the ability to see what a life with Jessica could look like if they are able to grow old together. As is often the case in the show, these moments undone in their timeline or aren't even real to begin with, so Morty continues to pine for her. Jessica has gone on to become a fan-favorite recurring player, and fans have wondered whose very recognizable voice is behind the character.
Kari Wahlgren voices Jessica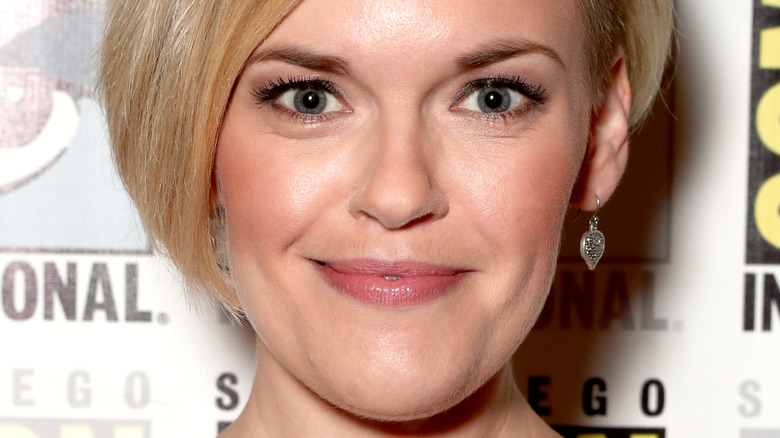 Todd Williamson/Getty Images
With over 500 credits to her name, most in the voice-acting arena, fans have surely heard Kari Wahlgren's voice before. While she may best be known for playing Jessica in "Rick and Morty," she also voices Rick's computer throughout the show. Wahlgren has also worked consistently on other shows created by either Dan Harmon, Justin Roiland, and other writers who have worked on "Rick and Morty." She voices a party goer in Harmon's series, "Little Demon," several characters throughout 13 episodes of Roiland's "Solar Opposites," the character Aunt Stephanie in Roiland's "The Paloni Show! Halloween Special!" and several characters on "Rick and Morty" writer Mike McMahan's show "Star Trek: Lower Decks" (via IMDb). 
In an interview with PopCityLife, Wahlgren shared how she got started voice acting: "I always loved cartoons, so I knew from an early age that I wanted to 'do voices.' I started out doing some commercial voiceovers in Kansas City, and then I started auditioning for cartoons when I moved to Los Angeles." Wahlgren noted in the same interview, "For TV animation, oftentimes you get to record as a cast. That's my favorite! Movies and video games are usually recorded separately."
Besides animated television shows, Wahlgren has voiced characters in movies too, like the character of Starfire in "Teen Titans: The Judas Contract," not to mention video games like "Gotham Knights," where she voiced Harley Quinn. She was nominated in 2019 for best English voice actor performance for her work in the anime "FLCL Progressive" as the character Haruko Haruhara (via Crunchyroll). 
Kari Wahlgren's other works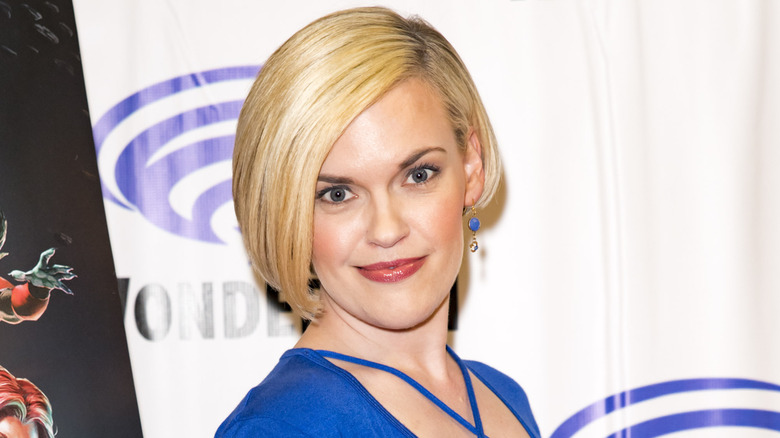 Eugene Powers/Shutterstock
Though best known for her voice, Kari Wahlgren has done some live-action work as well. Most notably, she guested as Rena in the 2012 episode of "Criminal Minds," titled "Magnificent Light." Before that, she also played Helen in two episodes of "Wizards of Waverly Place" that aired in 2010 and 2011. 
In 2016, she wrote and executive produced the short horror film, "Girl #2." According to the short film's website, it was an official selection of the 2017 Fantasia International Film Festival, won best short at the 2016 San Antonio Horrific Film Festival, the 2016 Bram Stoker International Horror Film Festival, and the 2016 New Orleans Horror Film Festival, and was voted best of fest at the 2016 Hot Springs International Horror Film Festival. Wahlgren told Anime Superhero about her experience working on that film, "it's really rewarding to focus on the writing and producing side. It keeps things fresh and interesting for me."
Fans will have to keep tuning in to "Rick and Morty" on Adult Swim to see if Morty will ever be able to have the meaningful relationship with Jessica he dreams of so frequently. Wahlgren is grateful to be playing the character, telling Toonado, "To have done this little project called 'Rick and Morty' and then to see it snowball into this huge thing is kind of crazy."