Melissa Rauch Had A Tough Decision To Make When She Got The Callback For The Big Bang Theory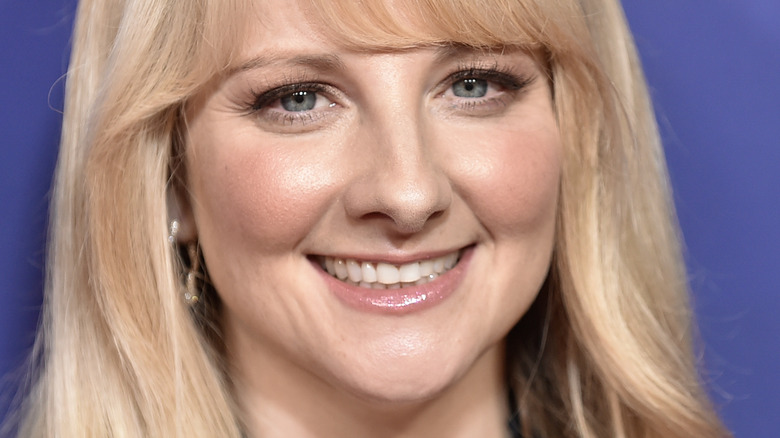 Rodin Eckenroth/Getty Images
No actor or actress can predict if their project is going to become the next pop culture phenomenon, and the cast of "The Big Bang Theory" was certainly no exception. When they first gathered at Warner Bros. Studios in 2007, it was impossible to know that the show would run for a whopping 12 seasons, with the series finale attracting nearly 18 million viewers (via Forbes). Thanks to this success, Stage 25 – where all 279 episodes were filmed – was dedicated as The Big Bang Theory Stage in 2019 (via TV Insider), an honor that many shows never see.
Naturally, the sitcom catapulted its cast members to a level of unprecedented stardom, which most of them never previously experienced. Some, like Leonard Hofstadter actor Johnny Galecki, were already household names thanks to past work. Fans of "National Lampoon's Christmas Vacation" know and love him as Russell Griswold, son of Clark (Chevy Chase). Kaley Cuoco, who plays Penny on "The Big Bang Theory," was also widely known for her three years on the John Ritter-led sitcom "8 Simple Rules."
As for Melissa Rauch, who for 10 seasons plays Bernadette Rostenkowski, the squeaky-voiced love interest of Howard Wolowitz (Simon Helberg), "The Big Bang Theory" can be considered her big break into the industry. Though she had a handful of credits to her name, including Tina in the American adaptation of the Australian comedy "Kath & Kim," it wasn't steady work. For example, "Kath & Kim" only ran for one season (via IMDB).
Therefore, when she got the callback for "The Big Bang Theory," one would assume it was an easy decision to go. However, her choice wasn't so clear cut.
Melissa Rauch had to choose between a callback and her unemployment check
After the series finale of "The Big Bang Theory" aired on May 16, 2019, the core seven cast members sat down for an interview on "The Late Show with Stephen Colbert." When asked to reflect on their auditions, Melissa Rauch's story was a little different than the rest. On the day Rauch learned that the show's creators wanted to see her, she was at the unemployment office.
"I was doing all these mock interviews and seminars to qualify for my check," said Rauch. "I got the audition and I was over the moon, but I was like, 'There's no chance I'm gonna get this.' And I got a call saying that I was gonna have a callback and I was like, 'I have another seminar the next day. Is it high stakes poker? Do I roll the dice?' I ended up going to the callback, thank God."
Of course, Rauch is surely grateful to "The Big Bang Theory" for allowing her to ditch those unemployment seminars once and for all. According to ET, she and Amy Farrah Fowler actress Mayim Bialik earned $425,000 for each Season 12 episode. Plus, it gave her great exposure in the industry, with Rauch helming the NBC revival of "Night Court" alongside John Larroquette, star of the original that aired in 1984.
Rauch is also glad she took the job because Bernadette served as an inspiration to her, especially regarding motherhood and how there's no "one-size-fits-all" method. She told Cafe Mom (via CinemaBlend), "Bernadette became a mother before I did, so in some ways it was nice because it was like having a big sister who navigated those waters before I did."