Chicago Med Fans' Hearts Are Melting Over Charles And Liliana's Long-Awaited Kiss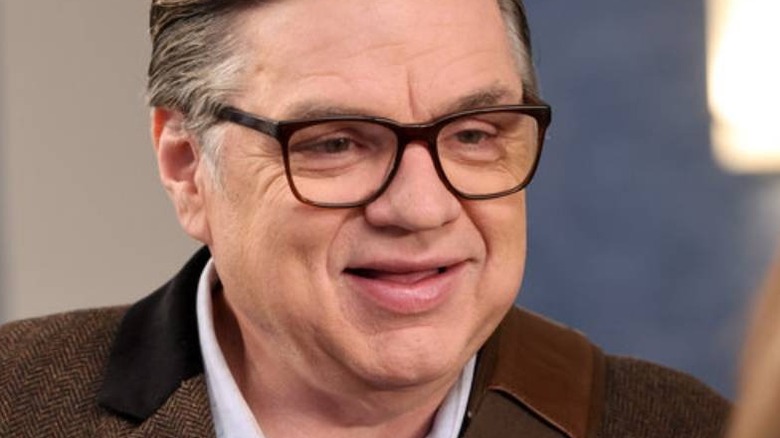 George Burns Jr/NBC
The "One Chicago" franchise gives viewers a look into fictional departments of Chicago's emergency services. The third series in this franchise is "Chicago Med," and much like its predecessors, it places its characters in precarious positions as they attempt to find joy and happiness outside of work. That's been the case for much of Dr. Daniel Charles' (Oliver Platt) time on the series, as he's tried several times to find love. Starting with Season 8, he considered getting back into the dating pool, and he struck up a potential relationship with singer/cleaner Liliana (Alet Taylor).
The two met while Liliana performed at a bar, and Dr. Charles was unable to forget her. Of course, the fact her day job was as a cleaner at Gaffney caused some issues because that meant Dr. Charles was technically her superior. The two have had a long road to get together, but they finally cemented their relationship with a kiss in the most recent episode, "We All Know What They Say About Assumptions." And fans are over the moon that Dr. Charles has finally found some happiness in this world. 
Fans enjoyed the sweet moment between the two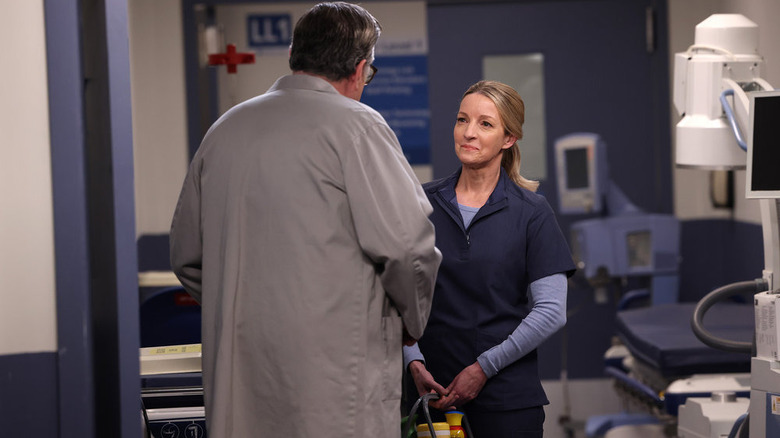 George Burns Jr/NBC
It was a sweet, simple kiss between Dr. Charles and Liliana, and fans were just happy to see the two finally give in to their emotions and show one another how they really felt. Wolf Entertainment even uploaded a clip of the moment onto Twitter for fans to react to with the caption, "Sealed with a kiss." "Chicago Med" is a show where fans are used to relationships forming over time. Everyone gets with everyone else at a certain point, but there's just something extraordinary about seeing it happen for Dr. Charles where @JustineMK92 posted, "Listen, I can mostly take or leave ships in a show. Liliana and Dr. Charles, though, are something special."
@Allyiscute1993 summed up a lot of people's feelings on the moment, writing, "Oh my God Dr Charles has a girlfriend I love that romantic moment." Dr. Charles has been married four times before, so he's certainly no stranger to falling in love quick and hard. But hopefully, there will be something special about his relationship with Liliana to where it lasts. 
Regardless of how long the relationship ends up lasting, fans can at least take solace in the sweetness of the moment, like @rai_sssssa, who wrote, "Ahhhhh their kiss is so sweet." In a series as dramatic as "Chicago Med," it's nice to have a reprieve every once in a while.