The Cast Of The Big Bang Theory Says The Last Week Of Shooting Felt Like The End Of A School Year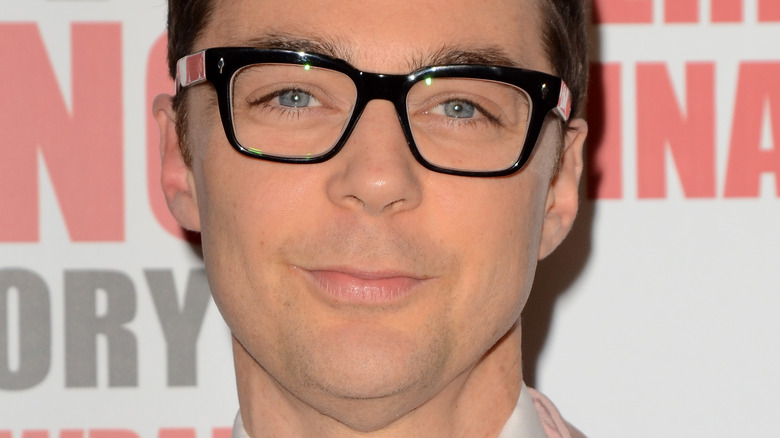 Kathy Hutchins/Shutterstock
Whether high school or college, graduation is a bittersweet milestone for most students. On the one hand, they've accomplished a significant achievement and are moving on to the next phase in life. But on the other hand, it's a milestone that comes with many goodbyes.
For actors and actresses who are part of multi-year projects, having that TV or film series wrap feels very similar. The casts of "Harry Potter," "Friends," and other long-running pop culture staples were in tears on the last day of filming. They rose to stardom and shared countless fond memories together, and it was all coming to an end.
As for the cast of "The Big Bang Theory," they were no exception. After 12 years, they would no longer gather on the couch of Sheldon Cooper (Jim Parsons) and Leonard Hofstadter (Johnny Galecki) for takeout. There would be no more rhythmic door-knocking, visits to the comic book store, performances of "Soft Kitty," or exclamations of "bazinga!"
Parsons told Variety about the last day of filming, "You really can't prepare for that final moment. This is the last time we'll bow together; this is the last time we'll do scenes together. Logically, you can know that, but to go through that is a different thing."
The end of "The Big Bang Theory" may have emotionally felt like graduation. Still, the cast and crew also participated in an end-of-school tradition that allowed them to take home a physical memento of their time at Warner Bros. Studios.
The cast of The Big Bang Theory received yearbooks and took school portraits
Shortly after the series finale of "The Big Bang Theory" aired, the cast appeared on "The Late Show with Stephen Colbert." During the interview, Jim Parsons shared details on a sweet gift from producers and production assistants that genuinely made it feel like the end of high school — a yearbook to commemorate their 12 years together.
"It was so beautifully done," he said. "But because of that, the last week of work was, 'Sign my yearbook!'"
Kaley Cuoco, who portrays Penny, highlighted another education tradition that made its way onto set: "We also did school portraits, so every single crew member, we did portraits, which was hysterical, and it was just really cute."
Melissa Rauch, who brings Bernadette Rostenkowski to life on the show, joked about how they wrote the most commonly-used phrase in each others' yearbooks: "Keep in touch." Often, as life and responsibilities get in the way, many don't heed this request. However, it seems that the cast of "The Big Bang Theory" is doing its best to keep those 12 years of friendship alive, even if from a distance.
On Instagram, Kunal Nayyar, who portrays Raj Koothrappali, regularly posts throwback photos of the gang and supports their latest projects. A recent post urged his 2.9 million followers to watch the NBC premiere of "Night Court" starring Rauch, who he called a "gem of a human."
Cuoco told Metro that "the texts are always happening," including one from Parsons to congratulate her on a Golden Globe nomination for "The Flight Attendant." Plus, just as school reunions are the norm, Cuoco looks forward to an official "Big Bang" gathering: "I'm ready for that, anytime."