A Fresh Prince Alum Has Boarded Bel-Air For Season 2
When Will Smith and Peacock first announced the "Fresh Prince of Bel-Air" dramatic reimagining, simply titled "Bel-Air," many fans questioned the need for the show. Its predecessor holds such a special place in many people's hearts, as many grew up watching Will move from West Philadelphia to the wealthy Los Angeles neighborhood. However, following the Season 1 finale of "Bel-Air," opinions on the reboot are starting to change, the consensus being that the drama series really isn't all that bad.
"Bel-Air" does more than enough to distinguish itself from the original series, changing and updating many characters to match the show's modern-day setting. Speaking of the setting, that's the first change that Executive Producer Morgan Cooper made, deciding not to set the show in the '90s – and the changes don't end there. In "Bel-Air," Will (Jabari Smith) is still the charming basketball player, but severely less goofy this time around. Carlton (Olly Sholotan) is now a jealous cousin with a drug problem. Hilary (Coco Jones) is a social media influencer and aspiring chef. Uncle Phil (Adrian Holmes) is a lawyer who's running for District Attorney, while Aunt Viv (Cassandra Freeman) is an art professor.
Even though the changes make the show drastically different from its '90s counterpart, "Bel-Air" is thriving on Peacock, with Season 2 coming later this year. Peacock released the trailer for the show's return to streaming and, interestingly enough, slid in the reveal of a "Fresh Prince" alumni joining the cast of "Bel-Air."
Tatyana Ali returns to the Bel-Air universe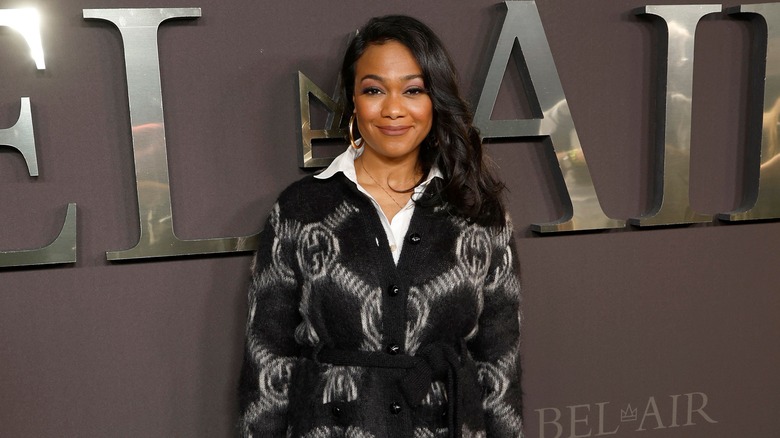 Frazer Harrison/Getty Images
No, this isn't another one of Hollywood's multiverse stories, but that is Tatyana Ali appearing in the "Bel-Air" Season 2 trailer. The actress played Ashley Banks, the youngest of the Banks kids, on "The Fresh Prince of Bel-Air." According to Deadline, she'll play an English literature teacher at Bel-Air middle school who "sees something special in Ashley Banks." She'll have a recurring role that will see her pop up more than once in Season 2. Funny enough, her reveal in the trailer features her giving advice to the new Ashley (Akira Akbar), telling the young student, "Never ever let anyone try to change you." 
Season 2 of "Bel-Air" focuses on Will trying to rebuild the trust he lost at the end of Season 1. He also has new figures in his life who are trying to control and influence him, so he'll probably struggle to keep that under control. His bond with Carlton will continue to grow, but the two will continue to challenge each other. As for the other members of the Banks family, Hilary continues her rise in the influencer world while balancing her work and personal life. Aunt Viv and Uncle Phil have their own struggles, trying to balance family, marriage, and careers. 
New "Bel-Air" showrunner Carla Banks Waddles said that while Season 1 focused on introducing the new versions of the Banks family, Season 2 dives into the characters and emotions of the show. "This season we get to go deeper with some of the themes we touched on," she told Deadline. "What it truly means to be a family even when it's challenging."