David Fincher's The Killer Confirmed To Hit Netflix This Year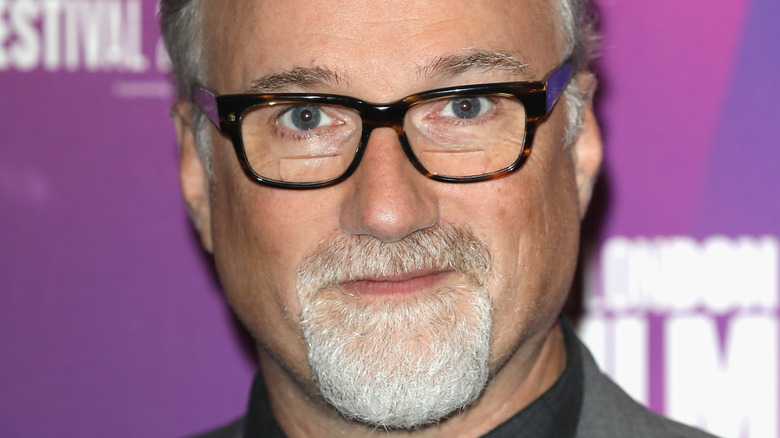 Tim P. Whitby/Getty Images
It's always a big deal when filmmaker David Fincher has a new project on the way, especially with his prolific history of abandoned and uncompleted projects we'll never get to see. The director's last feature, the Hollywood bio-drama "Mank," came out in 2020 on Netflix, and his next film is another collaboration with the deep-pocketed streaming platform.
It's "The Killer," based on the French comic book series of the same name by Matz and Luc Jacamon. The series follows the life and work of a mysterious killer-for-hire, and will serve as the kind of dark and violent source material that Fincher fans have come to expect from the auteur behind movies like "Se7en," "Zodiac," and "Gone Girl." The film stars Michael Fassbender as the titular Killer, Tilda Swinton, Charles Parnell, Arliss Howard, and Sophie Charlotte, and it also represents a reunion between Fincher and "Se7en" screenwriter Andrew Kevin Walker. Now, viewers have gotten confirmation directly from Netflix itself that the film will be on the platform later this year.
The Killer is slated to hit Netflix on November 10
The news comes from Netflix itself, which just released its annual "Save the Dates" video for 2023. As usual, Netflix has a crowded slate this year (as well as some sweaty new plans), and David Fincher's "The Killer" is only one of many upcoming projects, but it definitely qualifies as one of the most exciting and anticipated of the entire crop.
As you can see in the video above, the "Save the Dates" ad includes a bit of footage from "The Killer" in addition to the reveal of its November 10, 2023 release date, but those looking forward to seeing more from Fincher's upcoming film will have to wait for a proper trailer for the movie itself. But we do have an official plot synopsis, per Netflix: "After a fateful near-miss an assassin battles his employers, and himself, on an international manhunt he insists isn't personal."
After making something of a detour through old Hollywood for "Mank," "The Killer" promises to be a return to form for Fincher, and hopefully a treat for fans of the excellent comic book series as well.