Estelle Harris Was Given A Controversial Script During Her Seinfeld Audition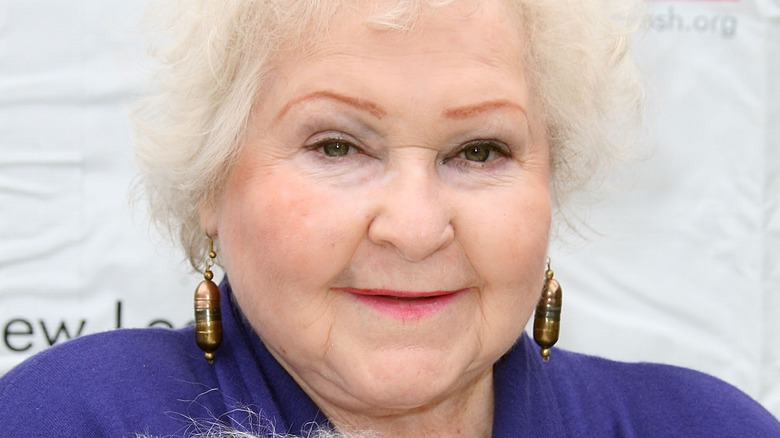 Chad Buchanan/Getty Images
When watching NBC's "Seinfeld," whether it's for the first time or the tenth, it's hard to believe that any series regular ever had to audition for their role, as they all embody their characters so well and have also become household names by now. But of course, they had to jump through the same hoops any actor does, although Estelle Harris — who plays the Estelle Costanza, the mother of George (Jason Alexander) — had an unexpected audition process thanks to a very controversial script.
For many "Seinfeld" fans, Harris is a powerful presence, even though she only appeared on 27 episodes of the show's nine-season run. As Estelle Costanza, Harris ramps up her irritating, whiny voice and perfectly embraces the character, who has no filter. In fact, Estelle Constanza, along with husband Frank (Jerry Stiller), embodies a walking backstory for George and helps explain his particular neuroses.
When Harris auditioned for the role of Estelle Costanza, the relationship between her on-screen counterpart and George came through when she was handed the script and couldn't believe its content, leading to a priceless reaction that impressed the producers.
Estelle Harris couldn't believe what she was reading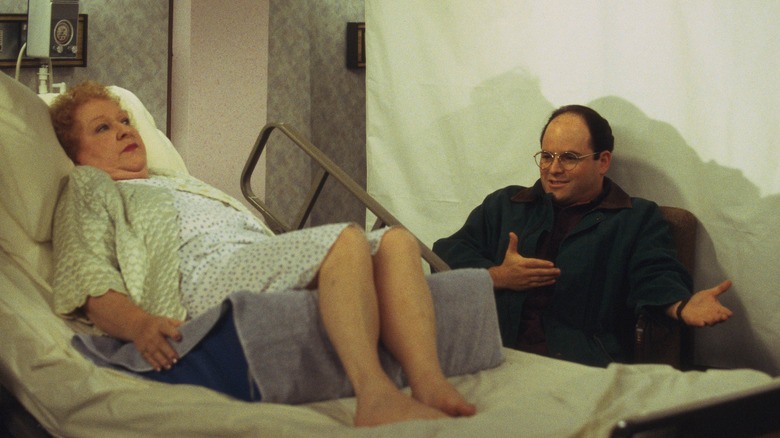 NBC
When Estelle Harris auditioned for the role of Estelle Constanza on "Seinfeld," the script contained an excerpt from Season 4, Episode 11 ("The Contest"). In the episode, George, Jerry (Seinfeld), Elaine (Julia Louis-Dreyfus), and Kramer (Michael Richards), make a bet on who can hold out the longest from partaking in self-pleasure. 
When Harris saw the sample pages, which controversially showed the main characters trying to be the "master of their domain," she told the Associated Press that she couldn't believe her eyes: "I looked at the script and I said to myself, 'Oh, that couldn't be'" (via CTV News).
She revealed that she double checked with the producers, saying, "I asked them, 'What did he do?' and they all started laughing." She continued, "I said, 'Oh, no, it's impossible. On TV? It's impossible.' But it was very possible, and it was funny." Funny it surely was, as that particular plot often now shows up near the top of many fans' list of favorite episodes.
Recognition for Harris as her iconic "Seinfeld" role followed her long after the series finale. "In the last year or two, all of a sudden these youngsters recognize me as Mrs. Costanza ... I'm getting a lot of fan mail from these young people too." she said.
Harris passed in April 2022 at 93 (via CNN) but despite her passing, Harris and Mrs. Costanza continue to live on as countless fans discover (or rediscover) the many iconic and sometimes controversial moments that came from "Seinfeld."