Sal Was Particularly Proud Of The Strip High-Five Punishment On Impractical Jokers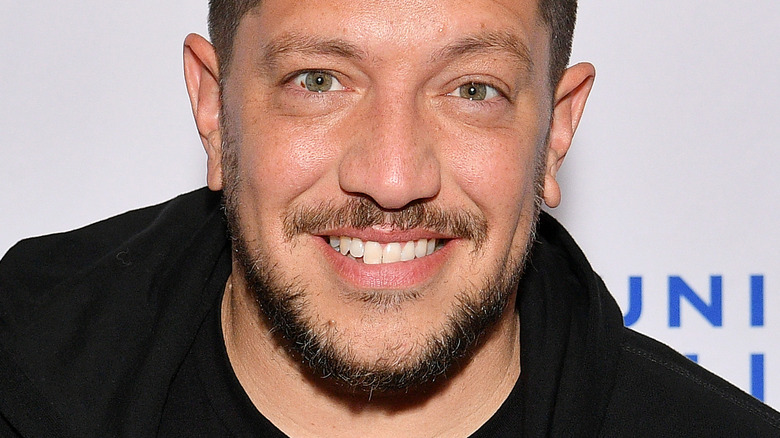 Dia Dipasupil/Getty Images
TruTV's hit unscripted hidden-camera TV series "Impractical Jokers" hit the airwaves in 2011 and remains one of the station's most beloved series, with its 10th season premiering in 2023 (via TVInsider). The series follows a group of improvisational comedians and friends (Brian "Q" Quinn, Sal Vulcano, James "Murr" Murray, and formerly Joe Gatto, who left in early 2022) performing embarrassing challenges, often amongst the general public. Throughout an episode, cast members compete with one another to accrue points by completing the embarrassing challenges, and the one Joker with the least amount of points at the end of the episode is subjected to a punishment that usually involves extreme humiliation.
Considering that the series has been on the air for more than a decade, the show has concocted plenty of hilarious moments, including denying a public wedding proposal in a baseball stadium, dancing in front of war veterans, and receiving a prostate exam in front of a crowd of people. While funny, it's safe to say that most audience members would likely experience full-body cringe while laughing hysterically.
With over 100 episodes, there are plenty of punishments for fans to be able to pick favorites. Considering all that the Jokers have been through and experienced over the years, do they have their own favorite punishments? Well, there's one particularly scandalous punishment that Joker Sal Vulcano is prouder of than most others.
Sal's really proud of the Strip High Five punishment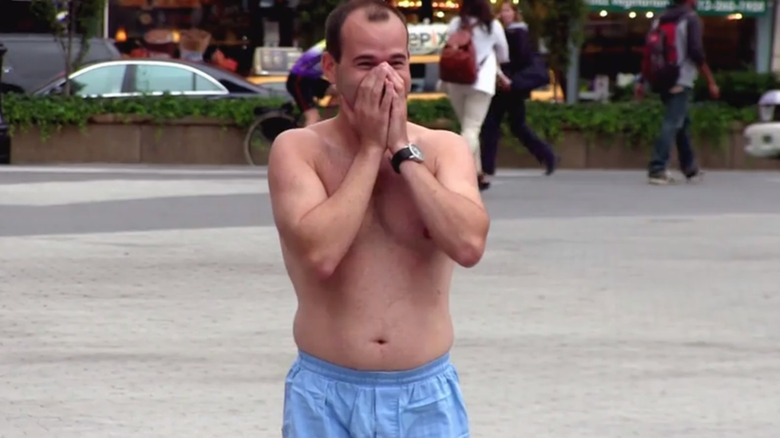 TruTV
In an edition of "Impractical Jokers: After Party Web Chat," Sal Vulcano answered questions from the Internet. One fan inquired if there was a punishment that Vulcano created that he was proud of. It seems that Vulcano enjoyed the humiliation dealt to his friends in a public forum. "Me and Q always very much celebrated 'Strip High Five' because it was such a public spectacle and really mortifying for the guys," Vulcano intimated. "It was really fun and it was intense. And that's something I know that I'd never want to do."
in a Season 2 episode, losers James Murray and Joe Gatto stood in a park requesting high-fives from passersby. Should any stranger deny them a high-five, the Joker had to remove an article of clothing. By the end of the punishment, Murray stood in his skivvies and couldn't secure one last high five before Joe stripped him down to his birthday suit for a crowd of onlookers.
Despite being nude in public and the humiliation that comes with it, it seems that Murray has no hard feelings and also considers it one of his favorite punishments. In an interview with Sling, Murray expressed his love for the punishment because of its simplicity and comprehensiveness, explaining, "...my absolute favorite was Strip High-Five because of the simplicity... It goes tit-for-tat until one of us ends up naked and that is so purely simple and I love it."
Considering that it was a very simple concept that paid off in absolute hilarity, it makes sense that Vulcano would be so proud of it. It seems that the punishment was so ingenious that even the one who suffered the most from it can still appreciate how creative it was.