How William Stanford Davis Went From A Guest Star On Abbott Elementary To Stealing The Show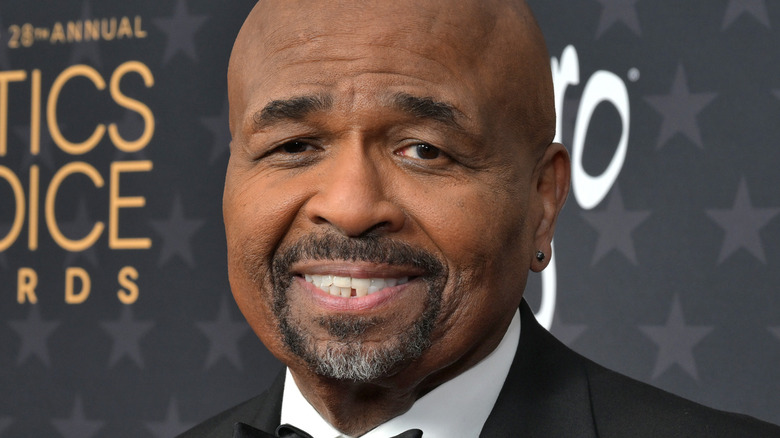 Michael Kovac/Getty Images
While an assortment of hilarious personalities make up the cast of "Abbott Elementary," William Stanford Davis as Mr. Johnson has been known to steal the spotlight from the rest of the talented players on more than one occasion. He's a verified laugh riot on screen, but it might be shocking for some to learn that he apparently was never intended to be a major character, and his rise from guest star to full-fledged cast member happened in a surprising manner.
After two great seasons of well-crafted mockumentary-style comedy, fans are most assuredly not surprised that the outstanding series will be returning to ABC for a third season. "Abbott Elementary" has undeniably been a major hit with home and critics alike (via Rotten Tomatoes), and it has won several accolades from distinguished awards shows such as the Emmys and Golden Globes. While the show itself has won top honors, Quinta Brunson, Sheryl Lee Ralph, and Tyler James Williams have also all managed to take home gold for their performances. 
While those three are probably fan favorites, it's hard to deny that janitor Mr. Johnson is among the funniest employees at "Abbott Elementary," and one of the highlights of the series. Here's how Davis cemented his place as a series regular.
Davis made his first impression count when he arrived on Abbott Elementary
ABC/Gilles Mingasson
When it was announced he was joining the roster as a recurring player for the ABC series, Davis wasn't shy about sharing the highlights of his experience working on the show. "The cast is unbelievably talented, and we've had so much fun. Everybody connected. Working with them became a dream," the actor told Ladue News. He also praised the show's creator, stating, "Quinta [Brunson] -– she's a genius. She's put together something special."
But when Davis initially signed on for "Abbott Elementary," it was only for a guest role in the pilot. Due to pandemic-related restrictions, his face time with the people involved during the casting process was more limited than usual, but that didn't stop him from making his presence known when it came time to shoot. "Because we were right in the middle of Covid, everything was done on Zoom or on video," the actor said in an interview with Observer. "So I never got a chance to meet anyone until I got on the set, and they liked my choices, they gave me a couple of directions. And the next thing I knew, I was coming back for another episode, and another one and another one." 
And Davis' rise didn't stop there, as it was announced on July 20, 2022 that he had been given a much-deserved upgrade from recurring character to series regular for the second season (via TV Line). With a third season on the way, viewers can expect more side-splitting moments from their favorite school janitor, and it will be exciting for fans to witness what the future holds for this incredibly funny "Abbott Elementary" persona.