The Sweet Way Shameless' Emmy Rossum Used Her Mom As Inspiration When Playing Fiona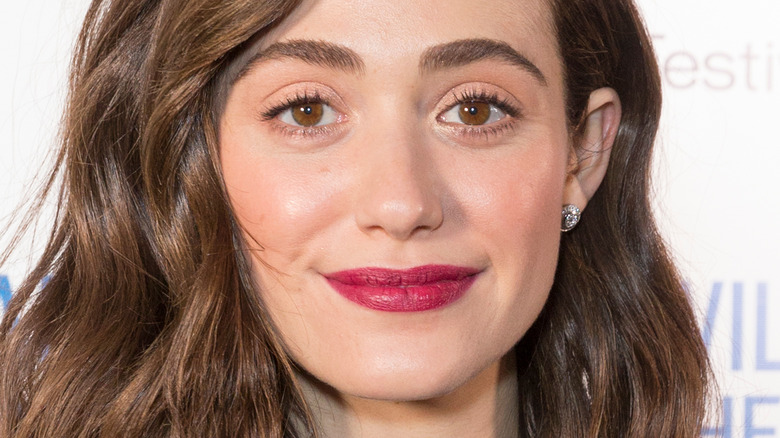 lev radin/Shutterstock
At its core, "Shameless" is about the Gallagher family's infrequent highs and dismal lows. When you think they'll finally catch a break, their shaky house of cards comes crashing down. While Frank Gallagher (William H. Macy) is the reluctant, irresponsible patriarch, it is the oldest sibling Fiona, who runs the show. Played by Emmy Rossum, Fiona Gallagher is a nuanced character who faces her fair share of challenges throughout the series. Prior to Emmy Rossum's departure from "Shameless" after Season 9, Fiona is one of the story's leading players. While she struggles to find love and steady employment, one of the central themes of Fiona's story is that she acts as a mother figure to her younger siblings.
Although she slips up occasionally, Fiona devotes most of her energy to ensuring that her siblings are growing up in a semi-stable but loving environment. When it came to developing her character, Rossum looked to her childhood. Rossum grew up in New York City with an innate singing talent, a far cry from Fiona's gritty upbringing on the South Side of Chicago (via Interview). However, the actor's relationship with her mother allowed her to bring a more profound understanding to her portrayal of Fiona.
Shameless' Emmy Rossum was raised by a single mom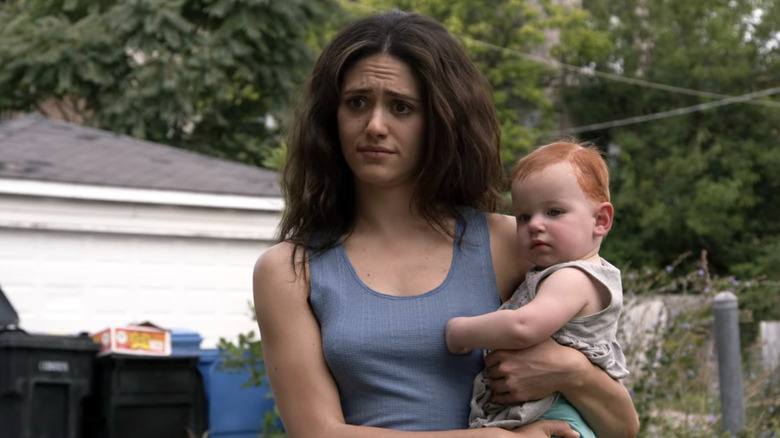 Showtime
As the series progresses, viewers get glimpses of what life was like for Fiona before she took responsibility for her younger siblings. She was a popular track star with a bright future ahead of her, though Frank's alcoholism and her mother's departure led her to drop out of high school. For the youngest brother, Liam (Christian Isaiah), Fiona is essentially the only mother he's ever known. Similarly to her character, Emmy Rossum was raised by a single parent. This upbringing allowed her to draw comparisons between her childhood and the chaotic life of the Gahallger family. Via a Reddit AMA, Rossum revealed that being raised by a single mother helped to inform her performance.
"There are bits of me and my mom in Fiona. But she's also her character, and they write her so well," the actor explained when asked if she sees herself in her character. "My mom was a single mom, so she raised me by herself. Her tenacity, encouragement, and love definitely inspires my portrayal of Fiona."
The more you get to know Fiona, the easier it is to see her sacrifices to support her family. Coming to terms with Fiona's painful past couldn't have been easy, so it's interesting to know that Rossum used memories of her mother to help bring the character to life. Ultimately, these little pieces of reality make Fiona's fictional struggles so enthralling.