You's Penn Badgley Shares Why He Thinks Fans Love Joe Goldberg So Much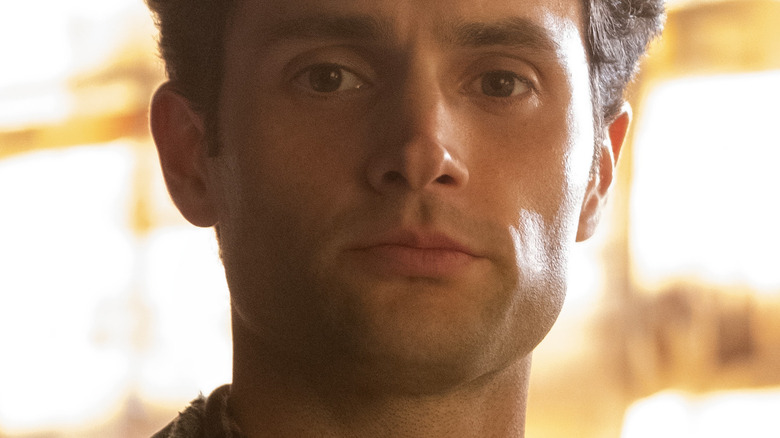 Netflix
"You" Season 4 — Part I is set to premiere in February 2023. As revealed in a trailer that debuted at the beginning of the new year, Season 4 will follow Joe Goldberg ("Gossip Girl" breakout star Penn Badgley) as he prowls the streets of London, attempting to conceal his disturbing past from his new friends — one of whom is trying to murder him.
"You" debuted on Lifetime in 2018, having been adapted from a novel by Caroline Kepnes. It quickly took off, making the jump to Netflix for the remainder of its run. Over the past several years, fans have cringed as Joe stalked and murdered his way to true love, his luck running out more and more with each close scrape the logical consequences of his actions have.
And yet, though he may be one of the grossest protagonists on television right now, Joe strikes a bizarrely seductive chord with some fans (it's one of the few messed up things viewers are happy to ignore about the show). Though one may chalk it all up to the classic Hollywood charisma on display in the series, its leading man feels that a portion of the fanbase really does love Joe — so much so, he seemingly feels a responsibility to speak about the reasons why.
Joe represents the tendency to fantasize about life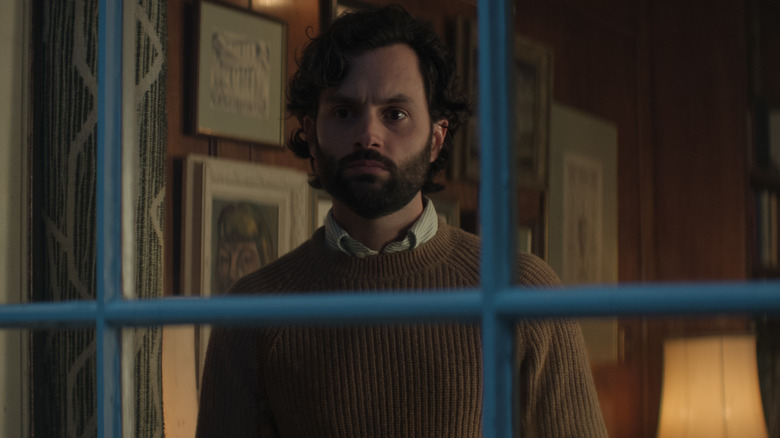 Netflix
In a January 2023 episode of "Podcrushed," Badgley, who has vocally questioned the impact Joe may have on his fans, spoke about his character with a reflective sort of nuance. Though he usually defaults to criticisms of Joe, here he offers somewhat of a softer perspective on why the character connects with fans despite his horrible actions. "It's definitely a thing," he said cautiously of viewers' "love" for Joe.
Host Nicole Byer seemingly half-jokingly theorized that Joe gets a pass from fans because he kills "out of love." For his part, Badgley agrees that Joe's motivations play a role in endearing him to the audience as much as possible, but he also feels that he resonates with a deeper, psychological truth held in viewers' hearts and minds. "I actually think we live in such a media-saturated age, it's, like, the things we see on TV and movies, it's hard to not fantasize about your own life in so many moments," he said. "Like, 'This could be better if it was like the things I was seeing [on TV].' So he's a representation [of that], I guess."
What separates Joe from the viewers (hopefully) is his willingness to take these fantasies to violent extremes. Because of this dark trait, Badgley rarely speaks about Joe in an empathic light — in fact, the actor has had little patience in the past for any defensive or otherwise positive opinions about Joe.
Fans have had weird thoughts about Joe in the past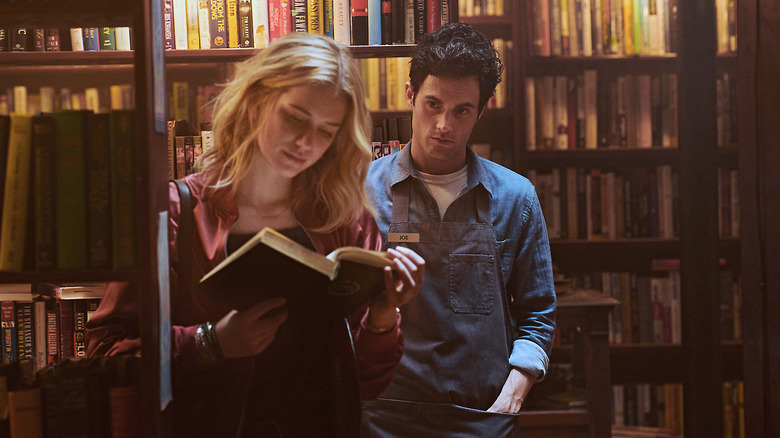 Netflix
In 2019, leading up to the Season 2 premiere, Badgely spoke publicly and candidly about the uncomfortably warm reception his character first received. After a fan tweeted out that they were frightened by the sheer number of people "romanticizing" Joe, the actor himself quote-tweeted the statement with his own post, writing, "Ditto. It will be all the motivation I need for season 2."
As Insider comprehensively recounts, much of Badgley's press circuits for Seasons 1 and 2 focused on how carefully he wanted to portray Joe without defending him or his actions, as well as how worried he was fans would take the wrong message away from the story. "I don't think we need to be humanizing murderers anymore," he told HuffPost. As Insider also reported after Season 2 premiered, however, Badgley acknowledged that the nature and style of the show lead some to feel an understandable, mostly harmless attraction to Joe.
Though some may feel there's no harm in audiences finding a sense of escapist pleasure in fictional villains (to a point), there is a sound argument to be made that these characters help shape the self-perceptions of those who identify with them. The theory becomes eerie when comparing Joe — and other antiheroes — to worryingly popular real-life figures.