Grey's Anatomy's Chandra Wilson Stole This Decoration Piece From Set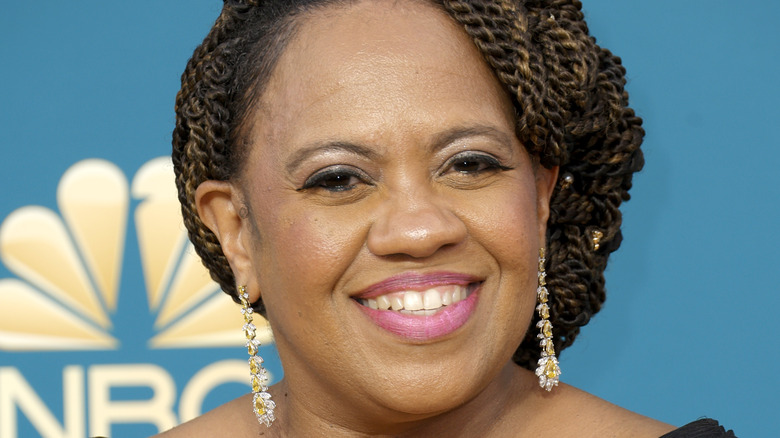 Frazer Harrison/Getty Images
Think of all the inanimate things on TV over the years. Between costumes, props, and set pieces, there have been plenty of objects that have probably gotten way more screen time than most Hollywood actors themselves. The major difference is, of course, they usually go unnoticed. That's why, it would be pretty easy for a cast member of a specific show to, every now and then, snag a piece of the set to take home with them. It's no secret that this happens all the time, either. It's known that Daniel Radcliffe swiped a pair of his iconic "Harry Potter" glasses, while Liam Hemsworth admits to taking five different versions of his prop "Thor" hammer. Even the cast of "Grey's Anatomy" can't help themselves from secretly claiming on-set items as their own.
If you had to catalog all the props and costumes used for shooting the series "Grey's Anatomy," you'd probably end up with a book that resembles "War and Peace." After all, the series has churned out over 400 episodes during its now 19 seasons. That's over 18,000 minutes of on-screen moments that require set and costume designers to help create a realistic world around a fictional story. And over the nearly two decades of filming, the main cast of the hit ABC series has been surrounded by plenty of thieving opportunities to add to their at-home stash of on-set souvenirs. For series regular Chandra Wilson, she admits that she is surely not innocent of this act.
Wilson took something that can use on an annual basis
Not too long ago, a few main cast members of "Grey's Anatomy," sat down with Variety and discussed if they had ever taken something from the set of the hit ABC series."You mean like the clothes that we steal?" laughed Debbie Allen. She continued, "All of my best outfits...I don't work where I can't keep the clothes. It's in my contract!" Series star Ellen Pompeo wasn't as eager to admit any thievery of her own, besides the dark chocolates she takes, which are offered to cast and crew from craft services. However, Chandra Wilson had no problems admitting that she once took a spooky decoration.
When asked whether or not she had ever taken an item from the set of "Grey's Anatomy," Wilson offered up that she once took a decoration home. "I took the Halloween wreath off of Baily's door," she admitted. "It's such a nice wreath, it's black...yeah, I took that." Based on when this interview took place, and the fact that there aren't many Halloween-centric "Grey's Anatomy" episodes, many may deduce that the wreath came from Season 16, Episode 6 ("Whistlin' Past the Graveyard). Most likely, that set piece isn't something producers have been searching for, and Wilson should be in the clear. Whether or not she actually displays this wreath every October at home, is only known to her local trick-or-treaters.