Rick And Morty's Dan Harmon Compares Pickle Rick To Breaking Bad
Few shows that have come out over the last decade have stirred up the kind of cultural zeitgeist that "Rick and Morty" has. The Adult Swim animated comedy series has become such a cultural force on and offline that the network has signed its creators, Justin Roiland and Dan Harmon, up for an unprecedented 70-episode renewal deal that will last until the show's 10th season (via Deadline).
Of course, over the years, "Rick and Morty" has given viewers a ton of iconic episodes, each with its own signature jokes and layered with a myriad of pop culture references for fans to unpack and dissect. Still, the Season 3 episode, "Pickle Rick," which sees mad scientist Rick turning himself into a pickle to avoid family therapy, is easily one of the most memorable moments in the series.
However, as goofy as this particular "Rick and Morty" episode is, co-creator Harmon actually had a very lofty and ambitious approach to building up this iteration of Rick Sanchez (Roiland).
Harmon says the episode was about seeing what makes Rick tick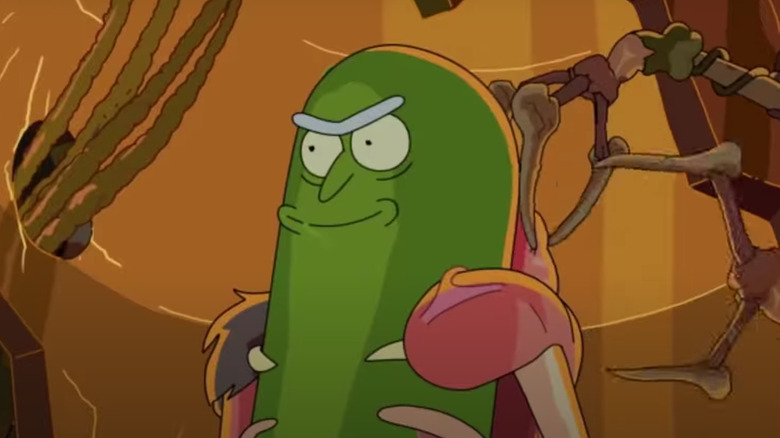 Adult Swim/YouTube
Speaking with GQ about some of the most iconic episodes of "Rick and Morty," Dan Harmon went deep as he explained what had inspired him to come up with Season 3, Episode 3: "Pickle Rick". Surprisingly, though, Harmon pointed to an unexpected source when he mentioned "Breaking Bad" and cited an early episode of the AMC crime drama as an example of what he was going for.
"The way I was thinking about it was like it's the 'RV breaks down in the desert episode of Breaking Bad,'" Harmon explained. "These cool episodes where you take an icon and say, okay, well, what makes them tick on the inside? And you do that by depriving them of everything."
Though the cross-reference might be a surprise for fans when reexamining the Pickle Rick episode of "Rick and Morty," with this context in mind, you can definitely see where Harmon is coming from. Above all, the episode shows how resourceful Rick is even when he's just a sentient pickle trapped in a highly hostile sewer system.
"My partnership with Justin gives me this really fun license to go, 'Yeah, let's take this really dumb thing incredibly seriously," Harmon went on to explain. Well, as anyone who's seen the heist or story train episodes of "Rick and Morty" can attest, this factor is something that's still being carried through in the series to this day.