Ryan Coogler Knew That Black Panther 2's Riverbank Scene Was The Most Important Of The Film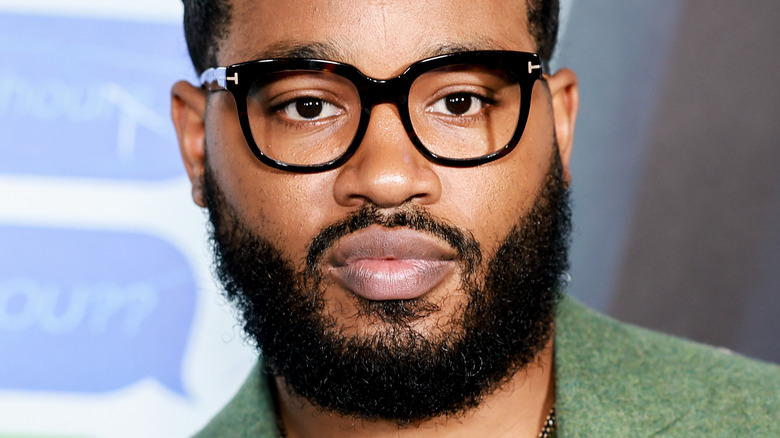 Matt Winkelmeyer/Getty Images
Making "Black Panther: Wakanda Forever" was a herculean effort from all those involved. Even from the start, the team had to follow up on one of the most critically and financially successful Marvel movies of all time, which also just so happened to go on to win several Oscars. However, tragedy would soon rear its head in August 2020 when "Black Panther" star Chadwick Boseman sadly passed away at the age of 43. The character's future was thrown up in the air, with Coogler and company ultimately deciding not to recast the character and instead pick up where Boseman's T'Challa left off. 
As fans know, "Black Panther 2" has an opening scene where T'Challa dies, leaving his family and country in turmoil. This leaves them open to hostile forces taking over, from colonizers trying to steal their vibranium to Namor (Tenoch Huerta) and his people waging war against Wakanda. 
Amazingly, the film served both as a fitting tribute to Boseman and an extension of the Marvel Cinematic Universe. The film earned praise from critics and audiences alike on Rotten Tomatoes, and Angela Bassett seems like a shoo-in for an Academy Award nomination for her performance. A lot of moving pieces had to come together to make the film what it was, but according to director Ryan Coogler, one scene, in particular, was crucial to getting the movie right.
If the riverbank scene wasn't done right, they didn't have a movie
"Black Panther: Wakanda Forever" came out back in November 2022, but it's remained in the zeitgeist in part because there's a lot of award talk circling around it. To keep the hype train movie, Marvel also came out with a podcast where creatives behind the film discuss various aspects of the production. In "Chapter 2," Ryan Coogler spoke on the importance of the riverbank scene where Queen Ramonda (Angela Bassett) and Shuri (Letitia Wright) attempt to say goodbye to T'Challa before being interrupted by Namor. 
As Coogler said on "The Official Black Panther Podcast," "Those two are just ridiculously gifted, man, and they kind of got each other's number, so it's not a ton of scenes where it's just them, but the one scene is them on the riverbank. Now that's the scene where I knew if this scene doesn't work, then we don't have a movie." Later on, Coogler explained why that scene needed to work the way it did, "This the whole movie, you know, it's the whole movie, just because somebody dead don't mean they're gone."
In a film with as many action sequences as "Wakanda Forever," it's paramount to have quieter moments in order to reflect on the themes present. The movie's about overcoming loss and grief, with Shuri wondering how to move on from her brother's death. The riverbank scene is crucial, especially in the context of the film's final moments. Suffice to say, Coogler did indeed knock it out of the park.