Shameless Star Justin Chatwin Compares Fiona And Jimmy's Relationship To Romeo And Juliet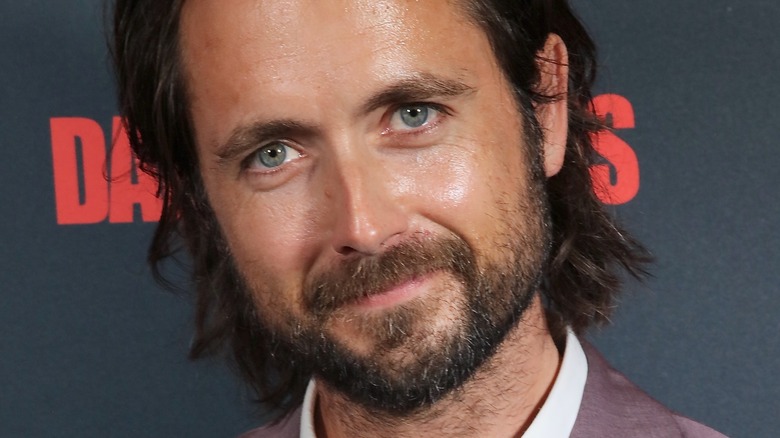 Robin L Marshall/Getty Images
Showtime's "Shameless" did an excellent job portraying how poverty can impact an already dysfunctional family. The Gallaghers all have their fair share of issues, but the one trying to keep everyone afloat is Fiona (Emmy Rossum). She has plenty of problems, but she tries to hold it together for the betterment of her family, where she's pretty much the parental figure due to Frank's (William H. Macy) continual absence. However, she tries to make room for her own joy, starting in Season 1 by going out with Jimmy (Justin Chatwin).
While he seems like a good match for her, he has a long rap sheet, and when fans are first introduced to him, he's making it as a car thief. Over the next few seasons, Jimmy comes and goes from Fiona's life. Even when she meets other guys, he somehow wiggles his way back into her good graces, even causing her to cheat on her husband, Gus Pfender (Steve Kazee), with him.
Jimmy and Fiona eventually end things for good, but the two undeniably had a strong connection, even if it wasn't healthy. Chatwin was a fan of how the relationship was portrayed onscreen and even compared it to another doomed, albeit more notorious, doomed romance.
Justin Chatwin thinks Jimmy and Fiona were always meant for each other
While the chemistry is undeniable between Fiona and Jimmy, it's clear after a couple of episodes how self-destructive a relationship is for both of them. They both desperately want a release from their respective traumas and horrors, but their emotional baggage finds a way to continuously seep into their relationship.
In 2015, Justin Chatwin looked back on his character's feelings toward Fiona in an interview with The Hollywood Reporter and whether he personally was rooting for them to stay together. While he did not provide a direct answer, Chatwin did draw parallels between the "Shameless" characters and Romeo and Juliet. He said, "It's interesting because when I was pitched the show, [they] said that this [relationship] is a really f—ed up version of true love. These two are meant for each other; they are the heart of the story; it's Romeo & Juliet. So, I've always rooted for the two of them because they were both really damaged people [whose] hearts lined up because they were both broken."
Just because two people are meant for each other doesn't necessarily mean they are healthy for one another. Fiona learned that the hard way, and even when other men came into her life, she couldn't let go of Jimmy. In fact, she eventually had to leave her entire family behind to try to get a fresh start, so hopefully, Fiona managed to find peace at some point.