Why David McCallum's Family Calls Him Dr. Death Because Of His NCIS Role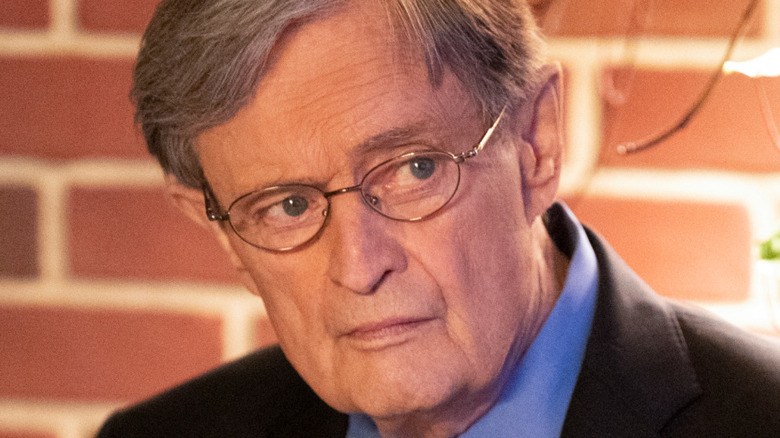 Robert Voets/CBS
Actor David McCallum has had a longstanding career in television and film. But since 2003, many "NCIS" fans have known the actor as the character Donald 'Ducky' Mallard. Ducky served as the NCIS team's chief medical examiner on the series. And with his tendency to converse with dead bodies while performing autopsies and his close friendship with Leroy Jethro Gibbs (Mark Harmon), the character consistently remained a fan-favorite. While "NCIS" experienced massive changes to its cast over time, Ducky stood as one of the show's constants, at least for a while. However, recently the character has stepped back a bit, trading in his job as a medical examiner to be the NCIS Historian instead.
Still, in whatever capacity he appears on "NCIS," in the future, longtime fans of the series will probably always refer to the character by his nickname Ducky, which has got to earn the top spot for fitting monikers on a procedural drama. After all, who could pass up saying "Ducky" with a name like Donald Mallard? Like the character he portrays, McCallum also earned his own special nickname. His family gave him one because of his work on "NCIS." However, instead of anything wholesome like 'Ducky,' McCallum once revealed that his family calls him Dr. Death.
McCallum's intense NCIS research included tons of notes about death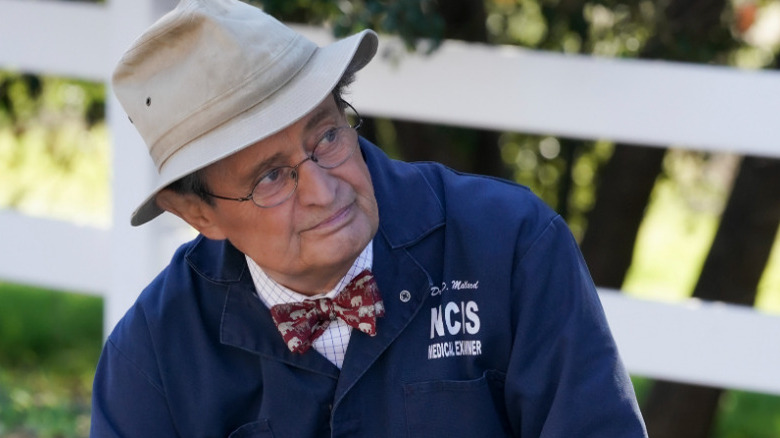 Eddy Chen/CBS
"NCIS" is a series that aims to ground itself in reality. Admittedly it doesn't always hit that mark, such as when it gives a false impression about how crime scene investigations actually work. But for the most part, the series does take steps in not straying too far in how an NCIS team would operate, thanks partly to the show's use of real-life agents as technical advisors. In addition, some of the show's cast has done extra work by doing their research. And this was definitely the case for David McCallum. While speaking with Buzzy Mag, the actor noted that he's constantly researched the medical terms and procedures his character Ducky would say and perform on "NCIS."
However, since Ducky often deals in the realm of death in the show, McCallum's extensive research has included tons of notes on the grisly subject, the actor continued to say in the interview. And as a result, McCallum's family came up with a unique nickname. "I get accused by my family – they call me Dr. Death now," McCallum said to Buzzy Mag. "I have yards and yards of books on the subject of death. When we started this show, I didn't know anything about pathology, and I didn't know anything about [the real] N.C.I.S. I learned the commitments of excellence that all of those special agents have, and then we brought that to what we all do as a team." While it's earned some teasing from loved ones, McCallum's deep dive into the medical field has been effective, as it's helped Ducky feel authentic in his duties on "NCIS."
McCallum's penchant for research helped him with his first novel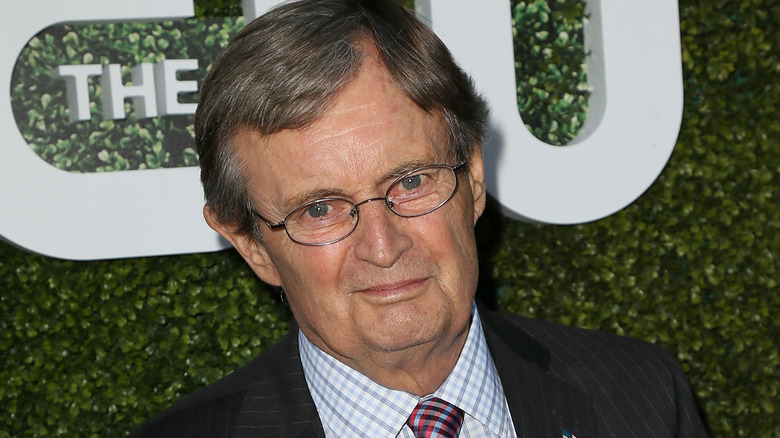 David Livingston/Getty Images
While speaking to Buzzy Mag, David McCallum noted that he loved researching and learning more about the medical field and NCIS for his role as Ducky. That fact suggests that McCallum has a healthy thirst for knowledge. Fortunately, his general eagerness to learn would serve him well as he tried out another creative endeavor. McCallum wrote his first mystery novel, "Once A Crooked Man," which came out in 2017. The novel centers on an actor named Harry Murphy, who somehow becomes involved in trying to stop a murder from happening.
It's a comedic misadventure, despite the novel involving the dangerous practices of underground criminal families. In a 2016 interview with Shots, McCallum provided some details on his work for the book, which was written and worked on for several years before he ultimately decided to finish it. McCallum also noted in the interview that some of the book's development involved a lot of research. McCallum told Shots, "... I worked with DEA and with the State's Attorney in upstate New York. In fact, I did more research than was necessary, but it was very enjoyable." And now, with "Once A Crooked Man," McCallum can add "published author" to his Dr. Death title.