American Pickers Star Mike Wolfe Was Completely Touched By One Collector's Antiques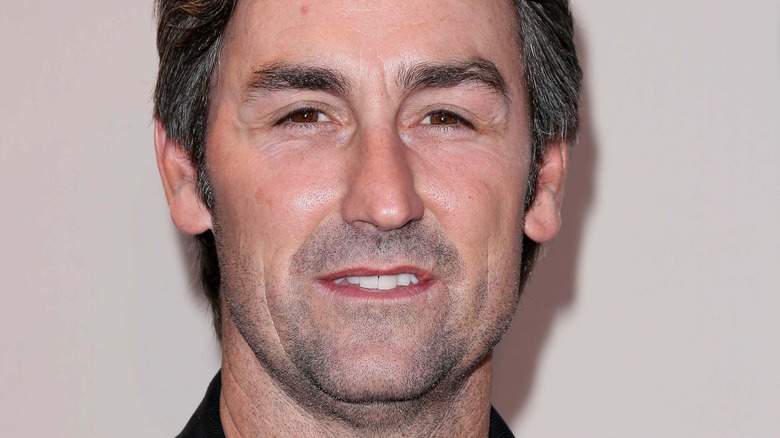 s_bukley/Shutterstock
At this point in the primetime tenure of "American Pickers," there's not much that the show's creator and host Mike Wolfe hasn't seen. That includes 23 seasons worth of road-dogging, antiquing drama that finds the antique guru and a revolving door of equally informed co-hosts digging for forgotten treasures in the backyards and rusted sheds of modern America.
Despite the series' lengthy small screen run, the show — save for a couple of well-documented on-camera changes — has rarely deviated from its tried and true formula. Still, the series somehow never feels formulaic. That's in large part due to Wolfe's insistence in telling the story not only of every item picked on the show, but also those of the sellers he and his co-hosts encounter on the job. That story-first approach really has remained true of the show since its early days, with Wolfe telling Southeastern Antiquing and Collecting Magazine in a 2011 interview, "That's what interests me. I go in, and people have one hundred or one thousand of one thing, and it's the back story that is intriguing to me."
During the same interview, the "American Pickers" host was asked if there were a seller whose collection had particularly touched him during a pick. And Wolfe admitted he was genuinely moved by the collection of a man who'd been curating his own life since an early age.
Wolfe says telling such stories is why he started American Pickers
With more than a decade's worth of "American Pickers" action under his belt, Mike Wolfe has encountered a rogue's gallery of colorful characters over the years. That includes the curator whose deeply personal collection earned the heartfelt admiration of the famed TV personality. Wolfe encountered said curator early in the run of "American Pickers," and spoke reverently of the man during his interview with Southeastern Antiquing and Collecting. "I recently picked a guy who was the curator of his life," Wolfe said, adding "Since he was a boy of about seven, he preserved things and categorized them."
Wolfe went on to describe one small portion of the man's collection, noting with admiration the care in which things were organized, "He went to a Boy Scout Jamboree in 1973, and he had all he collected there in a bag — T-shirts, pennants, patches. It was all in a bag, categorized like CSI." Per the "American Pickers" host, the man's lifelong endeavor to catalog his own life was genuinely moving. Likewise, he said telling such stories is exactly why he does what he does. "That is why I started this project," Wolfe admitted continuing, "I wanted to tell their stories and show their items. I also wanted to show that a picker gets to see something firsthand."
The famed antiquer claimed later in the interview he can't imagine doing anything else for a living, stating simply, "It is the best job in the world." And with "American Pickers" continuing its run on History, Wolfe will likely be picking on the small screen for many years to come.