We've Actually Seen Detective Bruno Actor Kevin Kane In The Law & Order Universe Many Times Before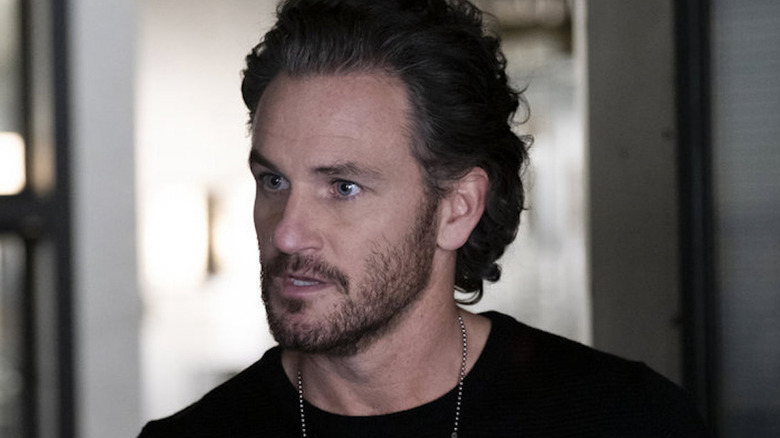 Francisco Roman/NBC
"Law & Order" is a behemoth of a TV show, totaling more than 475 episodes and still showing no signs of slowing down as of its revival in 2022. Spin-offs, most notably including the similarly sizable "Law & Order: Special Victims Unit," compound the franchise's size considerably. Over the course of such a long run, all sorts of guest stars have appeared in capacities that can be considered notable for various reasons.
On occasion, for example, "Law & Order" has featured family members of its main cast, like a time when Jill Hennessy's twin sister Jacqueline Hennessy took over the role of Claire Kincaid for an episode the usual "Law & Order" star couldn't film due to an unexpected illness. Meanwhile, recurring "Law & Order" guest stars earn the name "repeat offenders," a tongue-in-cheek appellation bridging their repeat performances with the show's crime-oriented subject matter. The list of multiple-episode "Law & Order" guest stars includes some big names like Isiah Whitlock Jr., David Harbour, Amy Ryan, and others.
In the January 5, 2023, "Law & Order: Special Victims Unit" episode "Jumped In," actor Kevin Kane plays a Bronx SVU branch detective named Terry Bruno. As it turns out, Bruno is far from Kane's first "Law & Order" role, following a run of multiple appearances in various capacities between the mainline show and "SVU" since 2002, earning him a unique spot among the growing list of so-called repeat offenders from throughout "Law & Order" history.
Kevin Kane is a Law & Order franchise veteran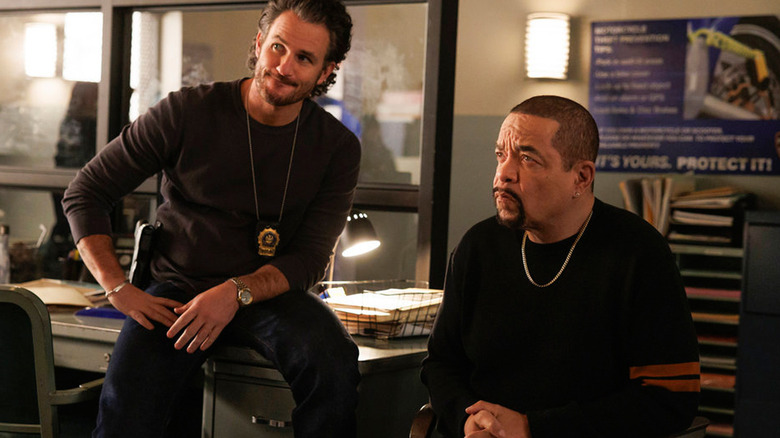 Peter Kramer/NBC
As Detective Terry Bruno, Kevin Kane is a part of a multi-episode story arc on "Law & Order: Special Victims Unit Season 22 that kicked off in early 2023. Kane's first "SVU" appearance, meanwhile, was roughly a decade-and-a-half prior, on Season 9, Episode 14 as a murderer named Scott Ryland. He then appeared in Seasons 13, 17, and 20 as a different character each time, meaning that Detective Bruno is his fifth character on "SVU" alone. In Season 13, he was a cop named Greg Wilcox, in Season 17, he was Major Bowman, and in Season 20, he played a character named Gary Kent.
Scott Ryland wasn't Kane's introduction to the "Law & Order" universe, however. Prior even to his 2008 "SVU" debut, Kane appeared twice on the mainline "Law & Order" series, first in a Season 12 episode that premiered in 2002, and again in 2005 during the show's 16th season. Taking all "Law & Order" appearances into account, then, Kane's 2023 stint as Detective Bruno marks his seventh role overall in "Law & Order" history.
Kane, notably, is a close collaborator with Amy Schumer outside of his recurring "Law & Order" work, which he detailed in-depth in an interview with Spin. Now that he's a recognizable face on "SVU" beyond just a single-episode appearance, it's unlikely "Law & Order" will introduce Kane as a new character moving forward, though a future return as Detective Bruno isn't yet out of the question.