Margot Robbie Details Her Chaotic First Day Of Shooting Babylon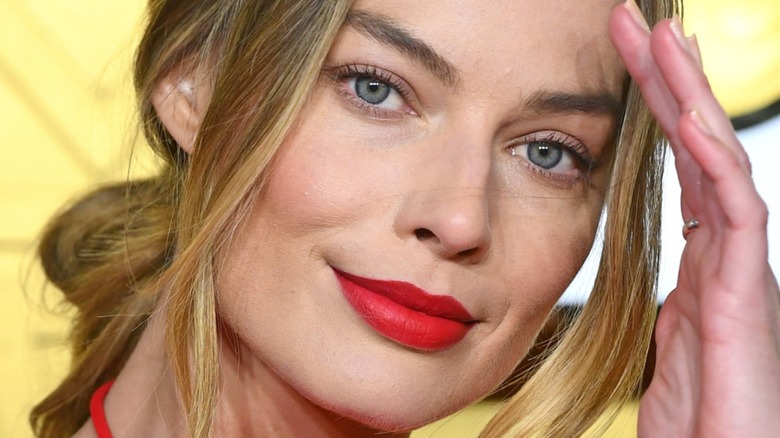 Joe Maher/Getty Images
Australian actor Margot Robbie is no stranger to playing compelling and unique characters in her expanding filmography. In the tradition of fellow Aussie performers like Cate Blanchett, Nicole Kidman, and Toni Collette, Robbie's selection of characters is diverse and eclectic as she moves through different genres and screen challenges. Her roles in "The Wolf of Wall Street," "Suicide Squad," "I, Tonya," "Once Upon a Time In Hollywood" and "Bombshell" couldn't be more different, with the exception being the gifted thespian bringing the parts to life. She has received two Academy Award nominations so far (via IMDb), and with her propensity for creating dynamic personalities, this should only continue.
2022's "Babylon," by "Whiplash" director Damien Chazelle, features the actor as Nellie LaRoy, an aspiring entertainer who meets and falls in love with Manny Torres (Diego Calva). Her character's determination and belief in becoming a sensation in the early days of Hollywood defines the aspirations of many who have traveled to Tinseltown to become a star. The movie also includes some dazzling set pieces that make its first 45 minutes a visual spectacle. On filming these scenes, Robbie shared her experiences about her chaotic first day on set.
Robbie's first day on set included some unconventional encounters
In an interview with PopBuzz, Robbie and Calva discussed their experiences filming the bombastic feature about early Hollywood. The interviewer asks them to talk about the wildest movie set they've ever been to, to which Robbie surprisingly replies "Babylon." She brought up the part of the movie where it's "Nellie's first day on set, with all the different films being filmed next to each other" and said "there were llamas and chickens. Like, we'd literally do a take and I'd have to pick up a chicken and move it out of the way. I mean, it was madness!" The actor then spoke about how the set was also uninhibited which is a hallmark of the tone of the film.
She added, "There's always naked people in this movie, no matter where you are there's someone, people are naked." Her co-star mentioned that those scenes were shot during the "first week of shooting" and Robbie added, "That was my first day." The "Birds of Prey" actor then said to Calva, "Wow, so your character's first day on set was your first day and my character's first day on set was my first day!" The art direction and set decoration of the feature are striking, which makes some of the unconventional scenes Robbie mentioned truly stand out, which she later called "stunning" in the interview.