The Babylon Scene Margot Robbie And Diego Calva Shot 36 Times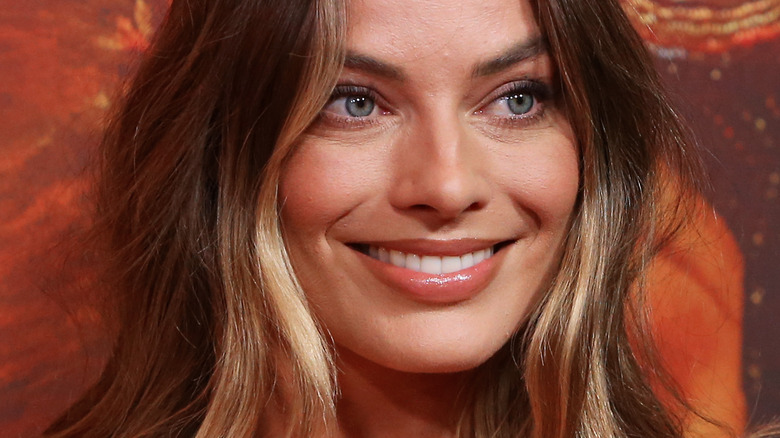 Lisa Maree Williams/Getty Images
"Babylon," the most recent film from "La La Land" and "Whiplash" filmmaker Damien Chazelle, is an epic three-hour-plus period drama about the transition in Hollywood from silent films to sound films in the 1920s. Written and directed by Chazelle, the film features an ensemble cast and follows multiple characters through a pivotal moment in the entertainment industry. 
The star-studded ensemble includes Margot Robbie as aspiring actor Nellie LaRoy, Diego Calva as aspiring filmmaker Manny Torres and Brad Pitt as silent film star Jack Conrad. Additionally, Jean Smart plays sensationalist journalist Elinor St. John, Jovan Adepo plays jazz trumpet player Sidney Palmer, and Li Jun Li plays cabaret singer Lady Fay Zhu.
When Manny and Nellie first meet, Manny instantly falls for the aspiring actor. As love interests, the two characters have a multitude of scenes together through the course of the film as their individual arcs play out alongside the potential romance. As it turns out, one of those scenes ended up being quite the task as Robbie and Calva shot it a whopping 36 times. 
A walk and talk scene took 36 takes
During a January 2023 interview with PopBuzz, Margot Robbie and Diego Calva discussed all things "Babylon" and revealed which scene took 36 times to get right. According Robbie, the scene in question consists of her and Calva's characters, Nellie and Manny, walking and talking together outside of a party.
"[It's] the most I've ever done any take," Robbie said. "It's edited down in the movie, but it was at least two and a half minutes long. Sometimes longer, depending on how we played it, and we did it 36 times. That was the most number of takes I've ever done." Not only was it grueling for the actors, but it was also grueling for the crew members, as Robbie revealed that it was shot with a steady cam. "That's heavy," Robbie said. "We were doing the acting, but people were moving equipment."
Furthermore, Calva added that they went through that scene more times than 36 takes when taking into account how many times they rehearsed it. Plus, Calva was even familiar with the scene prior to landing the role. "That was one of the scenes in the casting," Calva said, "so I played that scene like a year before getting to do it [in the movie]."