The One Prop Julie Bowen Always Hated But Took From Set When Modern Family Wrapped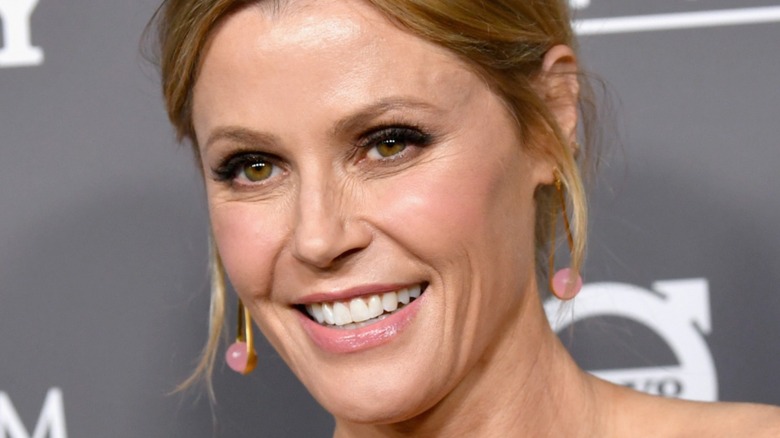 Emma Mcintyre/Getty Images
When "Modern Family" premiered on ABC in 2009, it immediately set itself apart from traditional sitcoms. Not only did the show break the fourth wall with its "mockumentary"-style confessionals, but it also had no laugh track or studio audience. There were also a whole lot of sets instead of one main hub where the characters gathered for 11 seasons.
When fans met the supersized sitcom clan, they were invited into Jay (Ed O'Neill) and Gloria Pritchett's (Sofia Vergara) modern house, Mitchell Pritchett (Jesse Tyler Ferguson) and Cameron Tucker's (Eric Stonestreet) subdued first-floor apartment, and Phil (Ty Burrell) and Claire Dunphy's (Julie Bowen) colorful and more traditional two-story abode. The homes' vastly differing decor became a popular topic among fans.
In 2010, the Los Angeles Times even ran a story about how the "Modern Family" set designers created the looks and where viewers could find some of the decorative pieces found in the characters' homes. Three years later, HuffPost teased an online flash sale where fans could purchase props from the "Modern Family" set, including a fish clock featured in the Tucker-Pritchetts' pad. But when "Modern Family" ended its run in 2020, the cast members were able to take home some of the props that they loved — or in series star Julie Bowen's case, at least one that she hated.
Julie Bowen took home an 'ugly' piece of wall decor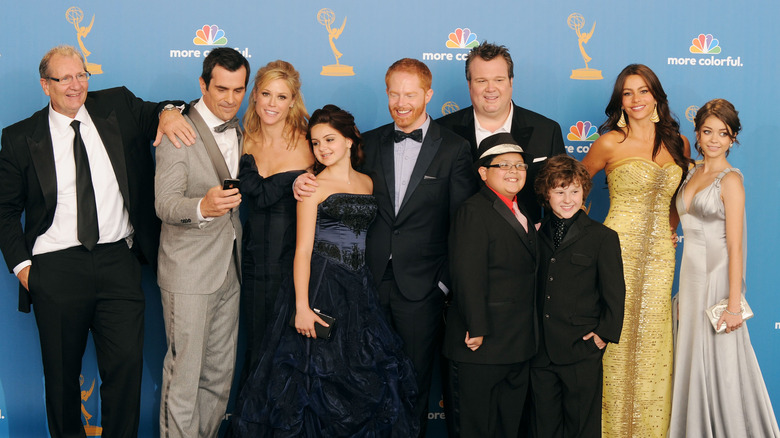 Jason Merritt/Getty Images
The Dunphy home features an eclectic mix of decor, including funky throw pillows, chain-store furniture, and decorative plates on the great room wall. As "Modern Family" set decorator Amber Haley told the Set Decorators Society of America, "nothing is really perfect in this house," with its broken step and asymmetrically hung artwork. "Collectively, it's a hearty stew of stripes paired with mismatched stripes, floral prints with more mismatched prints — chaos yet balance," she said of the home.
When "Modern Family" wrapped in 2020, star Julie Bowen revealed to Indulge that she ended up taking home some simple art pieces, as well as one of those decorative plates — even though she had never liked them. "There was some artwork which is not fancy, but it reminds me so much of the show. And there were some ugly plates hanging on the wall in the Dunphy house that I always hated, and then I took one," she said.
Speaking of the artwork in the Dunphy house, at least one of the paintings — the modern one hung over the great room mantle — was painted by an artist on the production team, according to Architectural Digest. And that "ugly" plate that Bowen swiped? That came courtesy of Pier 1 Imports.