Nicolas Cage Box Office Bombs Ranked Worst To Best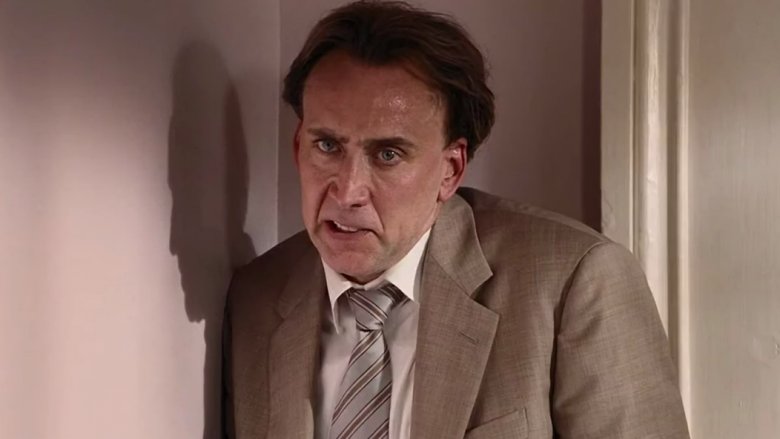 Millenium Films
Nicolas Cage's career has run the gamut from jaw-dropping dramatic performances to flat-out bonkers fare. With every hit he's delivered to the big-screen, a huge share of misses have steadily underwhelmed theater-going audiences. Since winning the Oscar in 1996 for his portrayal of alcoholic Ben Sanderson in Leaving Las Vegas, Cage has appeared in a whirlwind of wonderful cinematic achievements — with a plethora of head-scratchingly bad movies thrown in for good measure. What can we say? An actor's gotta work. 
Some say failure isn't a bad thing: it's a lesson. Needless to say, Nicolas Cage's box office bombs haven't dragged the actor down into celluloid obscurity. Instead, his work has persevered, lending itself to a reputation for being one of the most versatile character actors in the business. And hey, just because audiences didn't flock to theaters for these releases, doesn't mean they're all bad!
Enough small talk; let's dig into things, shall we? From supernatural action flicks to a handful of street-level revenge tales, here's a rundown of Nicolas Cage's recent box office bombs, ranked from worst to best.
The Wicker Man was a different kind of classic from the original
Hollywood's all about horror movie remakes. But there are certain classics out there better left untouched. One glaring example is 1973's The Wicker Man, which starred cinema icon Christopher Lee (The Satanic Rites of Dracula, The Lord of the Rings). Yet, in 2006, an updated take on the story, about one man's discovery of a sinister cult doing sinister things, hit the big screen. Neil LaBute (In the Company of Men, Hell on Wheels) helmed the theatrical remake with Cage in the lead role. 
The idea probably looked great on paper, what with the enduring cult status of the British horror film, but the movie failed to live up to the hype. From LaBute's poorly-written script to the wacky visuals of a face-painted Ellen Burstyn and Nic Cage in a bear-suit pummeling random women, it's baffling to think that the most iconic scenes re-enacted from the classic — Nic Cage's head trapped in that bee-filled head cage and the burning of the giant wicker man come to mind — get completely overshadowed. 
As with any production, this film required many moving parts to get from concept to screen. However, the whole is not greater than the sum of those parts here. Could The Wicker Man remake be the worst movie of all time? According to Stereogum, the answer is a resounding yes.
Left Behind makes rapture look bad
Left Behind follows the story of a ridiculously-named airline pilot Rayford Steele (Cage), who finds himself teaming up with journalist Buck Williams (Chad Michael Murray) in an attempt to discover why a large portion of the population have vanished from the planet. Lea Thompson (Back to the Future) and American Idol alumna Jordin Sparks help round out the cast. It may be hard to take this synopsis seriously when you look at the film's cast and read the two lead characters' names out loud — long-time stunt coordinator Vic Armstrong (Rambo III, War of the Worlds) took on directing duties here — but the story that plays out, with all the grandiose biblical subject matter the movie touches on, comes off mindless and silly.  
The Daily Beast got a bit punny in their review, calling Left Behind "god-awful," before digging into the movie's many faults: "the strategically placed Bibles, the awkward and forced theological debates, the not-so subtle Christian messages, the unrealistic religious tension, and Nicolas Cage are always present to remind us that we're watching a movie made by evangelicals for evangelical purposes." 
What's most interesting about Left Behind is the fact that it was released just months after Damon Lindelof's rapture-themed high-concept drama The Leftovers premiered on HBO. While the series only lasted three seasons, it's safe to say it has a better chance of being remembered than Cage's film, which for the most part, has just been left behind.
Stolen stole from Taken
Nicolas Cage has made a habit of appearing in so many movies, that they start to bleed together over time into two main categories: fantastical supernatural action flicks and brooding crime thrillers. 2012's Stolen firmly belongs in the second and is one of a handful that finds the actor working in the city of New Orleans. The film follows Will Montgomery (Cage), a career criminal who ends up behind bars after a heist that goes sideways. Once out, Montgomery finds out his presumed-dead partner Vincent (Josh Lucas) is very much alive. Seeking vengeance, and the $10 million in cash from the aforementioned heist, Vincent lures Will into a crazy cat-and-mouse game by kidnapping his daughter (Sami Gayle). 
It sounds intriguing enough. But there's a formulaic trap that low budget thrillers like these can fall into, and Stolen tends to rely heavily on familiar story elements and plot devices. Heck, there's a few notable similarities between the Simon West-directed (Con Air, Lara Croft: Tomb Raider) film and that of Liam Neeson's Taken movies. But comparing the two is like comparing apples to higher-quality oranges. 
"Cage can be, and could be again, a marvelous, soulful actor," says NPR. "But here he plays paternal protectiveness as a means to an end: He looks crazy and determined, all right, but not any more so than in any other Nic Cage action role — the poor teenage daughter, locked in the trunk of a nutter's taxicab, is just an afterthought."
Seeking Justice was a good idea brought low
Seeking Justice tells the story of high school teacher Will Gerard (Cage) who's out for revenge after his wife Laura (January Jones) is hospitalized from a brutal attack. Things get a bit convoluted from there as random creep Simon (Guy Pearce) enters the picture, offering to take care of those who attacked Laura with one caveat: Will has to promise to pay Simon back with a small favor sometime in the future. Of course, the favor in question turns out to be murder. And once Gerard turns to the New Orleans Police Department only to discover they're in on it, it all gets complicated.
As ominous as this all sounds, Seeking Justice unfolds as best it can within the low-rent thriller world that director Roger Donaldson (Cocktail, Dante's Peak) creates. Let's not mince words here, the talent involved help add interest to an otherwise cliche tale. Unfortunately, Cage, Pearce, and Jones aren't at all used to their full potential. "There's a good idea here, in the story of helpless victims who get caught up in citizen vigilantism," says The NY Daily News. "But it's buried under a cheap, straight-to-DVD esthetic."
Season of the Witch brought American accents to medieval Europe
When you think of 14th-Century knights fighting the good fight, actors Nicolas Cage and Ron Perlman (Sons of Anarchy, Hellboy) aren't the first actors to come to mind. But they take on the lead roles in 2011's Season of the Witch. The story follows Behmen (Cage) and Felson (Perlman), two very American-sounding Crusaders on a mission to escort a woman accused of witchcraft to a remote monastery to put an end to the Black Plague.
If you're reminded of Game of Thrones through all this medieval hub hub, you wouldn't be alone. HBO's Sunday night phenomenon kicked off the same year Season of the Witch hit theaters. And Rory McCann — who audiences may know better as Sandor "The Hound" Clegane — shows up here in a supporting role. 
Aside from the distracting New York aesthetic the two actors bring to the film, the supernatural period piece is elevated enough by their performances. And let's not forget the appearance of The Crown's Claire Foy as the witch in question, the performance of Robert Sheehan (Misfits, The Umbrella Academy) and Christopher Lee as Cardinal D'Ambroise. "There is too much mumbo-jumbo and old-fashioned tantra-mantra in The Season of The Witch to engage the modern mindset," writes Times of India. With the talent involved, Dominic Sena's (Kalifornia, Swordfish) directorial efforts don't quite succeed at lifting the movie out of the hackneyed reality it's based in. 
Bangkok Dangerous didn't translate into English
"It turns out that Bangkok Dangerous is more Bangkok Tedious than Bangkok Odious," IGN said in their review of the stylish crime thriller. And that's unfortunate when you think of the original flick that inspired this uninspired remake. In 1999, brothers Danny and Oxide Pang burst onto Thailand's film scene with Bangkok Dangerous, a dazzling film that told the story of a deaf-mute hitman's journey from revenge to redemption amid the chaotic backdrop of Bangkok's criminal underworld.
As compelling as the original concept was, things fall by the wayside in the 2008 remake. Yes, the Pang Brothers stepped back behind the camera to tell this story, but there was something slightly eye roll-worthy about watching Nic Cage in the hitman role. He's neither mute nor deaf here. His American sensibilities act as the component that put Joe (Cage) in that disconnected, fish-out-of-water state. If he can't communicate with the Thailand locals, that's just as good as being incapable of hearing or speaking, right? Nope.
In the end, Bangkok Dangerous provides the visual tone the Pang Brothers have become known for, but Cage's performance bogs things down a bit. "Remove Cage's moody presence," Empire says, "and you could pick up this kind of action at your nearest service station." His brooding tone mixed with the stereotypical plot point of a jaded assassin performing "one last job" makes the flick a collection of misses hard to be ignored. And for a story about a hitman who never misses, that's truly unfortunate.
Drive Angry is genius in its own way
From the writer-director team behind My Bloody Valentine comes Drive Angry, a supernatural Grindhouse-style shoot-em-up starring Cage as John Milton, a brutal felon who escapes hell on a double-edged mission to avenge the death of his daughter and rescue his granddaughter from the clutches of an evil cult. Along for the ride is no-nonsense gun-loving Piper (Amber Heard), who helps Milton on his violent journey. Of course, since this is also an escape from hell, there's a devilish component in the film brought on by William Fichtner's subdued, yet brilliant performance as The Accountant — a demon who keeps the devil's books, making certain to return any escapees back to hell. 
Through the maelstrom of nudity, gore, bullets, and action, Drive Angry ultimately polarized critics when it hit theaters. Either you get the '70s drive-in theater schtick the writer-director team of Todd Farmer (Jason X) and Patrick Lussier (Scream: The TV Series, Apollo 18) were aiming for, or you didn't. The Hollywood Reporter described the flick as "high-octane trash," while Pajiba celebrated the film, stating, "It's an hour and forty-five minutes of unapologetic, sh**kicking, brain-shelving stupidity. It's also a hell of a lot of fun."  
Through it all, though, IGN may have put it best by describing Drive Angry as "the closest thing to what a shoot 'em-up black comedy from the 1970s starring Charles Bronson and directed by the likes of George Romero or Roger Corman might have been like." We can't argue with that.
The Sorcerer's Apprentice is a fun adaptation of a Disney classic
The Sorcerer's Apprentice, the live-action flick inspired by the Mickey Mouse-starring Fantasia segment of the same name, follows mild-mannered Dave Stutler (Jay Baruchel) whose life is turned upside down when Balthazar Blake (Cage) hires him to be his assistant. Oh, we should probably also mention that Balthazar here is a great and powerful wizard. What transpires is a movie that mixes genre elements of adventure, buddy comedy, and romance all into one big blockbuster. Of course it's not all just fun and games for the duo. The magicians end up working together to take down the villainous Horvath (Alfred Molina) before he takes over New York.
The Sorcerer's Apprentice is "an enjoyable action-fantasy adventure with a sparky script," says The Guardian, making note of "the playful pastiche of the broomsticks-coming-alive scene from the original legend, using the famous Paul Dukas music." That self-awareness helps sell the film, which could otherwise have crumbled under the weight of its referential subject matter. Let's remember: this is a live-action Disney film. While Nicolas Cage isn't the first actor we'd picture as high ranking wizard, the chemistry between the cast members is palpable enough to keep audiences engaged. Add in the mix of genre elements we mentioned previously, along with the energetic story pacing, and the end result is a fun popcorn flick for the whole family to enjoy. 
Joe was a return to form for Cage
David Gordon Green's (Pineapple Express, Eastbound & Down) indie hit Joe is on this list for one simple reason: the film made nearly nothing at the box office. The movie screened in a total of 48 theaters across the country. Box Office Mojo reports the project earned a total of $373,375 during its big-screen run. And that's a shame, really. Joe marked the return of Green to the indie world — The Independent once lauded him as the second coming of Terrence Malick (The Thin Red Line, Knight of Cups) — as well as Nicolas Cage's return to the type of roles that put him in Academy Awards conversations to begin with.
Adapted from the Larry Brown book of the same name, the 2013 flick stars Cage as Joe, a tormented blue-collar lumber worker trying to remain on the right side of the law, who ends up stepping in to protect 15-year-old Gary (played by Ready Player One's Tye Sheridan) from his abusive father. "Cage's performance is raw, restrained, comedic and intense," writes Indiewire, "and has been called one of his best turns in years harkening back to the now almost forgotten days when the actor was an indie king and before he took on an array of baffling studio pictures."
What makes Joe work is the compelling marriage of the film's solid storytelling components. The writing, directing, and acting are all on point here, with Nicolas Cage shining in a way audiences haven't seen in some time. 
Bad Lieutenant: Port of Call New Orleans (2009)
Bad Lieutenant: Port of Call New Orleans is not a remake of or sequel to Bad Lieutenant, Abel Ferrara's 1992 Harvey Keitel-starring crime thriller. Once you're aware of that detail, it's easier to view Werner Herzog's (Grizzly Man, Rescue Dawn) extremely dark comedy, which stars Cage as drug-addicted maniac cop Terence McDonagh, as a worthwhile trip into madness. 
The story follows the adventures of McDonagh, who's out of control in a substance abuse-induced haze on account of an injury sustained during Hurricane Katrina. The film doesn't paint New Orleans in a positive light, as the city and its citizens are about as ravaged by the natural disaster as Terence is by his own demons. But that's kind of the point. "Cage offers a portrait of a man out of kilter physically as well as morally," writes The New Republic. "And if, on occasion, he overdoes it, well, in this context overdoing it is essentially the point of doing it at all. His bad lieutenant is the twelve-vehicle pileup of human car wrecks, an invitation to cinematic rubberneckers everywhere."
The partnership of Cage and Herzog is a match made in cult movie heaven. "If a film calls for it, he will crawl to the top hand over hand with bleeding fingernails," Roger Ebert writes. "He and Herzog were born to work together. They are both made restless by caution." 
Come for peak Nicolas Cage. Stay for the iguana fever dream.