Why Chaplain Orlovsky From Chicago Fire Looks Familiar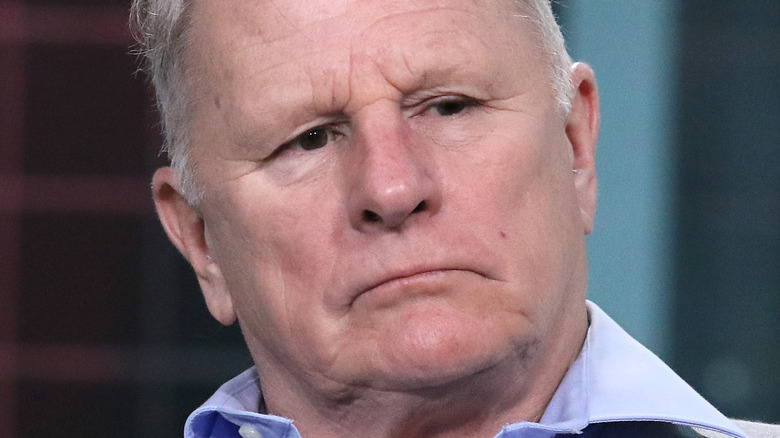 Jim Spellman/Getty Images
Because its events take place at the mother of all hectic workplaces, "Chicago Fire" has featured tons and tons of characters over the years. Some of the actors behind the many people who walk through the doors of Firehouse 51 have made their name on the show, while others have already been well-known for their other work before joining the eternally gasp-worthy "One Chicago" franchise.
This doesn't just apply to regular characters, either. Even satellite characters whose recurring appearances spread thinly over six different seasons can make you wonder where you've seen them before. After all, loads of actors end up spending some time in the "One Chicago" version of the Windy City.
One of these semi-recurring characters that make you wonder how they look so familiar is Bill Orlovsky, the Chicago Fire Department Chaplain who first appears in the Season 2 episode "A Heavy Weight," and goes on to make 11 appearances before retiring in Season 7 and handing the chaplain duties over to Kyle Sheffield (Teddy Sears). If you have a nagging feeling that you've seen Chaplain Orlovsky before, you may very well be right, because actor Gordon Clapp has appeared in some of the biggest series of the last few decades.
Gordon Clapp won an Emmy for his performance as Greg Medavoy in NYPD Blue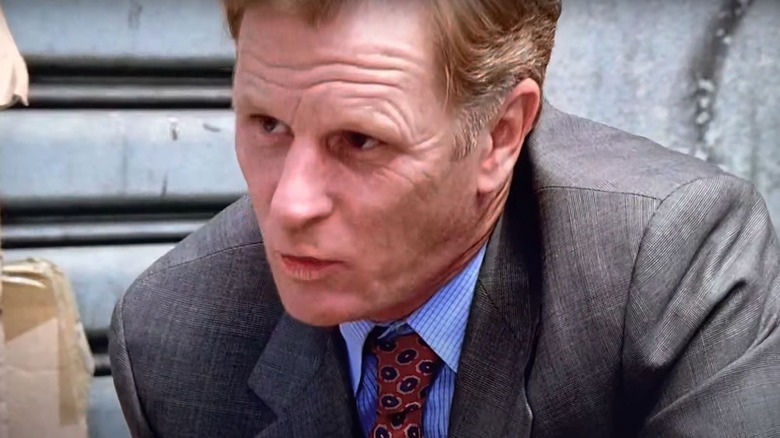 ABC
Foul-mouthed Detective Andy Sipowicz (Dennis Franz) might be the centerpiece of Steven Bochco and David Milch's classic ABC police procedural "NYPD Blue," but another character appears in almost as many episodes. Gordon Clapp's Detective Greg Medavoy starts out as a humble comic relief character whose awkward manner makes him stand out like a sore thumb among his cool and streetwise colleagues. However, his bumbling ways hide one of the most talented detectives in the show, and his novel interrogation tactics can impress even his hard-boiled colleagues.
The character's unique nature and Clapp's take on him make Medavoy stand out in the cast of "NYPD Blue." The actor portrayed the character from 1993 to 2005, to the tune of 256 episodes and one Emmy award (via IMDb). In a 2018 interview with Variety, he noted that he was actually slated for a meaty guest role, but Medavoy immediately drew his attention.
"There was a guy who was a hostage negotiator, and it was about a seven-page scene, it was very intense," Clapp said. "And then there was this other guy, Medavoy. I look at it, and I thought 'Okay, I want to put all my eggs in the Medavoy basket,' because he has a desk in the squad room, and maybe I could come back and sit at that desk a couple of times if this works out."
As Clapp himself was quick to note, the approach did, indeed, work out reasonably well. "I came in for a guest role and I ended up staying for 12 years," he summed up the Medavoy experience.
Clapp inadvertently brought face masks to the frontier in Deadwood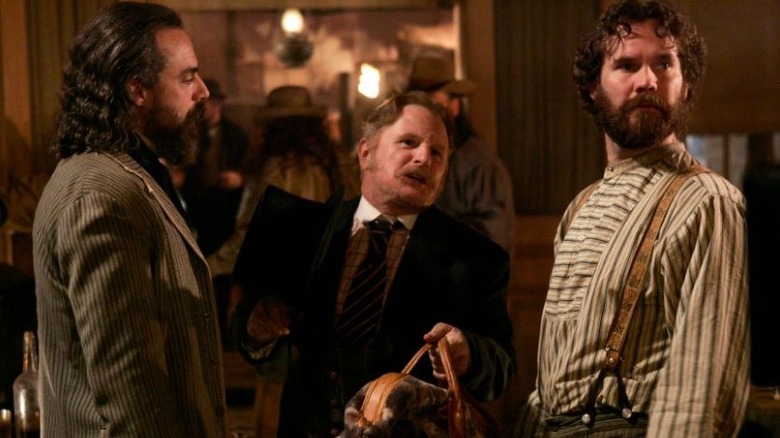 HBO
Soon after "NYPD Blue," you could spot Clapp in two episodes of "Deadwood" as the tailor Gustave. In the Season 2 finale,"Boy-the-Earth-Talks-to," he's part of the lead-in to Whitney (Jim Beaver) and Alma's (Molly Parker) wedding, which obviously requires rather more formal clothing than the townfolks' everyday wear. He returns for the Season 3 episode "Unauthorized Cinnamon," providing Al Swearangen (Ian McShane) with a selection of swatches to cover up the saloon proprietor's injured hand. The swatches come in play in an interesting way later, as Swearangen hands them to Doc Cochran (Brad Dourif) — who has tuberculosis — to use as face masks.
Clapp's role in the show is rather small and comparatively light-hearted, as "Deadwood" figures go. While the role might seem meager for a man who was at this point one of the best-known TV cops out there, Clapp's presence is quite understandable since "Deadwood" was created by "NYPD Blue's" David Milch. In a 2005 interview with Kate O'Hare (via The Vindicator Printing Company), the actor explained how he ended up on the show.
"I kept running into David, and David kept saying, 'We've got to get you over here. We'll find something. We're going to make something for you'," Clapp recounted. "Finally I did show up on set. I'm just trying to get a foothold there. I guess you could call it a cameo."
He played against type as Gary Parsons in Damages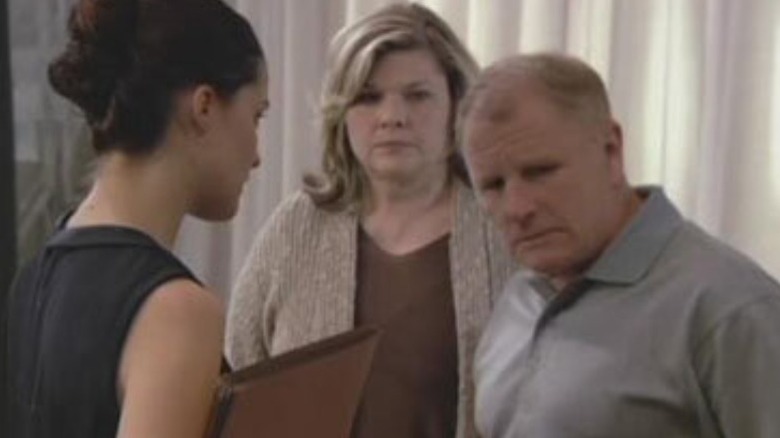 FX
The term "All-star cast" can be overused at times, but legal drama "Damages" can certainly boast one. After all, throughout the show's five seasons, Glenn Close's Patty Hewes and Rose Byrne's Ellen Parsons are surrounded by characters played by household names like Ted Danson, William Hurt, Timothy Olyphant, and John Goodman.
Gordon Clapp joins this prestigious list as Ellen's father, Gary Parsons. Gary appears in the show's first, third, and fifth season, and the role couldn't be further away from Clapp's characters in "Chicago Fire" and "NYPD Blue." Gary is an abusive man who's responsible for much of his family's unhappiness. While his actual presence in the show is somewhat sporadic, his influence is a dark cloud over Ellen's backstory ever since he enters the show at the tail end of Season 1 ... after grievously injuring a lady he hit with his car, no less. It can be pretty jarring to see Clapp play a character like this after his far more affable roles.
If you or someone you know is dealing with domestic abuse, you can call the National Domestic Violence Hotline at 1−800−799−7233. You can also find more information, resources, and support at their website.
He has turned up in many of your favorite shows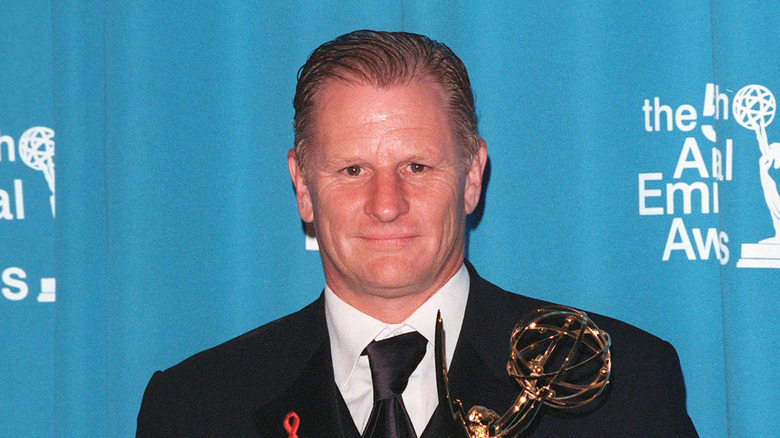 Featureflash Photo Agency/Shutterstock
Gordon Clapp, like many other actors, has an extensive list of guest star appearances in his résumé. As you can expect, the shows he's appeared in changed significantly after he exploded on the scene with "NYPD Blue."
Before Detective Medavoy, many of Clapp's guest roles were of the "Cop Rock" and "Mom P.I." variety. However, since "NYPD Blue" arrived in 1993, his one-episode wonder CV has been a significantly more impressive read. In that very same year, he appeared as the Rakhari Exarch Hadran in "Star Trek: Deep Space Nine," liaising with Commander Sisko (Avery Brooks) and Jadzia Dax (Terry Farrell) about a criminal case that turns out to be very different from what initial impressions suggested.
During "NYPD Blue's" run, Clapp made a handful of guest star appearances, as well as small roles in movies like the Samuel L. Jackson-Tommy Lee Jones military legal drama "Rules of Engagement," and Brad Sieberling's all-star drama "Moonlight Mile." After the police procedural ended in 2003, the actor has guest-starred in a vast selection of cop shows and major dramas. In the decade between the end of "NYPD Blue" and his first appearance as Chaplain Orlovsky, Clapp has turned up in shows that range from "Law & Order: SVU" and "C.S.I." to "Criminal Minds" and "Grey's Anatomy."