The Princess Merida Design Change That Probably Shouldn't Have Been Greenlit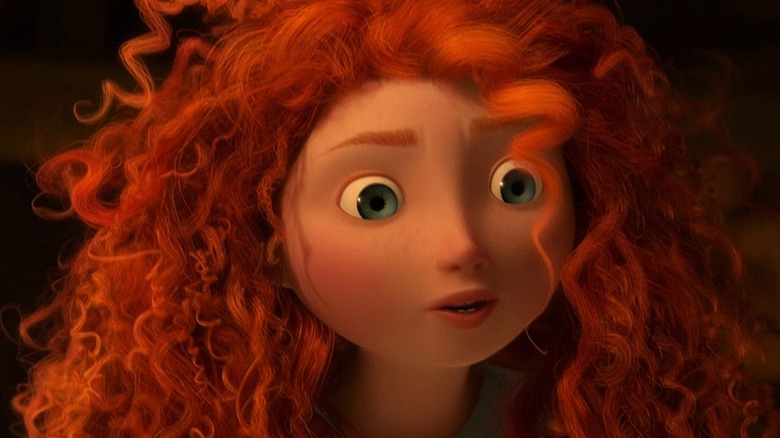 Pixar Animation Studios
While it may not be amongst Pixar's more acclaimed works, "Brave" nevertheless gave the famed animation house a challenge they had never encountered before. Sure they've brought toys and cars to life, made audiences cry over fish and robots, and taught us that anyone could cook thanks to a witty rat, but Pixar had never given us a female-led journey before, let alone one rooted in fantasy. But "Brave" aimed to solve that, following the exploits of a custom-defining Scottish princess named Merida (voiced by Kelly Macdonald) whose carefree life is shattered when her mother (Emma Thompson) tries to pair her with a proper suitor. But after unintentionally transforming her mother into a bear, it is up to the young royal to restore order to both the kingdom and the relationship with her mother.
Although the film received a more mixed reception as compared to some of Pixar's previous outings (via Rotten Tomatoes), "Brave" still found success in other ways. Along with a $540 million box office gross (via Box Office Mojo) and Oscar win for best-animated feature (via Huff Post), the character of Merida also became acclaimed by many. Entertainment Weekly described her as a "headstrong heroine," favorably comparing Merida to similar characters such as Katniss Everdeen from "The Hunger Games" franchise. But following the film's release, Disney found themselves in hot water when they redesigned the character in a far more contradictive light.
Merida's Disney redesign appalled fans and her creator
On May 11, 2013, Merida would be officially inducted into the Disney Princess line-up through a special coronation service at Walt Disney World (via Inside the Magic). To promote the event, Disney released a 2D redesign of the character, trading the rounder and more imperfect elements of her look for a slimmer, more revealing appearance.
To say fans were outraged would be an understatement. Critics condemned the new look for turning Merida into another generic Disney princess and setting negative examples for young girls who see it (via The Guardian). Director Brenda Chapman, who initially conceived the idea of "Brave" before being replaced by a male director, was similarly upset by the new design.
"There is an irresponsibility to this decision that is appalling for women and young girls," "The Prince of Egypt" co-director tells the Marin Independent Journal (via IGN). "Disney marketing and the powers that be that allow them to do such things should be ashamed of themselves."
Responding to the controversy, Disney released a statement to Yahoo, saying, "Merida exemplifies what it means to be a Disney Princess through being brave, passionate, and confident. She remains the same strong and determined Merida from the movie whose inner qualities have inspired moms and daughters around the world." Not long after, however, Disney assured fans that the look was only temporary and that her normal appearance would no longer be altered (via Today).