Will Scooby-Doo Appear In HBO Max's Velma?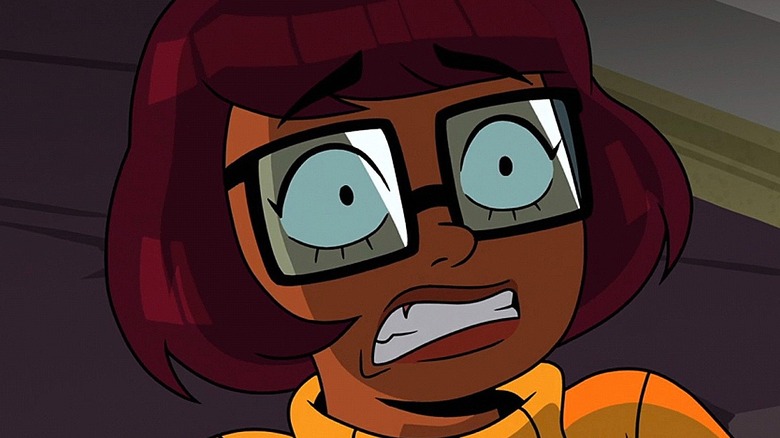 Warner Bros. Television Distribution
Since his debut in 1969, his mystery-solving gang have all been asking "Scooby-Doo, where are you?" And now, over 50 years later, fans are asking the same thing. The beginning of 2023 brought with it the newest addition to the long-running "Scooby-Doo" franchise with the HBO Max series, "Velma." Taking a more satirical and adult approach to the beloved characters, the Mindy Kaling-created animated series tells an alternate origin story for the titular glasses-wearing teen sleuth (voiced by Kaling) as she brings the Mystery Inc. gang together to solve a series of mysterious disappearances and teen girl murders. 
As beloved as the human members of the Mystery Inc. gang are, the franchise's namesake is nevertheless an integral part of what has kept fans coming back to the show's many iterations over the decades. In a series that could very easily be bogged down by elaborate mystery details, Scooby, especially when teamed up with Shaggy, offers the perfect comedic contrast that always kept the adventures feeling upbeat and fun. So as "Velma" intends to bring back the classic team in a fresh, new way, does that mean we can expect a contemporary version of several fans' favorite character from the franchise? Sadly, it doesn't seem like this will be the case. 
Scooby would mess with the show's tone
Hanna Barbera Productions
From "A Pup Named Scooby-Doo" to "Scooby-Doo on Zombie Island," everyone's favorite food-loving Great Dane has remained a constant presence of the franchise that many would assume as a no-brainer to include in any of the meddling kids' newest adventures. However, it seems that the newest incarnation of the Mystery Inc. gang will not be including their famous mascot. 
On an interview with Polygon, "Velma" showrunner Charlie Grandy explains the creative and corporate reasoning behind the omission of Scooby-Doo. "What made 'Scooby-Doo' a kid show is Scooby-Doo," Grandy explains. "We couldn't have a take on it, like how can we do this in a fun and modern way. [Our efforts] coincided with Warner Bros. Animation saying we can't use the dog!" As "Velma" aims to tell a story for a more mature audience complete with gore, swearing, and biting social commentary, a clumsy, goofy-voiced pooch was clearly not what was on the mind of the show's creators, nor Warner Brothers, who more than likely want to preserve the character's image for younger crowds. 
With such a drastically different tone than any prior "Scooby" property, "Velma" has an uphill battle to fight to win over fans and critics. The show, which at the moment has only released its first two episodes, has seen mixed reviews, holding a Rotten Tomatoes Tomatometer score of 55%, with Variety saying that the show's attempted subversion has "been done before, and much better."