Skinamarink Director Shot The Viral Horror Film In The Halls Of His Own Childhood Home
Not since the first "Paranormal Activity" has a horror film captivated the attention of the internet like "Skinamarink." Directed by Canadian filmmaker Kyle Edward Ball, "Skinamarink" follows two siblings who wake up to find out that their home has no doors or windows. With their parents also missing, the two children navigate their maze-like home in a bid to survive. Shot on a budget of $15,000 (via Edmonton Journal), the film debuted at the Fantasia International Film Festival where it was lauded for its inventive narrative and creepy visuals. In a positive review from /Film, critic Matt Donato praised Ball for "channeling childhood fears with marvelous rawness."
While speaking with Ball, Bloody Flicks was interested to find out Ball's inspiration for the viral film and if his childhood influenced the picture. "I wanted to do a horror film that was incredibly personal and I also wanted to do it in the style of a horror film from the early '70s," Ball said. "Not a homage, but a true copycat." When asked if the concept for "Skinamarink" stemmed from his own personal anxieties or fears, Ball discussed how, in trying to recreate the dreams of others, he was able to notice that people tend to remember nightmares from their childhood. While "Skinamarink" wasn't directly influenced by Ball's upbringing, the horror flick was only made possible thanks a key component of his childhood: his home. 
Director Kyle Edward Ball says the Skinamarink house isn't creepy during the day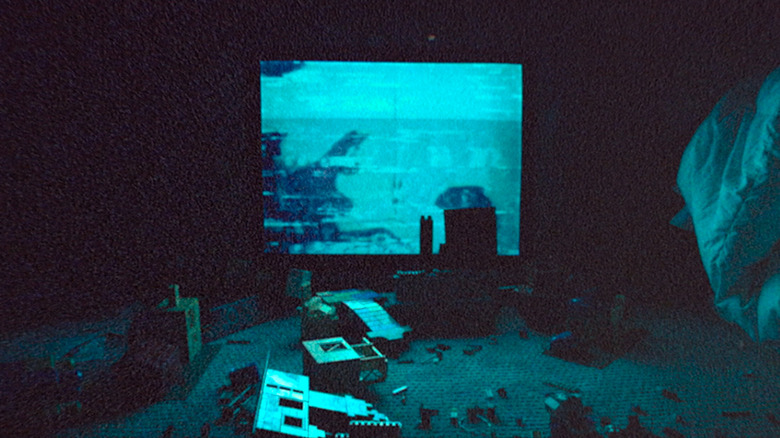 Shudder
In a conversation with Inverse, "Skinamarink" director Kyle Edward Ball opened up about how his horror flick has managed to captured the minds of audiences worldwide. The ultra low-budget, liminal space-like "Skinamarink" has become an absolute fascination for various pockets of the internet, who continue to discuss the film's terrifying setting. Taking place in a fully contained house with no outside light, "Skinamarink" captures an anxiety many hold about their own living spaces. Audiences continue to question the setting's terrifying nature and presence as the film continues to unravel itself. For Ball, however, the terrifying house in the film isn't just a set that serves an artistic purpose ... it's his childhood home.
"On the last day of filming, I had this weird moment of, 'This is the room that I first decided I'm going to be a filmmaker when I was seven, not that much older than Kevin is in the movie. I thought of this and dreamt of it and now it's happening and I'm here,'" the director said. "It felt so strange. This is my childhood home [and] parts of it look so similar to when I was little." The director continued by expressing the surreal feeling of watching his childhood home on the big screen, knowing that it's now a cinematic product. Ball went on to mention how his home is now referred to as "the Skinamarink house," saying the home looks nothing like it does in the film during the day. "It looks and feels literally feels so completely different than it does in the movie," Ball added.