Why Shaggy Sounds So Familiar On HBO Max's Velma
The new "Scooby-Doo" prequel series "Velma" is out now on HBO Max, and while the response to the series has been mixed (it has a 60% Tomatometer score on Rotten Tomatoes as of this writing), one thing pretty much everyone can agree on is that it has a great voice cast. Series co-creator Mindy Kaling voices the titular glasses-wearing amateur detective, and she's joined by Constance Wu as Daphne and Glenn Howerton as Fred, in addition to such names as Jane Lynch, Wanda Sykes, Gary Cole, Steven Root, and "Weird Al" Yankovic in supporting roles.
Naturally, in portraying the iconic character of Shaggy Rogers, "Velma" has much to live up to compared to Casey Kasem's unforgettable portrayal, not to mention Matthew Lillard's worthy outings as the character. And if Shaggy's good-natured and cowardly un-wisecracks sound familiar to you on "Velma," it's because he's portrayed by a comedian who's popped up all over the place on TV over the last several years.
Some of Sam Richardson's first major credits are for episodes of The Office and Arrested Development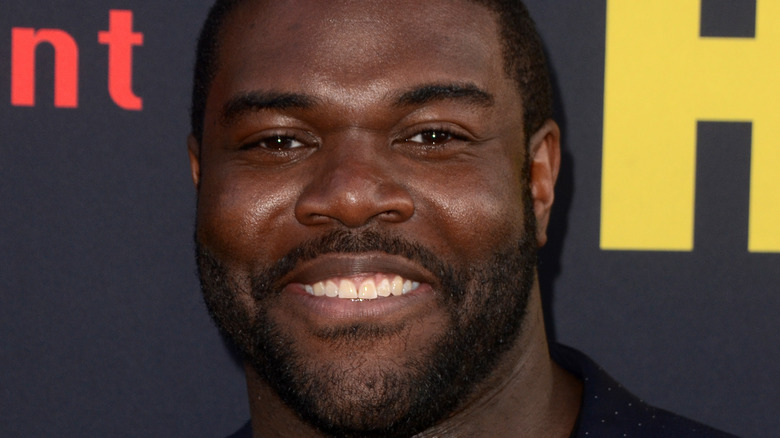 Kathy Hutchins/Shutterstock
Shaggy on "Velma" is voiced by the great Sam Richardson, whose IMDb page shows a wide variety of roles as both a live-action actor and vocal performer. But the first place most viewers were likely to have heard his distinctive (albeit very non-Shaggy-like) voice would have been on his six episodes of "The Office," which includes the show's series finale. Richardson plays Jim's college friend and Athlead investor Colin, who infamously helps convince Jim to invest $10,000 in the company.
The same year as his last appearance on "The Office," Richardson got another gig on an even more revered TV comedy classic: "Arrested Development." His role isn't as prominent as it is on "The Office," but he appears in Season 4, Episode 1 of the show (the first of the show's Netflix revival) as a TSA agent.
Richardson has become a fixture in the TV and film comedy world ever since.
He co-starred with Tim Robinson on Detroiters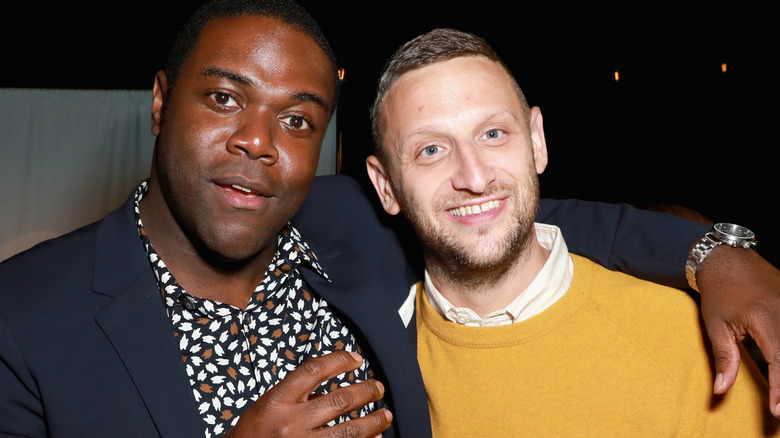 Rachel Murray/Getty Images
Sam Richardson continued to appear in various big and small comedy projects over the next several years (including, interestingly, another appearance as a TSA agent in "We're the Millers"), but his breakthrough role was on the Comedy Central series "Detroiters." He and co-star Tim Robinson created the show together, about two friends who find themselves in charge of a mid-level Detroit advertising agency, serving the companies that no other agency will deal with.
If you've never seen "Detroiters," it's one of the real treasures of Comedy Central programming over the last decade. Richardson plays Sam Duvet, one half of the Cramblin-Duvet ad agency, alongside Tim Cramblin (Tim Robinson). It's hard to describe the vibe of this series without sounding insane, but it's definitely worth checking out if you enjoy hot dogs and the unparalleled TV journalism of Detroit's own Mort Crim, who appears as himself on many episodes of the show.
He gave voice to Lee the Office Nerd on Ralph Breaks the Internet, and Bort the Garj on Archer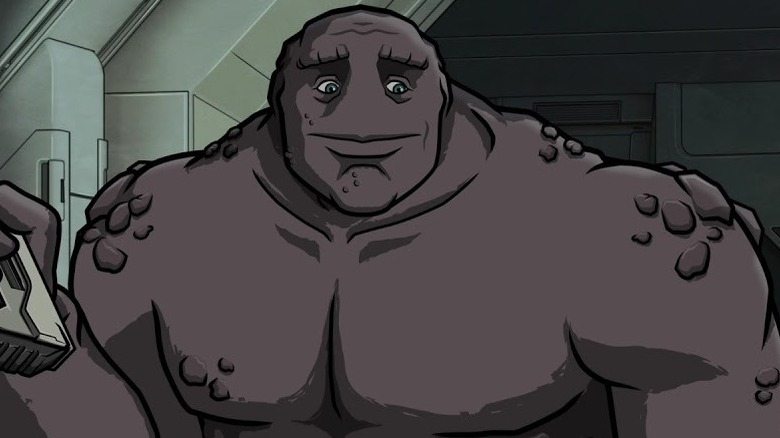 FX
Before 2018, Sam Richardson had primarily worked as an on-screen actor, but he made his voice acting debut in the 2018 animated sequel "Ralph Breaks the Internet," in which he voices Lee the Office Nerd. After that, more voice roles followed (of course, eventually leading to his role as Shaggy on "Velma"), including a turn as extraterrestrial Bort the Garj on two episodes of "Archer," Season 10, Episodes 1 and 2, titled "Bort the Garj" and "Happy Borthday."
More voice roles followed in projects like "Rise of the Teenage Mutant Ninja Turtles," on which he plays Muninn for nine episodes, and five episodes of "Bojack Horseman," voicing the role of Doctor Champ. And in seven episodes of the late, lamented Marvel animated series "M.O.D.O.K.," he plays obsessive science drone Gary Garoldson.
He's provided I Think You Should Leave fans with some of its most memorable characters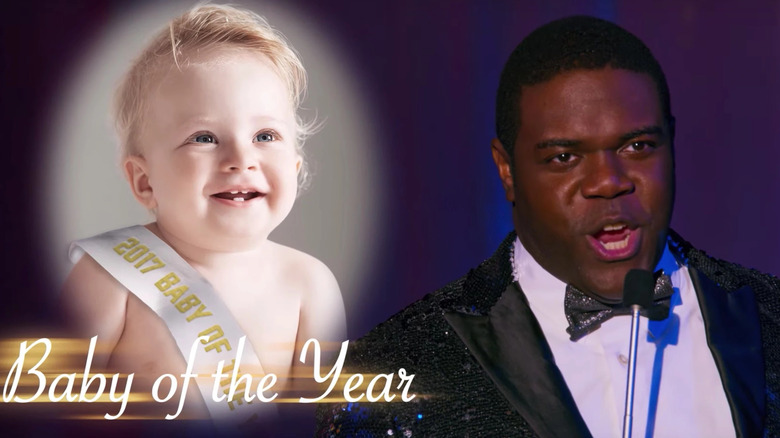 Netflix
Sam Richardson re-teamed with his "Detroiters" collaborator Tim Robinson on the latter's Netflix sketch comedy phenomenon "I Think You Should Leave." Richardson only appears in three episodes of the show (so far), but he makes every sketch count.
In Season 1, Episode 4 of the show, "Oh Crap, A Bunch More Bad Stuff Just Happened," he plays the Ghost of Christmas Way-Future, but it's his recurring role as a desperate, sweaty host of bizarre corporate entertainment events such as "Baby of the Year" and "Little Buff Boys." If you've watched "I Think You Should Leave," there's no way you don't remember this guy, and if you haven't, there's no possible way to explain it to you.
In lieu of that, here are the 12 best "I Think You Should Leave" sketches, ranked, and you can bet that Richardson is on this list.
And you can also hear him on shows like Little Demon, Harley Quinn, and Star Trek: Lower Decks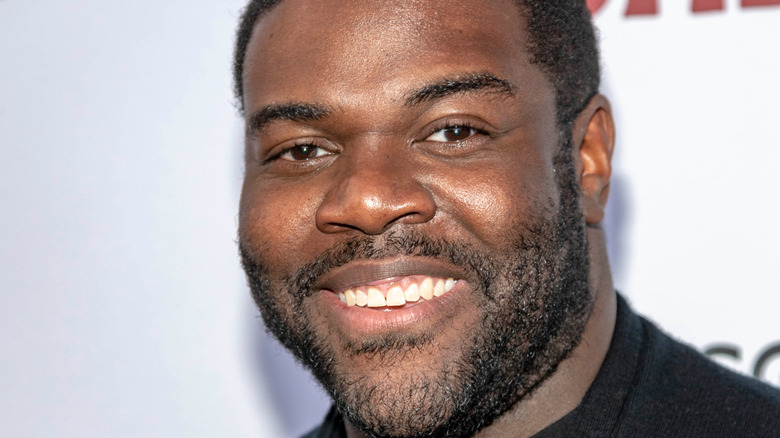 Eugene Powers/Shutterstock
Despite continually working in live-action projects like episodes of HBO comedies "Veep" and "Curb Your Enthusiasm" and even the sci-fi blockbuster "The Tomorrow War," Sam Richardson has continued to work prolifically as a voice actor leading into "Velma." He can be heard in Season 1, Episode 2 of the FX animated series "Little Demon" as the demon Asmodeus. He voices a wide variety of roles across 24 episodes of the HBO Max animated series "The Fungies!" He voices the iconic green superhero Swamp Thing on HBO Max's beloved "Harley Quinn" and Vendrome on two episodes of "Star Trek: The Lower Decks," both irreverent animated takes on beloved genre franchises.
He voices the role of Mayor Leeds on four episodes of the Apple TV+ animated series "Central Park," and the characters of Chico and Randy on the Fox animated series "HouseBroken." The point is — even if you've somehow managed to avoid Richardson's prolific output as an on-screen actor, if you're an animated comedy fan, you've had plenty of occasions to hear his voice before he lent it to Shaggy on "Velma" — and you'll almost certainly have plenty more after. He's, like, busy, man!