Yellowstone's Piper Perabo Doesn't Think Her Character Is Any Match For Beth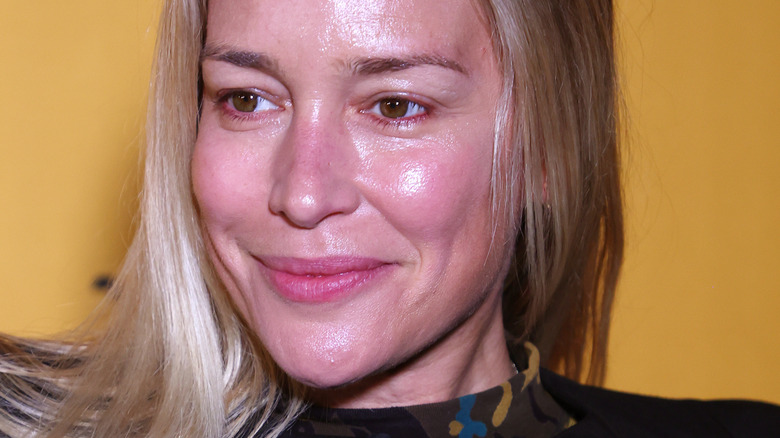 Richard Rodriguez/Getty Images
Since it hit the airwaves in 2018, Taylor Sheridan's neo-Western drama "Yellowstone" has pulled exactly zero punches in honoring the storied genre that birthed it. That includes a near-endless parade of tough guys and gals doing the sorts of things tough guys and gals tend to do. Indulging in high-minded machismo has, of course, become Sheridan's calling card of late. And "Yellowstone" remains ground zero for such characterizations, particularly those of the female persuasion. In fact, midway through its fifth season on the air, "Yellowstone" introduced more cunning, tough-willed women than pretty much any show on television, with Sheridan reveling often in taking their toughness into the bare-knuckle realm.
To the surprise of many, that list now includes eco-activist Summer Higgins, who landed in the orbit of John Dutton (Kevin Costner) after launching a boycott outside the Montana Livestock Association. She's since become a big part of John's life, much to the chagrin of John's venom-spewing daughter Beth Dutton (Kelly Reilly), herself arguably the toughest character in the entire "Yellowstone" landscape. As one might expect, Beth has hardly made things comfortable for Summer. In fact, the duo has spent much of their time on the show trading barbs — and eventually blows. Still, according to Piper Perabo, who plays Summer on "Yellowstone," her character will ultimately prove no match for the fearsome Dutton femme. 
Perabo doesn't think Summer will best Beth anytime soon
That's hardly against Summer Higgins as Beth Dutton has yet to meet a man or woman on "Yellowstone" she couldn't eviscerate in the space of a few punishing phrases. But as far as toughness goes, Summer, more surprisingly, held her own in the pair's infamous first meeting. And though she ultimately didn't come out on top when the duo threw down in Season 5, Summer put a legit hurting on Beth when their rivalry finally came to blows. 
Nonetheless, Piper Perabo recently told TV Guide that Summer is hardly set to wrench control of the Dutton's Ranching empire away from Beth. "I always tease Kelly [Reilly] and say I'm gonna marry your dad and take the ranch ..." Perabo said, adding, "But I don't think Summer has a chance. She's pretty low on the succession there." That last statement remains abundantly true despite the fact that things are turning romantic between John Dutton and Summer. Beth is, after all, one of two full-blooded Duttons (including Kayce Dutton) ahead of her in the line of succession. John's wayward adopted son Jamie Dutton (Wes Bentley) also has eyes on the prize, and he only seems to get more devious by the day. 
Thankfully, Summer seems less interested in John's empire, and more intrigued by the man himself. Even still, given how protective Beth has proven to be of her father, Summer might actually have an easier time laying claim to the Yellowstone Dutton Ranch.