Kelsey Grammer's 1996 Comedy Flop Is Still Worth Checking Out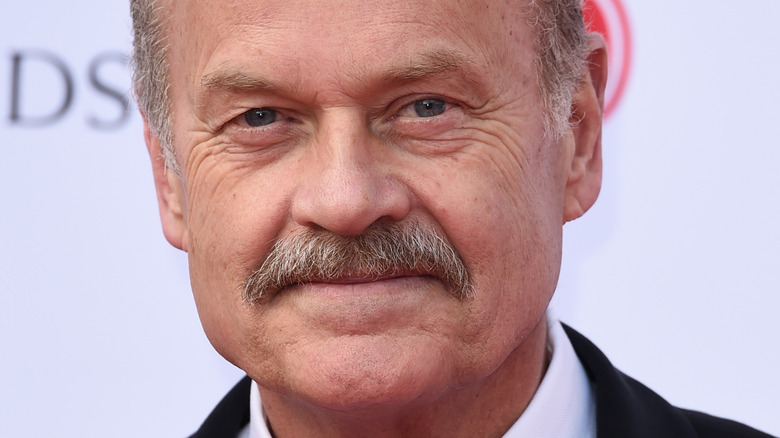 Featureflash Photo Agency/Shutterstock
Objectively, comedies from the 1990s really do have their own flavor about them. Sketch comedy icons like Jim Carrey and Mike Myers had top comedies at the box office such as "Dumb and Dumber" and "Austin Powers: International Man of Mystery" throughout the decade. Looking at those movies and other similar projects, it seemed that broad, spoof-y comedy was all the rage in the era of boy bands and Beanie Babies.
Kelsey Grammer was another star who reached the heights of his fame at this time. His sitcom, "Frasier," itself a spin-off based on his character from "Cheers," was a smash hit, setting records early on in its run with five straight Emmy wins for best comedy series (via the Los Angeles Times). It was only a matter of time before the in-demand Grammer would be given his own starring vehicle film. In 1996, he got to lead an ensemble of some of the industry's top talent in a film that ended up being a major flop at the box office. Despite its status as a flop, audiences are giving the film a positive reassessment today. 
Kelsey Grammer leads a group of misfits on some war games in this slice of the '90s
"Down Periscope" was one of those silly comedies to come from that time in the 1990s. The film starred a bevy of the decade's mainstays, such as "Frasier" star Kelsey Grammer, Lauren Holly, and Rob Schnieder. The cast even featured classic character actors such as Harry Dean Stanton, Bruce Dern, and Rip Torn. Plus, it marked early roles for some of today's popular actors like Patton Oswalt and Toby Huss. With all those stars involved in the film, it's no wonder movie fans are seeking the movie out and giving it a second look.
"Down Periscope" is about a U.S. Navy Lieutenant Commander, Thomas Dodge (Kelsey Grammer), who was sent to a broken down old submarine with a crew of zany misfits to participate in a war game that was orchestrated by Dodge's archnemesis (Bruce Dern) in an effort to sully his reputation. The film spoofs popular submarine movies such as "The Hunt for Red October" and its title is a play on the classic sub drama "Up Periscope."
Released in the spring of 1996, the ensemble-led spoof was a box office flop, despite opening at No. 2 on its first weekend of release. Critics also didn't really like the movie. It currently sits at an 11% Rotten rating on Rotten Tomatoes. Like many of the forgotten box office duds from back in the day, the internet has rediscovered it, seeing merit in its hijinks, and thinking it's worth revisiting.
Some fans of the movie didn't even know Down Periscope was considered a flop at the time of its release
While critics were not kind to the film, film fans have found "Down Periscope" and are singing its praises. In a Reddit thread about bad movies that fans still love, "the movie received a healthy dose of positivity. Scrolling through the comments, many users quote the film saying the film had many memorable one-liners. Some users remember seeing the film in theaters, while others discovered the film on video and through airings on HBO.
U/OniOdisCornukaydis said about the film and its sustainability, "I just think it's great, and watch it a few times a year." Another Redditor, u/utterable, wrote, "'Down Periscope' and 'McHale's Navy' (remake) are one big interchangeable blur to me that I find myself rewatching from time to time." The film adaptation of the '60s TV Show, "McHale's Navy," was similarly a submarine ensemble spoof comedy, came out a year later, and was also a box office bomb.
U/Ordinary_Balance_894 chalked the time of its release up to why fans viewed the film as a "bad" movie. "It's very much a product of its time rather than a bad movie," they wrote. "Those old comedies just have a different look and feel to them, lines are delivered differently ... maybe less nuanced? But still funny." It seems as if the tides have turned for "Down Periscope." While once considered a flop at the time of its release, some modern viewers, including those who commented on the Reddit thread above, didn't even know anyone viewed the movie negatively.