If The Latest Law & Order Promo Is Just Trolling Bensler Fans, There's Going To Be Blood In The Streets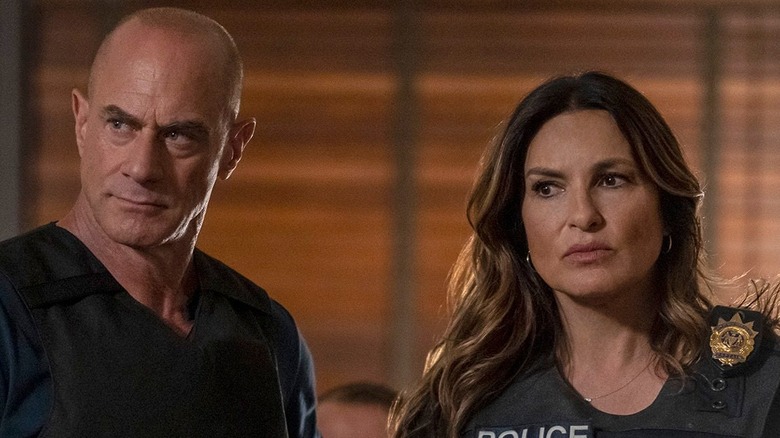 NBC
NBC took things to troll level: 5,000 this week on "Law & Order: Special Victims Unit" with a glorious post-show tease of Olivia Benson (Mariska Hargitay) and Elliot Stabler (Christopher Meloni) possibly sharing a tender moment together and kissing — after years of being "just friends." And boy, are fans freaking out about it.
"We've finally peaked," wrote Twitter user @shephsmulti. "BENSLER IS OFFICIALLY A COUPLE," declared @jamyjeby with a gif from the sneak peek, racking up dozens of likes. "I'M CRYING!!!!!!!!!!"
All across social media, countless comments can be found echoing similar statements about the legendary TV duo, who are still doing their thing on "SVU" and "Organized Crime" these days. Some people who don't even watch "Law & Order" are calling for Benson and Stabler to finally hook up after years of seeing "SVU" fans call for it — that's how infamous this couple baiting has become. "I haven't watched one episode of Law and Order in my life and yet I'm here suffering with all you guys," tweeted @ScullyOfTarth. "Jeez I'm really praying for a kiss between two characters I don't even know and for the sake of a fandom I'm not even part of." 
It would appear that NBC and the "SVU" producers now have a huge dilemma on their hands after teasing such a monumental event for both the long-running series and TV history as a whole. And by the looks of what others are saying online, there's going to be hell to pay if Bensler doesn't finally become a thing.
'Y'all better not be messing with us again'
Fans of "Law & Order: SVU" aren't playing around when it comes to seeing Olivia Benson and Elliot Stabler finally get together this season, with many claiming they'll actually be done with the show for good if NBC doesn't deliver on the Episode 12 promo following years of similar teases and run-arounds.
"Please don't f**k with me on this," blasted Twitter user @alexthealto. "It's been 25 years and Benson and Stabler still haven't kissed yet," they seethed, adding: "If this isn't them kissing, I will be requesting a full refund from Dick Wolf." @frownie56 tweeted: "This better not be a tease or I'm over it." @CarneAsada74, said: "If these two don't freakin kiss ... I'm tired of having to get my clown shoes out from under the bed every 2 months. Decades of clown behavior for these two!!!" @starlyte_28 wrote: "Y'all better not be messing with us again. Y'all have teased enough ... Let them finally give in to the chemistry."
The ongoing seasons of "SVU" and Stabler's spinoff show, "Organized Crime," have both featured moments where Bensler inched closer and closer to becoming a romantic reality. In the mid-season finale of "SVU," Benson drunkenly admitted to Detective Amanda Rollins (Kelli Giddish) that she had and still had feelings for Stabler, talking about how paralyzing it felt to have to sit on her feelings.
Now, fans remain on pins and needles as they wait to find out whether Bensler will finally lock lips and try things out for once. The show is set to return on Thursday, January 26.