Anna Kendrick's Directorial Debut Taught Her How To Read When People Were Lying About The Budget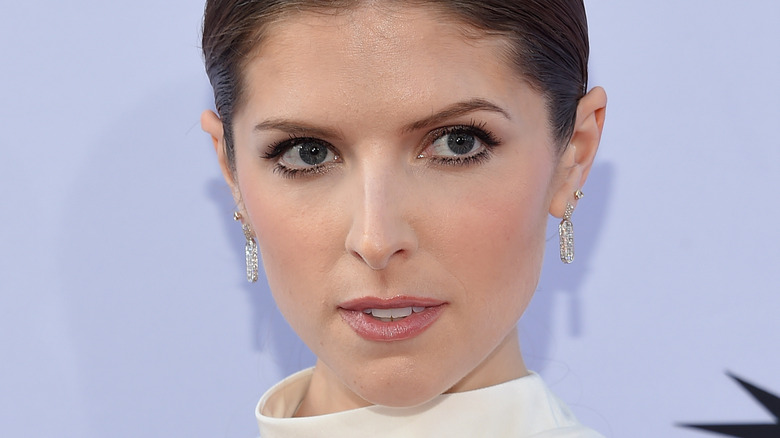 DFree/Shutterstock
For actors who have spent their whole career portraying characters in front of the camera, stepping behind it must be one of the most eye-opening transitions there could be in the industry. For Anna Kendrick, who is making her directorial debut in 2023 (via EW), she's getting to experience this enlightening change, firsthand.
Kendrick takes on the gig of director for the upcoming film, "The Dating Game," which follows the real-life story of Cheryl Bradshaw, who, in the 1970s, was a contestant on the then-popular matchup show with the same title. The basic premise of the romance reality series was that three people come on the show, hoping to be chosen by the contestant to go out on a date together. And when Bradshaw chose her pick, Rodney Alcala, he turned out to be an actual serial killer.
With this true story falling into the "stranger than fiction" category, Kendrick chose this upcoming movie to be the one she first directs in her expanding career. And just recently, when explaining the details of what she's been learning about standing on the other side of the camera, she revealed that the ins and outs of the gig are far from the glamorous role she's been familiar with. One of these very important factors that Kendrick has no choice but to deal with, is understanding how the movie's budget actually works.
Even for a director, the budget can be a guessing game
In 1979, serial killer Rodney Alcala was arrested by authorities (via What's On Netflix). The murderer took the lives of at least five people, however, that number could be as high as 130. Alcala, being a winning contestant on "The Dating Game," was what attracted Kendrick's attention. "I loved the script from the moment I read it," she said. Not only did Kendrick want to play the lead role of Cheryl, but took this as an opportunity to direct.
Despite being at the very top of the behind-the-camera credit list, Kendrick told Seth Meyers that being a director doesn't mean you are always in the know about every detail, especially when it comes to what things will cost. "Even when you're the director, it's kind of like weird used car lot rules where no one will tell you, like, a hard number," she said. When Kendrick wanted to know what certain things cost, she needed to develop a new skill. "So, I started to, like, read facial expressions," she revealed. "Like when I would ask for something, it would be like, 'Oh, was that, like, a wince that means $200 or, like, five grand?"
Kendrick continued, "If I'd known that that meant ten grand, I wouldn't have asked for it!" It will be very interesting to see what the final product of "The Dating Game" ends up being, not only for the fascinating story but how it will look through Kendrick's eyes.