The Only Two Acting Credits Under Robbie Knievel's Belt Are From Cop-Centric Shows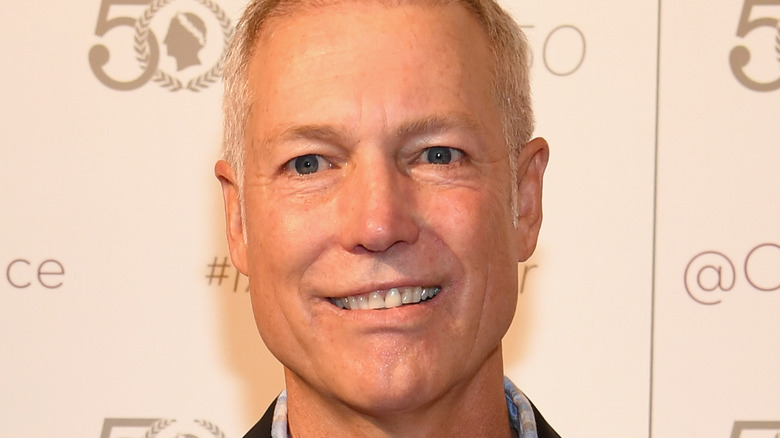 Denise Truscello/Getty Images
Say the words "daredevil motorcycle legend," and the first name to pop into your mind will doubtless be Evel Knievel — and the second name will most likely be his son, Robbie. Also performing under the moniker Kaptain Robbie Knievel, Robert Edward Knievel II passed away today, January 13, 2023, after losing his struggle with pancreatic cancer.
Robbie's father Evel rode his way into pop culture glory as the man whose name became synonymous with outrageous, gravity-defying feats of aerial motorcycle daring. During his career, Evel Knievel jumped his Harley Davidson over 70 times, successfully breaking over 400 bones in the process (per Automotive History). He even had his story almost adapted into a CBS TV series starring Sam Elliot, but it failed to launch.
As for Evel's boy Robbie, the youngster started his cycle-stunt work early, making his first jump before he was five years old and appearing in his dad's first Madison Square Garden spectacular when he was only 8. Subsequently, Robbie would garner world records for 20 of his roughly 350 jumps (via TMZ). And while Robbie Knievel clearly equaled his famous dad's high-flying motorcycle cred, he added acting to his resume in just two TV shows, both of them episodic cop series.
Robbie Knievel acted in a couple of iconic TV police shows
As an accomplished motorcycle stunt veteran riding to prominence in his dad's tire tracks, it's understandable that Robbie Knievel would eventually find his way into the world of action-oriented TV entertainment. In this regard, IMDb notes that Knievel was tapped to appear in the cops-on-motorcycles series "CHiPs" in 1982, appearing as the character Shake alongside the show's main stars, Erik Estrada and Larry Wilcox.
Several decades later, Robbie would sign up for only his second acting gig, to portray the character Mike in a 2015 episode of the re-booted police drama "Hawaii Five-0."
And while these two series were the only acting credits for Robbie Knievel, he did put his skills to work as a stunt rider in several other productions. In this respect, he's credited as a stunt consultant for 12 episodes of "Kick Buttowski: Suburban Daredevil," as well as credited for performing stunts in 1988's "The Last of the Gladiators" and the 1984 feature film "Ninja III: The Domination" (per IMDb).