Yellowjackets Crash Lands A Buzzworthy Season 2 Teaser Complete With A Very Suspicious Meal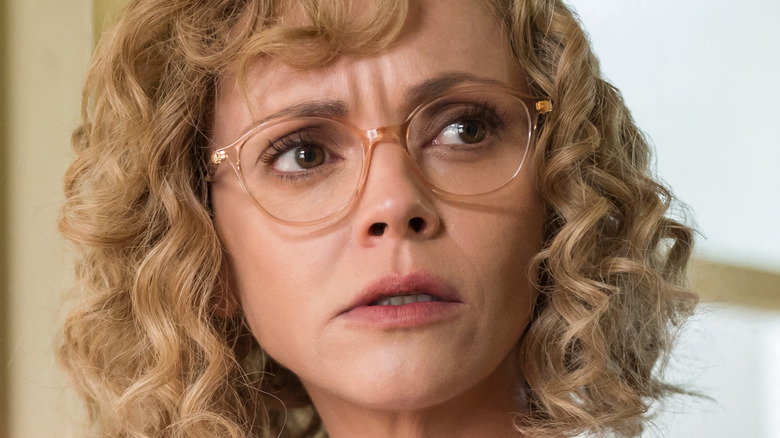 Kailey Schwerman/SHOWTIME
"Yellowjackets" hive assemble, there's a brand new look at Season 2.
SHOWTIME delivered a stinger when it debuted "Yellowjackets." Featuring Melanie Lynskey, Christina Ricci, Juliette Lewis, and a slew of other talented stars, the series was the perfect creepy drama to captivate our minds in the winter of 2021.
The Emmy-nominated drama explored the events and aftermath of a plane crash. The plane, filled with teen soccer players on their way to a tournament, crash lands in the Canadian wilderness. With no signs of an imminent rescue, the teens have no choice but to buckle up for the winter and survive. Oh, and there might be some cannibalism involved — typical teen things. Some manage to make it out of the woods, with the series following them well into adulthood. "Yellowjackets" shifted back and forth between the two time periods, dropping casual but terrifying hints about how the event shaped the teens. 
The first season ended on a major cliffhanger, proving that the survivors can't escape their past. Audiences still don't know what happened in the woods but it looks like they're about to. With the release of the second season imminent, SHOWTIME has dropped a brand new teaser.
Season 2 of Yellowjackets looks to be just as creepy as the first
The wait for the second season of "Yellowjackets" has been excruciatingly long but it looks like creators Ashley Lyle and Bart Nickerson have cooked up a delish sophomore outing. SHOWTIME has debuted a brand new teaser for the ensemble series, confirming all is not well for our beloved soccer superstars. Brief and to the point, the teaser trailer shows the teens bracing for the chilling winter, a frosty prospect which largely loomed over them in the first season. Along with their creepy cult-like woodsy shenanigans, the trailer shows the teens traversing the snowy landscapes, and eating strange meals. A blink-and-you'll-miss-it moment from the teaser shows a shot of the young Misty (Sammi Hanratty) eating something strange with a ton of enthusiasm.
While a decent portion of the new footage focuses on the past, things aren't looking too great for those who survived the events in the woods. The teaser kicks off with the older Natalie (Juliette Lewis) claiming that the darkness from the past has returned. Perhaps the biggest moment from the present-day is the older Misty (Christina Ricci) interacting with Elijah Woods' mysterious new character.
SHOWTIME's "Yellowjackets" returns on March 24.