What Nicolas Cage Has To Say About Ex-Wife Lisa Marie Presley's Death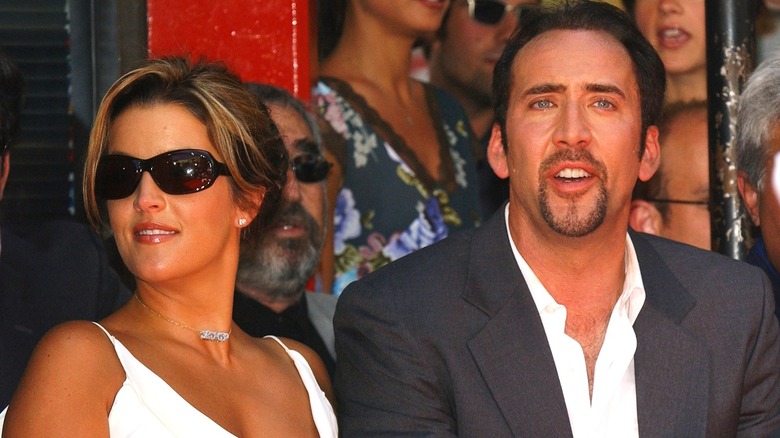 Vince Bucci/Getty
The untimely and surprising death of Lisa Marie Presley, the daughter of the legendary musician Elvis, has shaken many in the entertainment world. As the daughter of Elvis, Presley was in the limelight often, which comes with the territory when you have a famous parent. According to the Associated Press, Presley died at the age of 54 on January 12 after suffering from a reported cardiac arrest, with her mother, Priscilla Presley, releasing a statement that announced her passing. She added that Lisa was the most loving, passionate, and strongest woman that she had ever known.
Other celebrities and friends also took to social media to mourn her passing, with the likes of John Travolta, Billy Corgan, Leah Remini, Cary Elwes, Pink, and many more expressing their sorrow and feelings. Travolta posted on Instagram, "Lisa baby girl, I'm so sorry. I'll miss you but I know I'll see you again. My love and heart goes out to Riley, Priscilla, Harper and Finley." Similarly, Pink also shared an image of Presley and herself on Instagram and wrote, "Oh, this one hurts my heart. Lisa Marie, you were one of a kind. Funny as ****, smart as a whip, sensitive, talented, witty, mean, loving, generous, judgmental but always right, loyal, and you adored your children. My heart breaks for you and your beautiful family and your children. The world lost a rare gem today. May your soul rest in peace, friend." Unsurprisingly, Nicolas Cage also shared his absolute shock and dismay at this tragic news, as the "National Treasure" star and Presley were married in 2002.
Cage expresses deep sorrow and hopes Presley has found peace
Nicolas Cage and Lisa Marie Presley had a very tumultuous relationship, which was often highlighted by the media. Despite their issues 20 years ago, Cage (who is an Elvis superfan) still remembers his ex-wife fondly. The Hollywood Reporter shared a statement from the actor on his ex-wife's passing, which read, "This is devastating news. Lisa had the greatest laugh of anyone I ever met. She lit up every room, and I am heartbroken. I find some solace believing she is reunited with her son Benjamin." It seems as if Cage still cares deeply for his former partner, and his sentiments reveal that he had a deep and profound understanding of Presley's most recent heart-breaking struggles. Presley's son Benjamin died in 2020 and left her understandably devastated.
Cage and Presley had a whirlwind of a romance in the early 2000s (per People). Both had been married before, and they met at a birthday party for the famous rocker Johnny Ramone in October 2000, with the two announcing their relationship in May of the following year. Cage and Presley were married on August 16, 2002, but divorce papers were filed shortly after on November 25 of the same year. This brief romance had quite an impact on the two, with Presley saying at the time, "I'm sad about this, but we shouldn't have been married in the first place."
Cage and Presley had a brief and drama filled relationship
Lisa Marie Presley's words definitely held some weight, as the couple had some well-publicized issues. According to Express, Nicolas Cage and Lisa Marie Presley often would get into kerfuffles, with one particular famous fight involving a yacht and a very expensive piece of jewelry. Supposedly, the two were in such a heated argument that Presley tossed her $65,000 ring into the ocean, which certainly shows that passions were running high between the two. Cage explained their short-lived relationship by saying, "She was born with the pressure of an extremely famous name from day one; I was a young actor in Hollywood with the name Coppola trying to make it with those pressures. There was a logic to it, there was a sense to it." He added, "Oftentimes when you have two people who are very strong and their own personalities and rather intense, sometimes you can have a hard time meshing."
Speaking with Access Hollywood (via Access), Presley clarified her relationship troubles with Cage by saying, "Yeah, we didn't quite get there. We didn't actually you know have these, I was hearing knocked down dragged out, there was no physical, fighting or anything like that, we were very dramatic that's all, we never quite got there but we thought we might if we kept going the way we were."