Nic Cage Said His Hero Is Elvis Aka His Ex-Wife Lisa Marie Presley's Father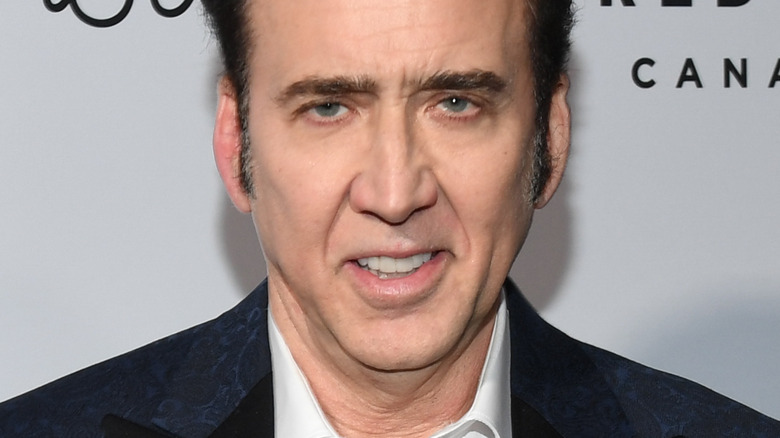 Sonia Recchia/Getty Images
Nicolas Cage is a true Hollywood original, standing out as one of the most unique stars to ever grace the silver screen. Born into the Coppola family — the one that includes the likes of Francis Ford Coppola, Sophia Coppola, and Talia Shire, among other well-known names in the film world — Cage made it his mission early on not to rely on his family connections to make it as an actor. While this plan certainly could've blown up in his face, it didn't, as he's now recognized as a pop culture legend the world over.
At the same time, for as interested in charting his own course as Cage was, that's not to say he stubbornly figured everything out on his own while paving his road to success. He hasn't shied away from discussing his influences over the years, detailing how his love for German Expressionism has inspired his unique acting style and how Marvel Comics favorite Luke Cage and composer John Cage impacted his choice of stage name. Additionally, he's cited some legendary individuals among his personal heroes, including a rather surprising one.
Cage has stated that Elvis Presley — the father of his late ex-wife Lisa Marie Presley, who tragically died on January 12, 2023, at the age of 54 — is someone he thinks quite highly of.
Cage thinks the world of Elvis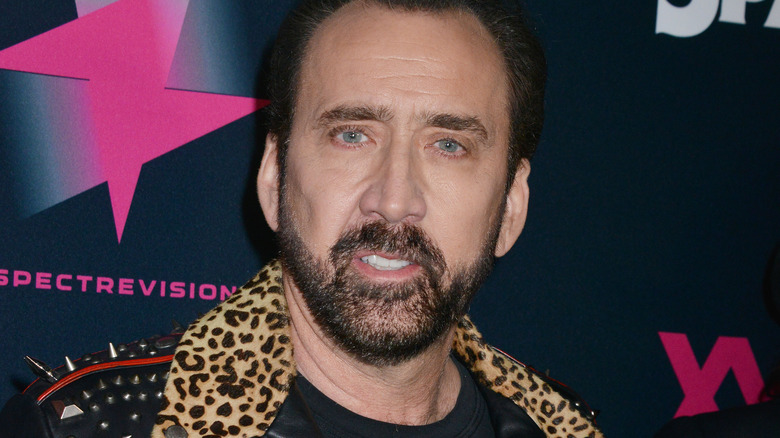 Tsuni-USA/Shutterstock
In January 2022, Nicolas Cage sat down with the Los Angeles Times to discuss several topics pertaining to himself and his incredible career so far. During the chat, he highlighted some of the entertainers he looks up to, saying, "You got Elvis and David Bowie...they're my heroes." He then went into a rendition of Elvis Presley's "Always on My Mind," explaining that singing is a great way for him to get into relaxation mode. With all of that in mind, one has to imagine that getting to wear an Elvis jumpsuit for the skydiving scene in 1992's "Honeymoon in Vegas" was something special for Cage.
For those unfamiliar, Cage's marriage to the daughter of "The King," Lisa Marie Presley, lasted from August to November 2002 with their divorce finalized in 2004. Nevertheless, the fact that he and the late Lisa Marie couldn't make their relationship work did little to harm his adoration for Elvis. In fact, in an April 2022 interview with On Demand Entertainment, he expressed disappointment that he never got to meet him. Alongside the likes of John Lennon and Marlon Brando, he included Elvis on a short list of people who have positively impacted him that he would hypothetically like to spend time with if miraculously given the opportunity.
Throughout his time atop the music world and long after his death in 1977, Elvis Presley impacted his fans in more ways than one the world over. As it turns out, Nicolas Cage was right there with them all along.