Red Sonja Comic To Be Adapted For Film By X-Men: First Class Writer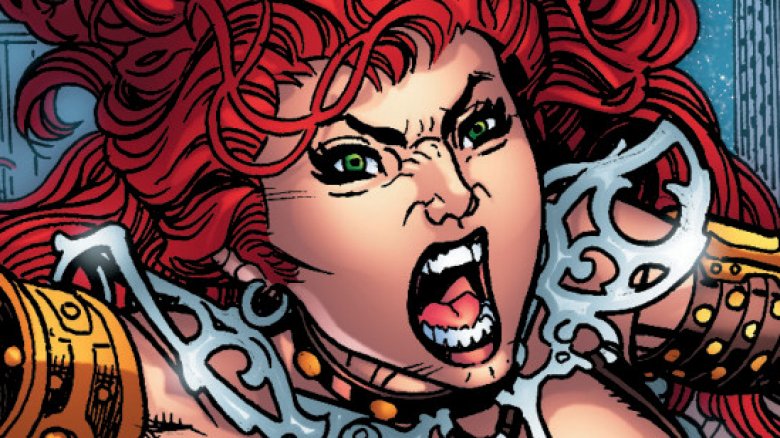 Dynamite Entertainment
The She-Devil with a Sword is coming back to barbarize the movies.
Red Sonja, the 1970s-era swords-and-sorcery comic book heroine, is being revived for a new feature from Millennium Films with Ashley Miller being hired to write the screenplay, according to a report by Deadline.
Making her debut in an issue of Marvel Comics' Conan the Barbarian series in 1973, Red Sonja is a warrior from the fictional Hyborian Age, the mythological time period created by Robert E. Howard for his fantastical adventure stories in the early 20th century. 
It's not the first time the red-haired heroine has had her adventures adapted for the big screen. Previously, the character was the subject of the 1985 movie Red Sonja, starring Brigitte Nielsen as the warrior woman alongside co-star Arnold Schwarzenegger. 
Considering that Schwarzenegger later called that adaptation "the worst movie I have ever made", why not try to do respect to the influential character, and bring her to life again?
A second stab at a Red Sonja film has actually been in the works for some time, with a variety of filmmakers having taken a crack at the material for the last decade and change. 
Miller, who got his professional writing start on the TV series Andromeda, joins a long line of screenwriters who have tried and failed to get a new version off the ground. His other writing credits include the sci-fi series Terminator: The Sarah Connor Chronicles and Fringe, as well as the comic book movies X-Men: First Class and Thor.
For more from the world of Robert Howard's writings, read up on everything we know about Amazon's in-the-works Conan the Barbarian TV series project.