M3GAN's Clever Marketing Team Keeps Poking At Chucky, Setting Up Something?
Before the world was obsessed with "M3GAN" and her slick dance moves, audiences were getting their creepy doll fix from Chucky.
Chucky, the ginger-haired doll possessed by the soul of a serial killer, first debuted in 1988's "Child's Play." The brainchild of screenwriter Don Mancini, the menacing toy was directly influenced by the marketing at the time that was directed toward children. "I wanted to write a dark satire about how marketing affected children," the screenwriter told Mental Floss in 2019. "Cabbage Patch was really popular. I put the two impulses together." The "Child's Play" doll has since gone on to become a horror icon, appearing in several sequels. Chucky currently headlines his own television series, proving that audiences are still interested in nefarious killer dolls.
Chucky's thunder has been stolen, of course, thanks to "M3GAN," the latest horror-comedy from Blumhouse Productions. From the minds of "Malignant" screenwriter Akela Cooper, horror maverick James Wan, and director Gerard Johnstone, "M3GAN" follows the titular AI doll who becomes obsessed with taking care of a child. The film explores our modern relationship with technology and how it arrests social development. Even prior to the tech-inspired flick's release, horror fans couldn't help but compare M3GAN and Chucky, who both share a penchant for protecting "their child," no matter the cost.
The clever marketing folks behind "M3GAN" have largely capitalized on the comparisons between the two killer dolls, pitting them against one another. In her latest marketing blitzkrieg, M3GAN isn't pulling her punches when it comes to mocking Chucky, which could hint that a crossover is in the works.
What does M3GAN and Chucky's beef mean?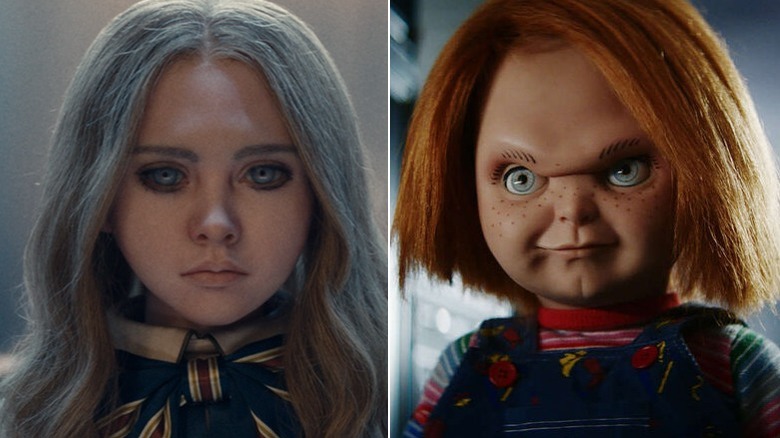 Universal Pictures/SYFY
M3GAN (or a clever writer on the Blumhouse pic's marketing team) took to Reddit for her very own Ask Me Anything, giving fans the opportunity to learn more about her. User u/Dorkof candidly asked the AI doll her honest thoughts on Chucky. "Like many middle aged white males whose souls are stuck in the body of an 80s toy, chucky has trouble accepting that technology has come a long way and i've been created to rid the waste of anyone who gets in the way or is a threat to my besties," M3GAN replied. Ouch.
While M3GAN's words are harsh, they're not exactly surprising. Prior to the film's release, "M3GAN's" marketing took every opportunity it could to fire shots at Chucky and the larger "Child's Play" franchise. Their beef first started in late 2022, when M3GAN called out the doll on Twitter. Since then, the two have been going at it, with M3GAN most recently calling Chucky a boomer on the social media site. Jennifer Tilly, one of the key stars in the "Child's Play" franchise, even joined in on the fun, saying, "Sorry, but I have to stand up for my boyfriend. The only thing #M3GAN can beat #Chucky in is a dance-off." 
As it stands, Universal Pictures is the owner of the "Chucky" franchise when it comes to its various sequels and shows. Who distributed "M3GAN"? Universal Pictures. Does this mean that M3GAN and Chucky's beef is setting up a crossover? Fans have been hoping that the two would go head-to-head with one another since 2022. It's also something "Child's Play" co-creator Don Mancini previously expressed interest in exploring (via ComicBook.com).