Laurence Fishburne Never Watched CSI Before Joining The Show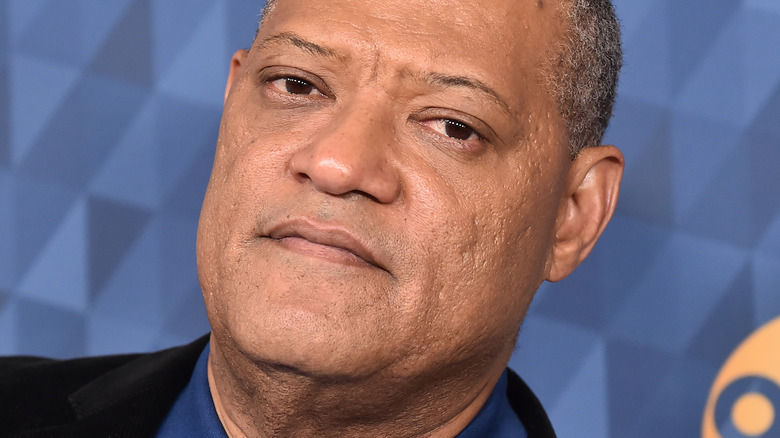 DFree/Shutterstock
Laurence Fishburne has been an in-demand actor for some time now. Over a 50-year career, he has racked up a resume that includes more than 125 acting roles (via IMDb). Some of them –- such as Morpheus of the "Matrix" films and the Bowery King of the "John Wick" series –- are downright iconic. Thanks to his authoritative and magnetic screen presence, Fishburne is so synonymous with some properties that his absence is palpable when he is missing from them. It was, for example, noticeable when he was not cast in "The Matrix Resurrections" and replaced by Yahya Abdul-Mateen II as Morpheus. That same presence has, to date, garnered him an Oscar nomination, a Golden Globe nomination, five Screen Actors Guild nods, and 12 Emmy nominations, including three wins. 
Nor has Fishburne's career been limited to the big screen. Television viewers have certainly connected with his portrayal of Pops on "Black-Ish," and those more used to his dramatic flair will similarly remember his time as FBI Agent Jack Crawford on "Hannibal." That's a busy actor right there. It's not particularly shocking, therefore, that Fishburne doesn't necessarily have all the time in the world to watch television. Even catching shows he would eventually be cast in was, at one point, a challenge.
CSI producers sent Fishburne some episodes to watch
In 2008, not long after he was cast as Dr. Raymond Langston in "CSI: Crime Scene Investigation," Laurence Fishburne did an interview with MovieWeb where he was asked whether he was a fan of the show. "I am now," he laughingly replied. "To be perfectly frank, when we met [with the producers] in New York, I felt a little stupid because I hadn't watched the show, prior to having a meeting with them." Fishburne said that producers provided him with several episodes to watch, which were sufficiently dark and atmospheric to convince him to say yes. Other than a few TV movies and bit parts, playing Dr. Langston was his first time in a regular TV role in more than 25 years — the previous being, of all roles, that of Cowboy Curtis on "Pee-wee's Playhouse."
Fishburne also clarified that he didn't consider moving to television a form of stepping back, and he has, of course, continued to make movies. He's even gone on to be one of a handful of actors to appear in both DC and Marvel cinematic universes. Nonetheless, he welcomed the different challenges and the pace of working in television versus film. "Because I haven't done series television since Pee-wee's Playhouse, it's a welcome change," Fishburne said. "It's going to be challenging, it's going to be fun and it's going to be exciting."