Mayans MC Will End With Its Upcoming Fifth Season On FX (& It's The Right Time)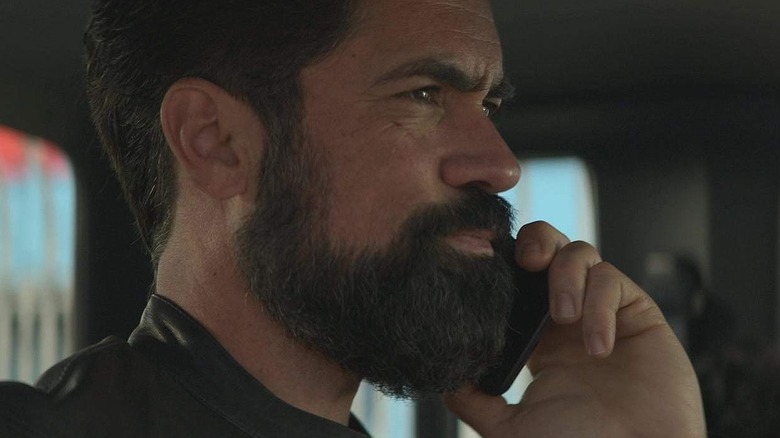 FX
It's time to take those bikes off the road.
After five successful seasons, FX will bring an end to the adventures of the men of "Mayans M.C." The motorcycle club will cut its engines at some point in the undetermined future. The "Sons of Anarchy" spin-off, which takes place in the same universe and over two years after Jax Teller (Charlie Hunnam) meets his untimely end, will be just two seasons shorter than its seven-season-long predecessor.   
"Mayans M.C." follows the lives of Ezekiel "EZ" Reyes (JD Pardo) and his older brother Angel (Clayton Cardenas). EZ was once the family's golden boy, but a prison stint means his grip on the American dream has grown tenuous. He ends up patching into the titular MC club's Santo Padre chapter with Angel's sponsorship. This upsets their butcher father, Felipe (Edward James Olmos), from whom both men have begun to grow distant as the series has gone on. Felipe left behind a past that connected him to cartel matters when he left Mexico. EZ was once involved with Emily Galindo (Sarah Bolger), and he is tempted to spark their connection to life now that he's out of jail. But her husband is drug cartel head Miguel Galindo (Danny Pino), to whom the Mayans hold ties — and who also happens to be the half-brother of both EZ and Angel. It's the kind of complicated filial messiness that's well within co-creators Kurt Sutter and Elgin James' wheelhouses. 
After Season 4 left the characters at an emotional crossroads, fans have been left wondering how Season 5 will go — and indeed, if ending the show here is a blessing in disguise.
After five seasons, it's time for the show to turn in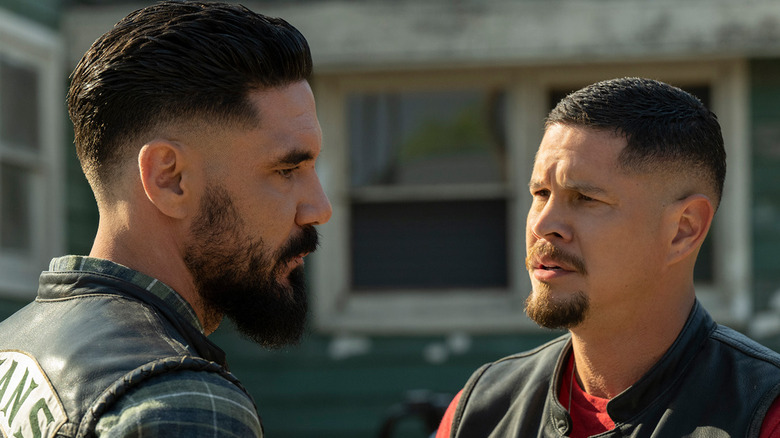 FX
During Season 3 of "Mayans M.C.," the Mayans continue to cope with internal and external turmoil alike. Internally, they find themselves under attack by other Mayans chapters, resulting in El Coco's (Richard Cabral) death after failing to convince the other chapters to unite under Bishop Losa's (Michael Irby) leadership. Externally, they continue to deal with strife from the Sons of Anarchy, who continue to menace the club. Marcus Alvarez (Emilio Rivera) tries to broker peace with Tig Trager (Kim Coates). But EZ grabs control of the club and announces he wants to go to war with the Sons. EZ makes Bishop his VP even after promising to make him the club's leader, resulting in the ouster of Alvarez and setting both clubs on a collision course with a destiny that's been brewing since "Sons of Anarchy" first took to TV screens. Unfortunately for EZ, the heroin he's planning on moving to fund the club just went up in smoke.
Season 5 seems to be the perfect time to bring the drama to its natural conclusion, now that the Sons versus Mayans battle seems to be reaching its apex via a decisive battle. It will prevent the show from feeling long in the tooth and help avoid the possibility of further plot complications. It helps that Elgin James already seems to know that the end was ahead of them, according to a statement made to Variety. "We know where it ends. I know the very last shot. So, it's not in Season 4 so I'm just going to say, there at least has to be one more. But we know exactly where it ends and we have been headed there for a while now," he said.