We've Actually Seen Lew Atwater In The One Chicago Universe Once Before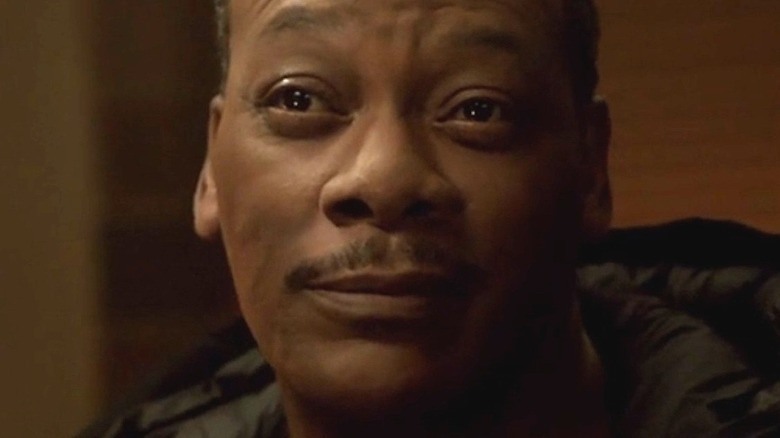 NBC
Prior to its midseason break, "Chicago P.D." spent a fair amount of its 10th season addressing the departure of longtime star Jesse Lee Soffer, who portrayed Detective Jay Halstead. While it's hardly the first time the show has lost a central cast member, this one arguably proved a little trickier given Halstead's "fan-favorite" status, developed over nine seasons of appearances. Despite the character's head-spinningly abrupt departure, series creatives ably set the table to forge ahead without Halstead and have returned from the midseason break in full stride. 
In Halstead's absence, the writing team has wisely spent a little more time exploring the lives of other Intelligence Unit members. And that tactic was well on display in the latest episode of "Chicago P.D." Titled "Long Lost," the episode found the I.U. team ensnared in a hot-button investigation involving a deadly ambush at a funeral. The episode gives considerable screen time to Detective Kevin Atwater (LaRoyce Hawkins) who, during the course of the investigation, discovers his absentee, ex-con father, Lew, may have ties to one of the suspects.
Lew Atwater was portrayed by lauded character actor Erik LaRay Harvey, who viewers no doubt recognized from his roles in "Boardwalk Empire," "Godfather of Harlem," and Netflix's "Luke Cage," among countless other projects. Of course, sharp-eyed fans likely also recognized Harvey from "Chicago P.D.," because "Long Lost" was not the actor's first appearance on the primetime hit.
Erik LaRay Harvey also played an incarcerated gang leader in a Season 2 episode of Chicago P.D.
Though it came nearly a decade ago, Erik LaRay Harvey's first "Chicago P.D." gig was every bit as memorable as his most recent. You may be surprised to learn that Harvey did not portray Lew Atwater in that Season 2 appearance. He did, however, share considerable screen time with LaRoyce Hawkins during the episode in question. The duo squared off in the Season 2 episode, "Prison Ball," which found Hawkins' Detective Kevin Atwater embarking on a dangerous undercover mission as a prison inmate. Atwater's mission involves getting close to incarcerated gang leader Devon Tucker, who likely has information about the shooting of a 10-year-old girl set to testify against a talented young basketball player. Erik LaRay Harvey plays the volatile Tucker in the episode.
It's hardly surprising that Harvey appeared as two different characters on "Chicago P.D." The series is, after all, produced by Dick Wolf, who's made great sport of casting the same actor in different roles in his various "Law & Order" series over the years (per TV Insider). Still, those roles have rarely been as significant as the two Harvey played on "Chicago P.D."  Thankfully, Harvey pulled off both roles and delivered two of the stronger supporting turns in the annals of "Chicago P.D." history. If we're lucky, he'll be back as Lew Atwater sometime down the road, 'cause we could watch Harvey and Hawkins trade lines all day.