Whatever Happened To Bee d'Vine After Shark Tank?
ABC/Hulu
Traditionally, alcohol and alcohol-related products do well on ABC's "Shark Tank." Adult beverages are popular, and they can often be sold at huge markups. This is why Mark Cuban once put $100,000 into Kanga Coolers, which makes beer can insulators, or why Daymond John invested $300,000 in the Draft Top beer can cutter. 
So, entrepreneur Ayele Solomon had good reason to be hopeful when he went into the tank in November 2020 to pitch his company, Bee d'Vine. Bee d'Vine makes honey wine, also known as mead, and it offers it in several varieties: flat or bubbly, and sweet or dry. Even better, Solomon's honey wine is sustainably made in order to help the planet's endangered bee population. 
Solomon asked for $750,000 for 20% of his business. Sharks Mark Cuban, Lori Greiner, Kevin O'Leary, and Robert Herjavec were all impressed with the beverages, as was guest shark and Kind CEO Daniel Lubetzky. O'Leary blanched at Solomon's price points. At the time, flat Bee d'Vine sold for $39.99, while the bubbly went for $49.99. O'Leary felt that a profitable bottle of wine should sell for no more than $15. Despite O'Leary's objections, the four remaining sharks made an offer: $750,000 for a 40% equity stake, but without room to negotiate. Solomon accepted, and then everyone did a dance from Solomon's native Ethiopia. 
So, did Solomon make the right call?
Solomon's deal with the sharks fell through, but Bee d'Vine is still in business today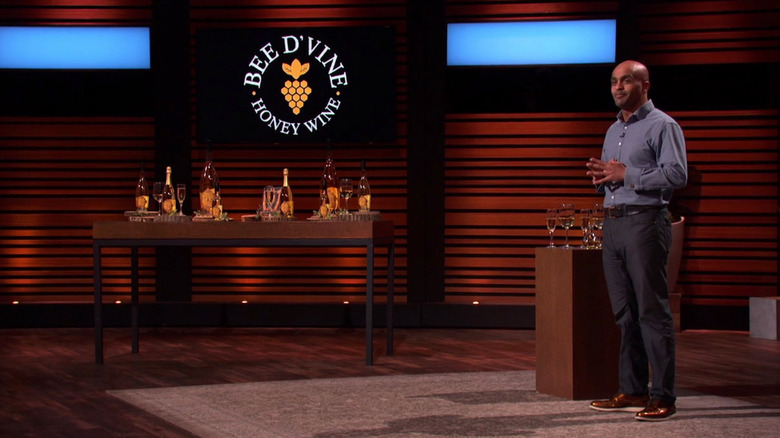 ABC/Hulu
First, the bad news. According to the Shark Tank Blog, Solomon and the sharks never actually signed on the dotted line to make their deal official. This is a common occurrence. As reported by The News Observer, 43% of the deals made on "Shark Tank" during the show's first seven seasons were later canceled.
But this didn't prove to be a setback. The Bee d'Vine website and Instagram are still active, and many varieties of honey wine are still for sale in its store. It also appears that Solomon has accomplished many of the goals he set out to. Solomon started Bee d'Vine in Sonoma County, California in 2009, using locally sourced honey and filtered water. As Solomon explained to Wine Spectator in December 2020, one month after his "Shark Tank" episode aired, he wanted to expand Bee d'Vine's offerings to include more varietals, and to source honey from different locales around the world. Today, Bee d'Vine has indeed broadened its menu. You can now buy Bee d'Vine made from Ethiopian or Tanzanian honey. Bee d'Vine has also begun offering more traditional grape wine.
Bee d'Vine still hasn't lowered its prices to Kevin O'Leary's preferred $15 a bottle, but the company seems to be doing just fine anyway.