Stranger Things' Priah Ferguson Says The Interaction Between The Sinclair Siblings Is Authentic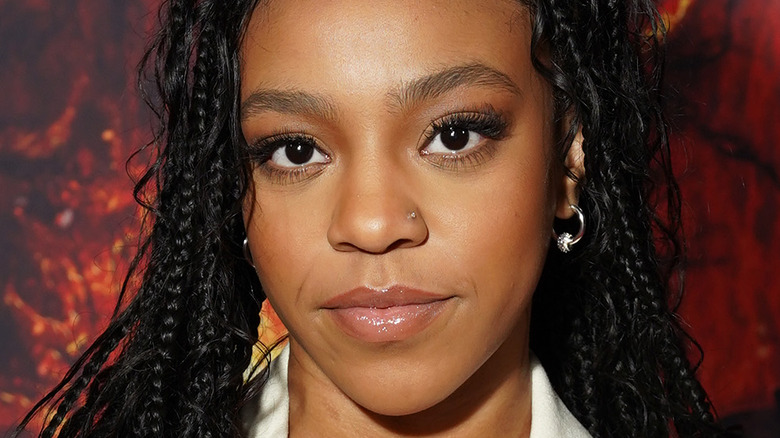 Presley Ann/Getty Images
Since it's debut in 2016 on Netflix, "Stranger Things" has provided fans with fascinating plot turns, terrifying moments, and friendship that can only properly be told within a teen-horror series. Aside from great entertainment, the show has also spawned some of the most talented rising stars in the business. Naturally, from the start, the attention had been focused on the show's stars like Millie Bobby Brown, Finn Wolfhard, and Gaten Matarazzo. But, now that the series has had time to develop over five seasons, the focus has reached to some of the lesser-known actors, such as Priah Ferguson.
Ferguson joined the cast when she was just nine years old in Season 2, and has grown up before fans' very eyes. She tells Seventeen that she got the acting bug early on in her life. "I liked to watch a lot of action movies and movies with a lot of drama, and I'd always wonder how they got on TV," she recalled. "I asked my mom, and she explained that they were actors. I was like, 'Oh, well, this is something I want to do.'" That's exactly what Ferguson did, and her solid "Stranger Things" performance promoted her character, Erica, to have a more significant role in later seasons.
What helps make Ferguson's portrayal of Erica spot-on is how she plays her interactions between her and her on-screen brother, Lucas (Caleb McLaughlin). This family connection, albeit fictional, appears so genuine, some fans might believe they were hired for the show as a pair. But as Ferguson explains, her and McLaughlin's off-screen interactions is what helps make their scripted connection to seem so authentic.
Have real siblings at home surely helps
Priah Ferguson has not kept it a secret that when she booked the role of Erica Sinclair, younger sister to Caleb McLaughlin's Lucas, she leaned on the rest of her cast members to guide her character's path. "I learned a lot from them," she told PopSugar. "It's OK to be the new girl or the new kid on the block, learning everything." And one person that she learned from was McLaughlin. She explained how their off-screen brother/sister-type relationship makes that on-screen connection so believable.
One thing that helped both Ferguson and McLaughlin was that they had plenty of sibling practice at home."We both come from a family with siblings," Ferguson said. "We just have that natural sibling instinct and energy towards each other. He's truly like a big brother to me in real life." However, unlike plenty of actual siblings, they still keep their on-set antics to a minimum, remaining as professional as possible. "We're there for work, and we all are so mature and have a mature mindset," she revealed. "Off camera, we will joke with each other and be sarcastic with each other, but nothing too extreme to maybe stop production."
Much like the other young actors from "Stranger Things," Ferguson is expanding her growing credits list, which includes a recent Netflix Halloween movie, "The Curse of Bridge Hollow," costarring opposite Marlon Wayans. She's also expressed interest of dabbling within other sections of the entertainment industry. "Acting has opened doors to really keep me open-minded about the career aspect of things," she said. No matter what her career's future holds, Ferguson is surely lucky to have had this unique experience with McLaughlin and the rest of the "Stranger Things" cast.