Robert Downey, Jr. Once Wrote Gerard Butler An Email Praising Him For Olympus Has Fallen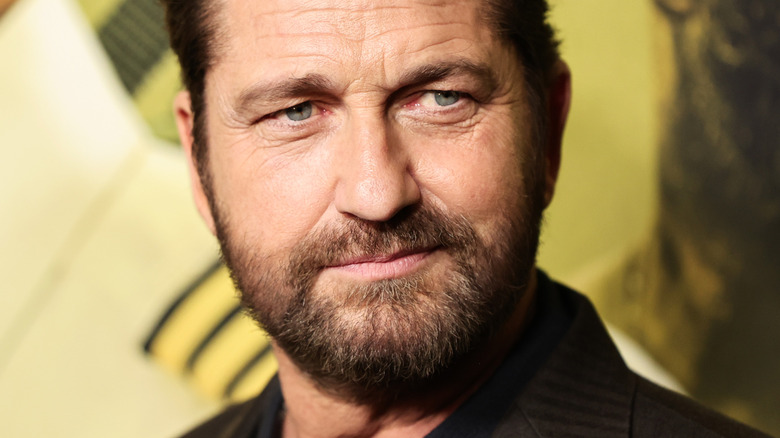 Jamie Mccarthy/Getty Images
As the undisputed king of so-bad-they're-good action flicks, Gerard Butler has led his share of mid-tier thrillers and reassessed gems alike. He's also garnered a considerable fan base since he kicked off his acting career in the late 1990s, especially those with a certain amount of nostalgia for the mid-budget action film. "He is an action star for the age of the declining action star," Vulture's Bilge Ebiri wrote in 2019 for an article titled, "I Think I Love Gerard Butler," "and sometimes I could swear that he is almost single-handedly keeping a very specific type of movie alive."
Ebiri speaks broadly about Butler's career and machismo charm, best personified in films like "300" and "Law Abiding Citizen," but he speaks specifically to the "Has Fallen" trilogy that began in 2013 with "Olympus Has Fallen." 
"Butler's rough charisma is the glue that holds [the 'Has Fallen' trilogy] together," Ebiri wrote. As it turns out, Butler found another fan in fellow action star Robert Downey, Jr.
Downey said we need more movies like Olympus Has Fallen
In an interview with Uproxx, Gerard Butler revealed that Robert Downey, Jr. once reached out to compliment "Olympus Has Fallen," in which Butler also served as a producer. "Robert Downey Jr. wrote me the nicest email after 'Olympus Has Fallen,' Butler recounted. "He's like, 'We need more of these movies. These are the movies, when I was in New York as a kid, and people would shout at the screen and throw things and be like, 'No!,' and applaud and cheer.'"
"Olympus Has Fallen" is certainly action-packed enough to elicit an audience response. Directed by Antoine Fuqua, the thriller stars Butler as Mike Banning, a Secret Service agent tasked with rescuing the President (Aaron Eckhart) from a North Korean attack.
For Butler, his upcoming film, "Plane" (once known as "The Plane" before Butler dropped the "the," Facebook-style), operates in the same vein as "Olympus Has Fallen." "I think that's what this movie is," Butler added. "It's a throwback to that, where literally you're in the energy of the group and everybody's either terrified or cheering you on." If early reviews are any indication, "Plane" should have fans — including Iron Man himself — applauding from their seats. "Plane" is scheduled for release on January 27.