Wrapping Servant Was An Emotional Experience For Star Nell Tiger Free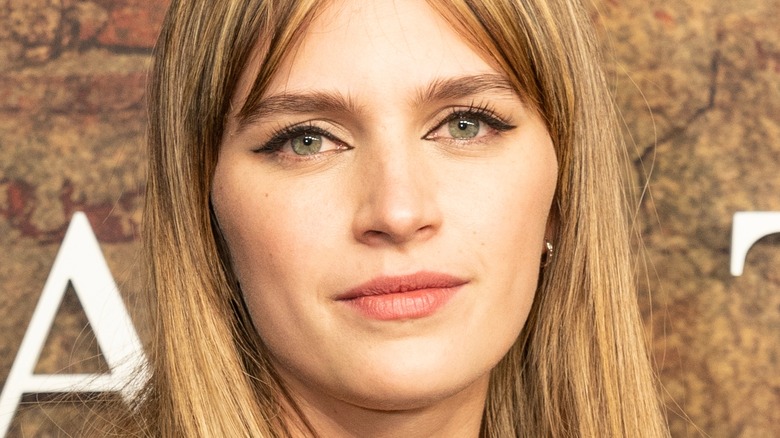 lev radin/Shutterstock
Fans of "Servant" had known the end was nigh for the Apple TV+ since before the third season even premiered. Ahead of the premiere for that season, Apple TV+ announced "Servant" Season 4 was coming, but it would also act as a closing chapter (per Deadline).
"Servant" focuses on the Turners, a couple mourning the recent loss of their child. Dorothy Turner (Lauren Ambrose) is in denial over the loss, and her fantasies become a reality when a young woman named Leanne (Nell Tiger Free) seemingly gives life to a doll. The series is part of M. Night Shyamalan's impressive comeback after teaming up with Blumhouse Productions for 2015's "The Visit."
When initially promoting the show in 2019, producer and director Shyamalan said he envisioned a six-season, 60-episode timeline for "Servant" (via The Hollywood Reporter). Fans can rest assured, though, as the director has explained since then that they managed to work the story down to 40 episodes over four seasons (per Collider).
Along with helping Shyamalan score a career comeback, "Servant" also gave Nell Tiger Free a chance to break out, the actress taking on the most mysterious and layered role of Leanne Grayson. According to the actress, "Servant" coming to an end for her was a fairly emotional experience.
The Servant cast feels like a family
Nell Tiger Free described ending "Servant" in an interview with The Hollywood Reporter and the actress revealed that the main cast on the show became an important system for each other, both professionally and personally. Two of those cast members, Toby Kebbell and Rupert Grint, also became dads during the course of the M.Night Shyamalan-produced series. 
"I grew up around these guys. They really held me and taught me and took me under their wings and consoled me when I was crying about horrible ex-boyfriends or when I didn't get a part. They were just there, and I was there when Rupert [Grint] and Toby [Kebbell] became dads. I was lucky enough to see their little girls grow from babies into toddlers on this show," she said. 
In the same interview, Free said she, Grint, Kebbell, and Ambrose shared a group hug after cut was called on the final scene of "Servant." This embrace led to the four main cast members then sharing a group cry that lasted for minutes, according to the actress. "When they called cut, the four of us had this hug, and nothing else mattered apart from each other in that moment. We just hugged each other and cried for five or six minutes, and it was one of the most beautiful things ever for me," she said.