The Glass Onion Prop Kate Hudson Said She Had To Have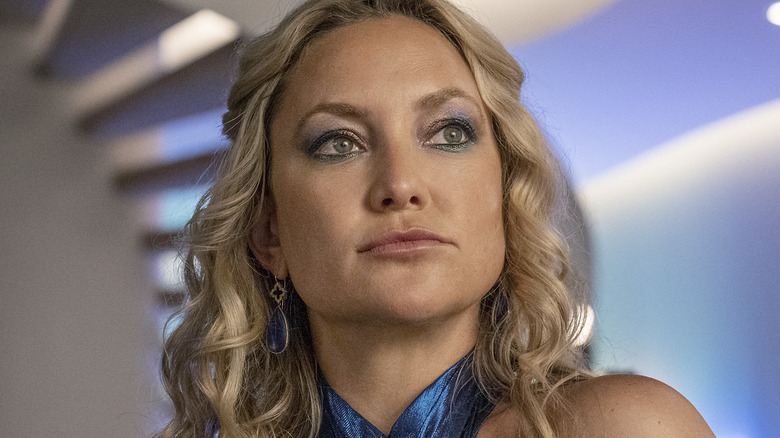 John Wilson/Netflix
"Glass Onion: A Knives Out Mystery" — the highly anticipated follow-up to writer-director Rian Johnson's 2019 whodunnit "Knives Out" — premiered on Netflix in December of 2022. The standalone sequel (also written and directed by Johnson) centers on a whole new set of characters, including the master detective, Benoit Blanc (Daniel Craig), as the only returning character.
The new set of characters includes Miles Bron (Edward Norton), the tech billionaire who invites all of his friends to his private island for a murder mystery party, and Andi Brand (Janelle Monáe), Miles' ex-business partner who was axed from the company. The rest of the group features senate candidate Claire Debella (Kathryn Hahn), scientist Lionel Toussaint (Leslie Odom Jr.), and men's rights activist Duke Cody (Dave Bautista). Rounding out the group of old friends is Birdie Jay (Kate Hudson), a former supermodel who has become a fashion designer focusing on high-end sweatpants. Played by Hudson with precision and self-awareness, Birdie is, amongst other things, politically incorrect, brash, and oblivious.
As it turns out, not only did Hudson get a great experience out of filming "Glass Onion," she also took one of the film's props. Here's which one she insisted she needed to have.
Hudson took Birdie's necklace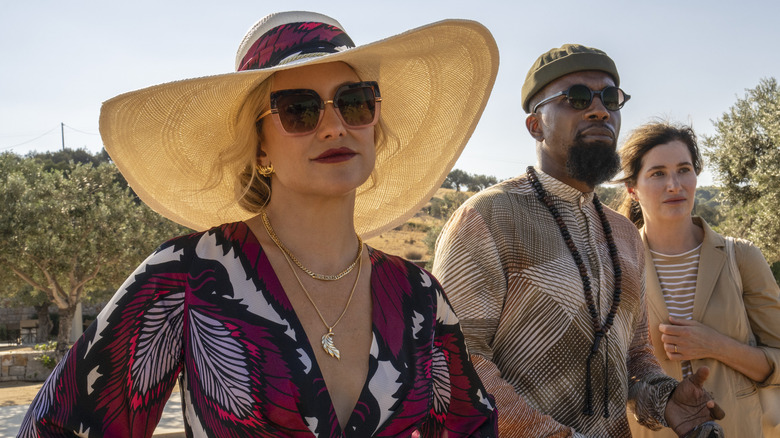 John Wilson/Netflix
In an interview with British Vogue, "Glass Onion: A Knives Out Mystery" star Kate Hudson broke down everything she carries with her in her bag. After showcasing items such as blue light glasses, skin serum, and a Bose speaker, Hudson brought out what she refers to as her lucky necklace, which has her kids' names on it. Showing off her necklace then led to Hudson revealing which "Glass Onion" prop she took home with her because of a special personal connection.
Hudson said, "The irony of this is that in 'Knives Out,' I wear one that says 'Birdie.' My name in the movie is Birdie Jay, but my dad, since I was three years old, has always called me Birdie. So I took that home with me." Hudson then went on to lightheartedly justify her actions, stating, "You could say I stole it but I feel like I thought it was just necessary for me to have."
If you'd like to see Hudson wearing the "Birdie" necklace, "Glass Onion" is available to watch on Netflix.