Taylor Kinney's Chicago Fire Water Rescue Stunt Required Scuba Certification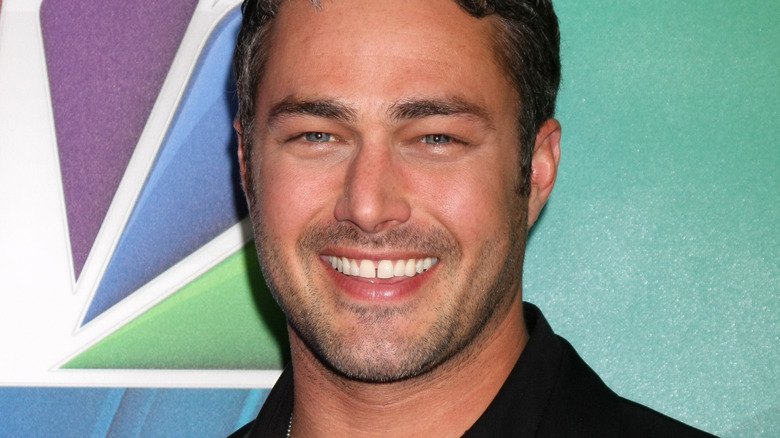 Kathy Hutchins/Shutterstock
Burning skyscrapers, collapsing buildings, and frigid waters are just a few of the daunting, on-the-job hazards faced by "Chicago Fire" Rescue Truck 3 leader Kelly Severide, played by Taylor Kinney. As a Rescue Truck team member, Kinney's Severide is both a firefighter and more on this One Chicago hit, with an expanded job description that often requires the use of specialized skills and equipment beyond those employed by his firefighter colleagues.
As the top dog, Severide is in charge of the heavy rescue truck assigned to the show's home base of Firehouse 51. As such, Kinney's action-oriented Lt. Severide often finds himself plunging into first-responder-style action that can involve everything from live fires with genuine potential for injury to leaps from multi-story structures or other adrenaline-fueled feats. And while many of these on-screen exploits are understandably handled by professional stunt doubles, Kinney has earned a reputation for eagerly stepping forward to execute his stunts – when the show's insurance company gives the go-ahead. That said, one stunt he opted to do early in the series run called for the actor to be certified in a particular underwater activity.
Kinney's love of risky stunt work led to his SCUBA training
As noted, Taylor Kinney's take on playing Severide in "Chicago Fire" extends to mimicking his character's willingness to push the envelope physically. Co-star Eamonn Walker, who plays Chief Wallace Boden on the show, told Access Hollywood, "To work with this guy, he's a little bit of a superhero because he wants to do all his own stunts. You have to fight him not to ... It's like, 'Taylor, wear the wire, be safe,' and he's like. 'I got this!'"
Shortly after the series' first season had concluded, Kinney was asked by TV Show Patrol about stunts on the show, prompting him to recall a recent scene that involved rescuing a young boy who had fallen into the water and disappeared beneath the surface. During the scene in question, Severide suits up in a full wetsuit and SCUBA gear and splashes into the water to pull the drowning kid out. Kinney described the scene as "A dunk in the river" before adding, "I got SCUBA training." He went on to joke that the training and certification were because "Chicago Fire" producers were "Covering their bases ... if I die, so they could say, 'Well, it's not our fault.'" In the same vein, as Kinney told Talking to Tami during a 2018 interview, "I like doing [my own stunts], but I will do as much as NBC lets me. Until 'Captain Insurance' won't let me."