Colin Farrell Recalls Unbearable Shame Following The Failure Of 2004's Alexander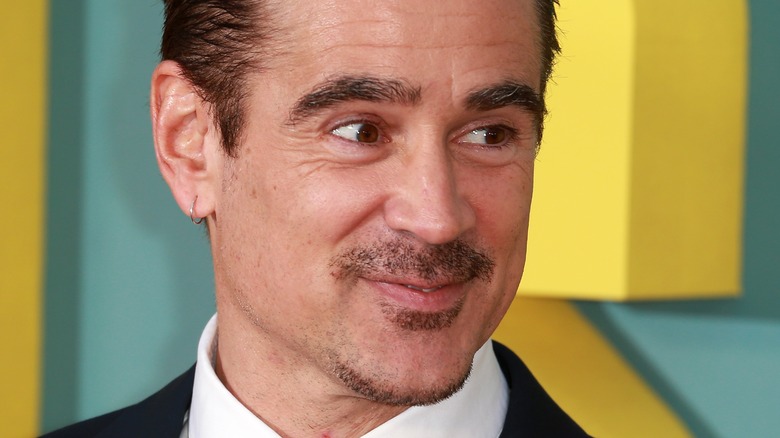 Fred Duval/Shutterstock
It wouldn't be hard these days to look at the career of Colin Farrell and assume he's had a charmed path to Hollywood's A-list. There is, arguably, some truth to that, as he rocketed to stardom in the early 2000s almost overnight on the strength of his work in films like "Tigerland" and "Phone Booth." These days he's a regular player in both the blockbuster and indie realms, and he just won his first Golden Globe award for his performance in "The Banshees of Inisherin" (via IMDb).
Given his stark career highs, it's almost too easy to forget that the mid-2000s also found Farrell fronting one of the more noteworthy turkeys in Hollywood history. That film was 2004's "Alexander." And it's noteworthy not only because its $167 million box office take barely bested its reported $155 million budget (per Box Office Mojo), but also because it was helmed by legendary filmmaker Oliver Stone and boasted a cast including Angelina Jolie, Anthony Hopkins, Jared Leto, Val Kilmer, and Rosario Dawson, among many others.
That level of talent had many believing "Alexander" would not just be a critical and commercial hit, but also a major awards season player. Alas, it remains one of the worst-reviewed films of Farrell's career (via Rotten Tomatoes). Even if his fans have essentially forgotten "Alexander," the actor himself has not. In fact, Farrell recently claimed he felt a legitimate sense of shame over the film's reception.
The fallout from Alexander left Farrell questioning his talent and his career
As for what exactly went wrong with "Alexander" — if the critical notes are to be believed, not much actually went right. It seems, however, that Colin Farrell was as surprised as anyone that "Alexander" missed the mark so badly. During a recent roundtable discussion with The Hollywood Reporter, the actor insisted expectations of the film's success only made its failure all the more devastating. "Expectation is a dangerous thing," Farrell said, stating that the film was deeply personal for both him and Oliver Stone, who'd apparently dreamed of making the historical epic since college.
The actor continued by claiming everyone involved with "Alexander" genuinely expected it to be a big hit. "When I say 'expectation,' we all had our tuxedos ready [for awards shows]," he said, adding, "I'm not even joking. We were all like, 'Right, lads, we're off to the Oscars. This is a sure thing.'" Those expectations were indeed dashed when "Alexander" hit theaters, with Farrell admitting the fiercely negative reviews of both the film and his performance left him not just questioning his own talent, but shouldering a certain level of shame over its disastrous reception.
"I thought, 'What can I do?' I felt so much shame," Farrell said, claiming that the shame was so strong he felt compelled to apologize to numerous people who'd seen the film. The shame eventually faded, of course. And Farrell's career got back on track after strong turns in "The New World," "Miami Vice," and "In Bruges." Even still, it would seem the sting of "Alexander" is never far from Farrell's mind.