American Pickers' Mike Wolfe Is Revving Up To Auction Off His Antique Motorcycle Collection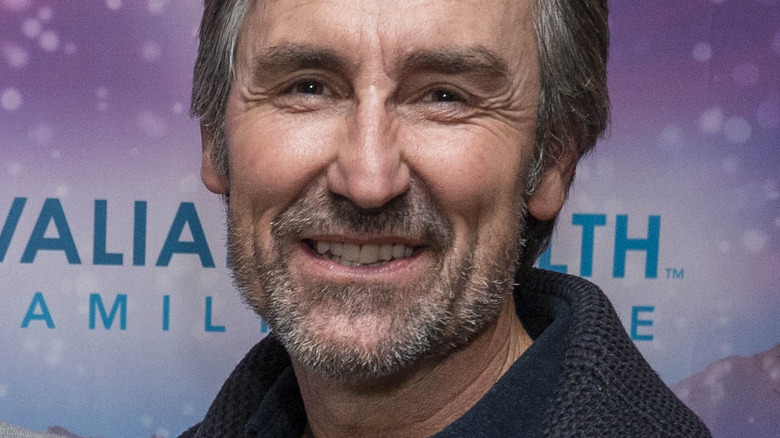 Ed Rode/Getty Images
When one spends most of their days scouring the countryside for antiques and long-forgotten items in barns and overlooked locations, one can accrue quite a collection of items and objects of particular note. "American Pickers" is a hit television show led by Mike Wolfe, a lifelong aficionado of motorcycles and bicycles, and his brother Robbie. Meeting all sorts of interesting people and finding unique locations that are chock full of valuables, Wolfe has quite a personal collection of vintage motorcycles.
In a 2021 interview with Road Dirt, Wolfe explained that motorcycles have always been one of his major passions, and referenced his former partner Frank Fritz as an even bigger fan of motorcycles than he, adding, "Frank, man, he had a full beard and a Harley by the time he was in the 9th grade." Wolfe also mentioned how he had bought his first motorcycle at the age of 13 through a series of barters and secrets, saying, "My mother would not have let me live to tell the tale if she found out I bought a bike. I had a few other motorcycles after that, but didn't bother to get my license until I was 18. Collected a lot of tickets during that spell."
Luckily for fans of vintage motorcycles and "American Pickers," Wolfe has announced that he is selling half of his collection. But what are the details of this sale, and where can one go to get a chance to procure one of these legendary motorcycles?
Wolfe wants the story of these motorcycles to continue
Taking to Instagram, Wolfe announced, "When I first started collecting I had a list of dream bikes that I wanted to own and after 40 years of picking I've been fortunate to buy those bikes and many more. All of these bikes have had a special place in my heart and a lot of incredible moments finding them that I will never forget." He continued, "I've decided to sell a portion of my collection to focus on the bikes I'm connected with the most. I've loved these bikes over the years but I understand that their journey doesn't end with me."
Wolfe intends to sell more than 60 of his vintage motorcycles, which is almost half of his private collection. This auction will take place in Las Vegas at the 32nd Annual Vintage & Antique Motorcycle Auction, which is one of the largest in the world. Running from January 24 to 28, this massive motorcycle auction will have over 2,000 bikes up for grabs, or at least for those that have the money to do so.
Pre-bidding is currently available for several bikes, though which ones are Wolfe's are certainly up for debate. However, Wolfe will be at the auction, so if one is so inclined to visit, the chance to ask him personally is there. In other words, if you're looking for a Wolfe-picked vintage motorcycle, a visit to Las Vegas may be in order.