The Porta-Potty Scene That Ultimately Began Brendan Fraser's Break From Hollywood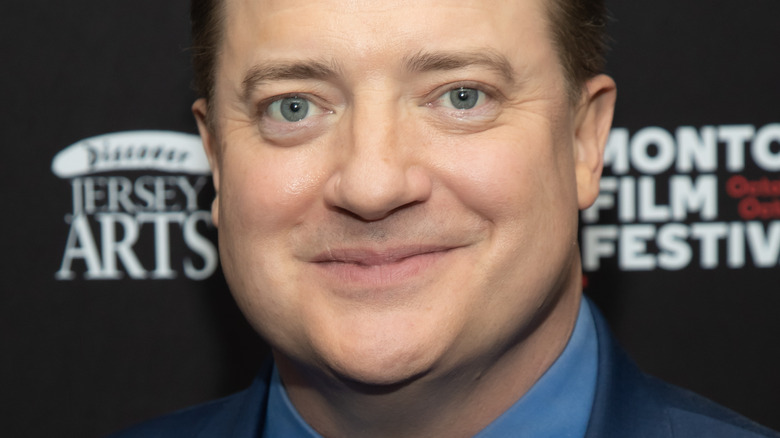 Manny Carabel/Getty Images
If history has taught us anything, it's that Hollywood loves a good comeback story. Of course, those stories are far more prevalent on the big screen than they are in the real world of show business where second chances can be pretty scarce. As far as showbiz comebacks go, few have proven more welcome or more well-earned as that of Brendan Fraser, who's currently earning Oscar buzz for his career-defining work in "The Whale."
Long regarded as one of Hollywood's legit nice guys, Fraser was arguably one of the biggest stars on the planet during his 1990s, early-2000s heyday. During that run, Fraser was not only the face of a legit blockbuster franchise in "The Mummy" trilogy, but he also earned raves for his character work in lauded dramas like "Gods and Monsters" and "The Quiet American." Unfortunately, a string of personal setbacks, health issues, and a run of bad luck at the box office led Fraser to seek much lower-profile work for the bulk of the 2010s.
Though he's bounced back in a big way this year, Fraser has been quite open about what ultimately led to his relative absence in Hollywood in recent years. And it seems that filming a scene involving a porta-potty also played a big role in his decision to step back from the spotlight.  
A scene from Furry Vengeance led Fraser to re-evaluate his career choices
During a recent actor's roundtable with The Hollywood Reporter, Brendan Fraser spoke about filming a particular scene that had him questioning his own career. In recounting the moment, Fraser said, "I think it was the night that I was shooting a scene wherein I was being mauled by a bear, and I was in a porta-potty, and the porta-potty got inverted, and I was on my head, and all this Gatorade and stuff dropped on my head." The actor continued, "That made me have a conversation with myself really quick about: 'Is this worth it? Maybe I should reprioritize myself and stop working with animals.'"
While he doesn't name the project in question, Fraser is likely referring to the 2010 farce "Furry Vengeance." In the film, Fraser portrays a land developer with plans to build on a forested plot in the Pacific Northwest. Said plans are derailed when the animals of the forest set about making his life, shall we say, troublesome. That eventually involves his being accosted by a bear while inside a porta-potty. According to Fraser, the scene led him to rethink his professional life.
Per his IMDb page, Fraser indeed reprioritized, largely focusing on smaller, animal-free projects in the wake of "Furry Vengeance." And that no doubt played a major factor in his career resurgence.